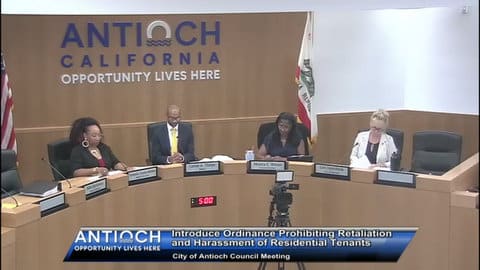 26 Jul

Antioch Council Passes Ordinance to Protect Tenants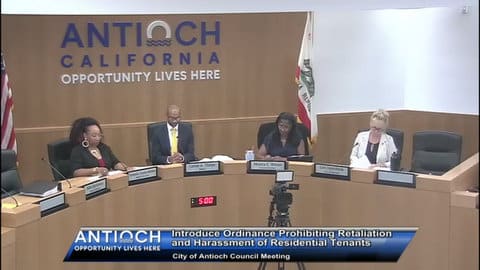 Antioch City Council member Tamisha Torres-Walker, from left, Mayor Lamar Thorpe and council member Monica Wilson voted in favor of an ordinance to increase certain tenant protections. Lori Ogorchok, at right, dissented. (Screenshot captured by Samantha Kennedy / Richmond Pulse)
By Samantha Kennedy
For years, the Antioch City Council has been urged to address anti-harassment protections for tenants. Though the state has some anti-harassment protections in place for tenants, Antioch did not have such a city ordinance until now.
At its Tuesday meeting, the Antioch City Council passed an ordinance that protects residential tenants from harassment and retaliation from housing providers. The council voted 3-1 to pass the ordinance, with council member Lori Ogorchock voting against. Council member Michael Barbanica, who owns a property management company, recused himself.
The ordinance will include protections for tenants from landlord verbal, sexual and psychological abuse, increase penalties for landlords, and require landlords to provide materials in a tenant's spoken language. The ordinance also includes protections from unique issues Antioch tenants have faced, including being improperly towed by landlords.
"Poor people and working people are the consumers of landlords," council member Tamisha Torres-Walker said. "When people get up here and say, 'You could be next, even if you are a homeowner,' that is real."
Three amendments were made to the ordinance by the council, including the removal of certain language regarding subletting, allowing landlords to refuse rent during the eviction process, and exempting senior home care facilities from the ordinance.
Over 40 speakers spoke both in support of and in opposition to the ordinance.
Tenants and advocacy groups, including the Alliance of Californians for Community Empowerment Action and Rising Juntos, shared stories of harassment and neglect by landlords in Antioch.
One tenant who has faced harassment said her property manager verbally abuses her and her grandson, sometimes using slurs. Kim Carlson, who was a resident of the Delta Pines apartment complex in Antioch, urged the council to pass the ordinance.
Devin Williams, a community organizer for ACCE, told the tenants in the audience that they hold power despite pushback from landlords. "Don't think for a second that anybody in a suit can come up here and take that away from you," he said.
Another Antioch resident, Nicole Arrington, questioned why landlords would be scared of losing money or being hurt by this ordinance if they were good landlords, as they said. She said she hoped the council wasn't persuaded by these landlords.
"Don't be wavered by the people who own properties," Arrington said. "Because you're here for the little people who have nothing."
Representatives from the California Apartment Association and Delta Association of Realtors and private landlords criticized the ordinance's language, especially what they said unfairly assumes all landlords are in the wrong. Some representatives said they would take their business elsewhere and refuse to invest in the city if the ordinance was not balanced for both tenants and housing providers.
Council member Ogorchock said there seemed to be no due process for landlords. She said corporate housing providers and single-family homeowners are different and should be treated differently.
Many representatives agreed with Ogorchock, saying corporate landlords are often the ones who engage in harassment. Other concerns raised were the lack of a definition of "bad faith" and excessive fines for housing providers.
Similar ordinances have already been adopted by Los Angeles and Richmond in 2021 and Concord in 2022. The ordinances further expand on what California law defines as harassment.
>>>Read: Richmond City Council Adopts Anti-Harassment Ordinance For Tenants
In Antioch, where about 40% of residential units are occupied by renters, tenant protections have increased since the beginning of COVID-19. The city recently passed a rent control ordinance that only allows a 3% increase on rent or 60% of the San Francisco Consumer Price Index. The city will also consider a policy for just-cause evictions in the future.