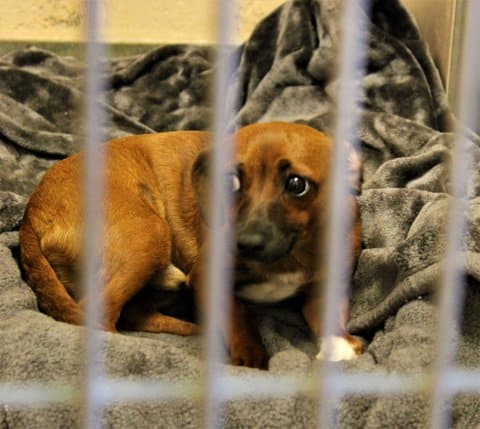 04 Aug

Local Advocates Say More Can Be Done to Save Animals. CCAS Says It's Doing All It Can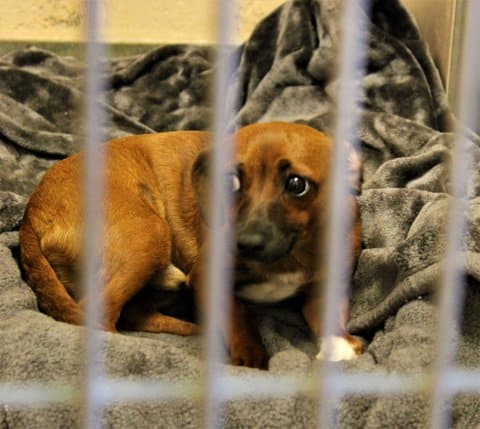 Most animals at the Contra Costa Animal Services shelter must be adopted or transferred in a limited amount of time or else face euthanasia. "We give our dogs as much time as possible," said public information officer Steve Burdo.
Story and photos by Joe Porrello
Editor's note: This is part two in our series about Contra Costa Animal Services and pet adoption. This story is continued from Overcrowding at Contra Costa Shelter Puts Animals at Risk. Please see the end of the story for more information about adopting an animal.
Contra Costa Animal Services releases a list of names each week, and for many animals, it means they're running out of time.
The animals on these lists, which may or may not be up for adoption, have been deemed "transfer preferred" because CCAS would prefer to move them to a rescue facility because of the serious health or behavioral issues they have exhibited. If they are not transferred or adopted within a limited amount of time, they will be euthanized, which is why the lists are also known as "kill lists."
"Kill lists light a fire under rescues and make them move," said Irina Dyatlovskaya, who tries to help shelter dogs find foster families.
Dyatlovskaya, along with other advocates, has been sending constant emails to CCAS asking it to extend an animal's time until it would be euthanized, sometimes successfully and other times not.
In four months, Dyatlovskaya also sent 19 letters to local city council members on the subject of overcrowding and euthanasia.
Older animals like the senior Chihuahua at left can have a much harder time finding homes than younger animals.
CCAS director Beth Ward said the shelter tries to remain transparent by having performance reports on its website since 2017. These include information on things like intake method, outcome and length of stay.
Local canine activists say CCAS is not doing enough to support the dogs in its care and have been voicing their opinions through email, at county Board of Supervisors meetings and on social media.
CCAS public information officer Steve Burdo says the lists of dogs soon to be euthanized drive advocacy.
Ward said that negative social media posts that criticize the shelter do not help dogs because they make people not want to work or volunteer at or adopt from the shelter.
"I'm not arguing with them. I just feel like I'm having to answer and justify, and spend a lot of time, energy, and resources on that, when we actually do have the same goal," said Ward. "I'm wide open to thoughts, ideas and constructive criticism."
As the largest animal shelter in Contra Costa County, CCAS serves roughly 1 million people and experiences fast turnover, with an average length stay of 16 days in 2022.
"It used to be that some dogs were there for a very long time. Now, it seems after one or two weeks, they put them on the 'kill list,' " said Dyatlovskaya.
Some animals do remain at the shelter for extended periods, however. CCAS has one pit bull terrier named Dexter who has been at CCAS since Sept. 8, 2022, and a Siberian husky mix named Sally who has been there for more than five months.
"We give our dogs as much time as possible," said Burdo.
Dyatlovskaya said sometimes dogs are euthanized without being put on the "kill list" and without explanation on CCAS' website.
"The only animals killed without notification are those irremediably suffering," said Burdo, mentioning a dog that was hit by a car as an example.
If you want to bring an animal into your home but can't make the long-term commitment of adoption, consider fostering, which benefits animals in multiple ways.
Ward took over as director of CCAS in 2015, bringing with her nearly 25 years of professional dog experience; she notes that their statistics as a whole have steadily improved since her arrival.
"We go well above and beyond what other shelters do with transparency of statistics online," said Burdo.
CCAS also got overwhelmingly positive ratings on their 2022 customer satisfaction reports.
Wolf is not satisfied with numbers.
"They need to hire more administrative people, not print statistics," she said.
Some techniques the two sides agree would help the dogs are a more robust foster program, more shelter enrichment programs, growing relationships with rescue groups, and a better trained staff.
Fostering opens shelter space, gets dogs out of a stressful situation (being inside a shelter with lots of smells, sights and sounds that give them anxiety), teaches them valuable information about how to behave in a home, and allows for a better chance of good pairing with an adopter and less chance for returning.
"I think everyone at CCAS believes in the importance of fostering," said Burdo.
Just like humans with hospitals, Ward said animals with medical issues usually heal quicker when in a domestic setting instead of a shelter.
Dyatlovskaya said that dogs look completely different at a home compared with a shelter.
"When animals are outside of the shelter, you get wonderful information," said Wolf.
Wolf proceeded to emphasize that transfer-preferred dogs are not eligible for foster care because of liability concerns.
"So the dogs that need fostering the most aren't getting it," she said.
Wolf also said there is a discrepancy between the foster program of CCAS and that of the comparable Oakland Animal Services, which is more robust and successful.
"Right now, we have a part-time independent contractor that's tried to help our foster program," said Ward. "That's why we try to keep it a little on the small side, because that's how we can manage it."
Ward added that in order to foster dogs, you need to have someone overseeing the matching process to make sure it's an appropriate pairing and be able to answer questions and support those experiencing difficulties.
Local shelter enrichment programs as in the Shelter Playgroup Alliance help dogs avoid going kennel crazy by getting them stimulated with exercise and play, and educate staff and volunteers.
Burdo noted that CCAS recently hired a foster coordinator and a behavior and enrichment coordinator to try addressing the issue of overcrowding and to keep the animals physically and mentally healthy.
Pet adoptions from Contra Costa Animal Services are free for the month of August, though a $25 licensing fee may apply. Use the following links to see available dogs, available cats and other available animals. To search for animals beyond Contra Costa County, visit https://24petconnect.com/.
Read part three in the series: