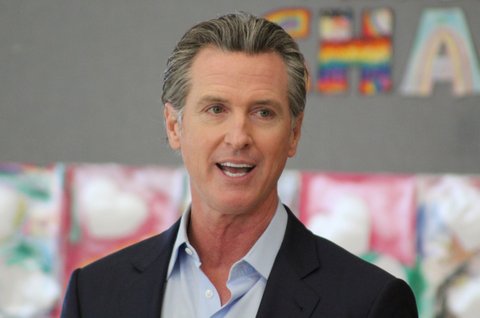 24 Aug

EdSource: Gov. Newsom Sends Letters to Districts About Ethnic Studies Requirements as Part of Anti-Hate Campaign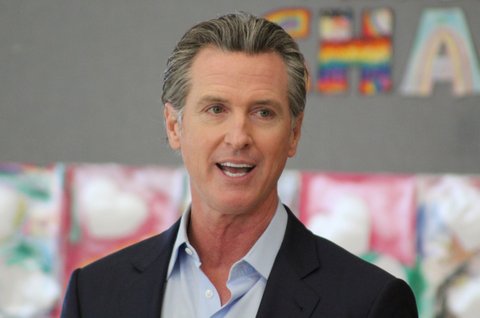 Gov. Gavin Newsom speaks at Ruby Bridges Elementary School in Alameda on March 16, 2021. (Eli Walsh / Bay City News)
By Diana Lambert, EdSource via Bay City News
In the wake of a recent shooting of a Southern California business owner over the display of a rainbow Pride flag, Gov. Gavin Newsom is announcing an anti-hate campaign that includes a letter to school leaders outlining their responsibility to teach the adopted ethnic studies curriculum that will be required in two years.
The curriculum focuses on the history, culture, struggle and contributions of African Americans, Native Americans, Asian/Pacific Islander Americans and Latinx Americans. The model curriculum also includes lesson plans on other communities, including Filipino Americans, Jewish Americans, Arab Americans, Sikh Americans, Armenian Americans and others. School districts can adapt the curriculum to reflect the demographics of their community.
"California students are wonderfully diverse, and celebrating the contributions of our various communities in curriculum gives students a chance to 'see' themselves in the fabric of our state," states the letter.
State legislation requires local school districts to offer high school students at least one semester in ethnic studies beginning in 2025. The course will be required for graduation in the 2029-30 school year.
The letter warned that some vendors promoting materials for ethnic studies did not meet the requirements of the legislation, which includes not promoting, indirectly or directly, discrimination based on disability, gender, gender identification, nationality, race or religion.
As part of the anti-hate campaign, Gov. Newsom also announced plans to launch a media campaign entitled "CA vs Hate," that will include print, radio and digital advertisements in multiple languages, as well as the donation of $91.4 million to 173 local organizations that work to prevent hate and to support victims of hate crimes.
"An attack on any of our communities is an attack on everything we stand for as Californians," Newsom said. "As hate-fueled rhetoric drives increasing acts of bigotry and violence, California is taking action to protect those who are targeted just for being who they are. We're bolstering our support for victims and anti-hate programs and tackling ignorance and intolerance through education to prevent hate from taking hold in our communities."
Copyright © 2023 Bay City News, Inc. All rights reserved. Republication, rebroadcast or redistribution without the express written consent of Bay City News, Inc. is prohibited. Bay City News is a 24/7 news service covering the greater Bay Area.