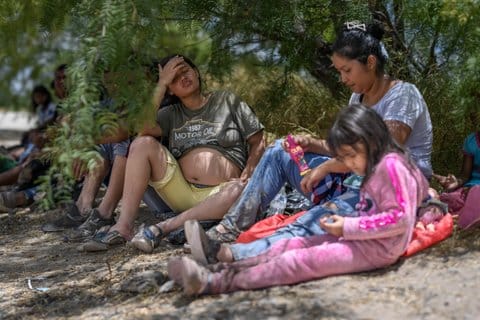 03 Sep

Barbed Wire & Glitchy Phone App Stand Between Asylum Seekers and U.S.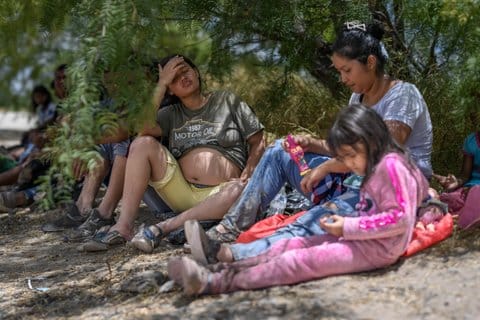 Photojournalist Manuel Ortiz said of the migrants he recently met, many were children or pregnant women.
Story by Danielle Parenteau-Decker | Photos by Manuel Ortiz, Ethnic Media Services (reprinted with permission)
Migrants fleeing political persecution, abusive relationships and other dangers in their home countries now have to contend with new obstacles like razor wire and barriers in the Rio Grande if they try to cross the border at Texas. Those dangers often come after enduring extreme physical danger and great financial costs associated with the trip. Then, if they make it through all that, they are liable to be turned away for a bureaucratic reason: They don't have an appointment with U.S. Customs and Border Protection.
Earlier this year, the U.S. began requiring asylum-seekers make an appointment via a smartphone app called CBP One before attempting to enter the country. But like much complicated technology, this app can be unreliable and inaccessible to many people.
In response, the American Immigration Council, Al Otro Lado and Haitian Bridge Alliance, along with 10 people personally affected, filed a lawsuit July 27 in federal court challenging what is known as the CBP One turnback policy.
In 2021, Texas Gov. Greg Abbott launched Operation Lone Star, ostensibly to curb drug trafficking and unlawful border crossings. The operation has included putting large buoys fortified with metal in the Rio Grande, barbed wire along the river shoreline, and stationing Texas National Guard soldiers near the border.
As part of an initiative called Operation Lone Star, Texas officials put razor wire along the Rio Grande in an attempt to keep people out. States do not have the legal authority to enforce U.S. immigration law.
Ethnic Media Services reporter Manuel Ortiz has visited both sides of the U.S.-Mexico border many times. "This is the first time that seems to me like a war zone," he said. Ortiz made his comments during an August Ethnic Media Services' national news briefing. He was in the border town of Eagle Pass, Texas at the time.
While only the federal government holds the legal authority to enforce U.S. immigration law, Texas Department of Public Safety authorities "are doing things to keep people away," said EMS associate editor Pilar Marrero, who has extensive experience covering immigration policy.
In July, the U.S. Department of Justice sued the state of Texas demanding that it remove the barriers in the river. Texas has not complied.
Texas' actions on immigration and the buoys, in particular, have drawn a negative response even from some advocates of stronger enforcement.
Ortiz said he asked one small-town Texas police officer what he thought about Operation Lone Star. After at first declining to answer, the officer said he wanted a strong border but thought Abbott was doing too much.
"This is something I have heard a lot around here. It seems like some local authorities that supported Greg Abbott's actions at the beginning are not supporting him anymore, even local entrepreneurs, the owners of some ranches here … The floating wall was very unpopular," Ortiz said, referring to the buoys.
These buoys put in place by Texas officials have made crossing the Rio Grande — or Rio Bravo, as it is known in Mexico — even more dangerous. The U.S. Department of Justice has sued the state of Texas, demanding their removal.
Getting to the border has become more expensive for those unable to enter the U.S. through standard legal channels. Ortiz said reporters in the border town of Piedras Negras, Mexico, told him that smugglers raised the cost of a border crossing to the equivalent of $1,500 per person from $500 each. (He added later that the exact cost depends on the nationality of the person crossing.)
"They told me it is not possible to cross the river without paying these smugglers," Ortiz said, though he did not elaborate on why that is. "So it seems like the only winners of Abbott's actions are the human traffickers."
Many people put up the money, face the danger and endure the long, long walks in punishing heat with little water because they believe they simply need to get to the U.S. to escape whatever trouble they're fleeing according to Ortiz, "There is a belief that once they are in the United States, they survived. They say, 'Thank God because we survived,' and they believe they will stay here," he said.
But according to what reporters in Piedras Negras told Ortiz, many asylum seekers are deported the very next day. "Once they are deported, smugglers in Mexico are taking them. There is a lot of rape. There is even disappearing of migrants in Mexico."
Often, those people are deported because they did not make an appointment on the CBP One app — or more to the point, they were not able to.
"Most people can relate to having a frustrating experience with a piece of technology," said Gianna Borroto, an attorney with the American Immigration Council. "Now imagine that this piece of technology is standing between you and being able to seek protection when you're fleeing for your life."
Borroto said there are many reasons people may be unable to make an appointment. Among others, they might not have a smartphone with the right functionality or internet access. They might not speak the right language. (CBP One is available in English, Spanish and Haitian Creole.) The app might not work, or they might be unable to use it because of a disability or lack of technical understanding.
According to Borroto, one woman was unable to make an appointment because the app would not accept a photo of her face, which was partially paralyzed due to a brain tumor. Another woman was turned away at the border with her infant for not having an appointment. She couldn't make one because the abusive ex she was running away from broke her phone when he discovered she was leaving him.
>>>Read: After Escaping Abuse, Immigrant Victims Forced to Endure Long Waits With Little Hope
Borroto said those who are able to use the app have said it frequently freezes. It also displays "indecipherable computer code" or error messages in English when using the app in another language or tells users they are not close enough to the border — when they are in a border town.
Even successfully using the app and making an appointment isn't enough, though.
"They also just need plain luck," Borroto said, because only 1,450 appointments are available each day, given out in a lottery system, though she did not specify how many people are trying to get them on a daily basis.
Those who do secure appointments are still likely to have a long wait before their case is heard.
According to the nonpartisan Transactional Records Access Clearinghouse at Syracuse University, as of December 2022, a record 1,565,966 people were officially awaiting asylum hearings.