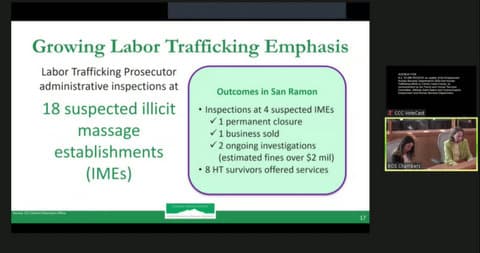 13 Sep

County Highlights Anti-Human Trafficking Efforts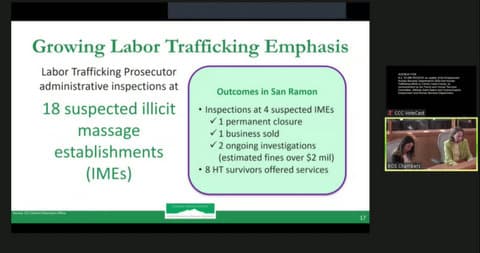 Contra Costa County officials have investigated 18 massage establishments that were suspected of being used for human trafficking. (Screenshot captured by Samantha Kennedy / Richmond Pulse)
By Samantha Kennedy
The Contra Costa Board of Supervisors on Tuesday received a report on the county's efforts against human trafficking, including resources offered to victims.
"The network that's been built is so important in working with our community partners," Vice Chair Federal Glover said. "We've come a long way. When you look out and see what's taking place, we still have a long way to go."
The presentation coincided with a press release by the Contra Costa District Attorney's Office announcing the arrest of a Diablo Valley College instructor and track coach who is accused of nine felonies, including human trafficking.
Services funded by Contra Costa's Employment and Health Services Department for anti-human trafficking efforts totaled nearly $1.5 million in the 2022-23 fiscal year. Services include both prevention and intervention, such as community education and direct support for victims, that are facilitated through several county and community organizations.
"There are tools at the local, state, and national level to help curb human trafficking and connect victims to trauma-informed services," Contra Costa District Attorney Diana Becton said in the press release. "For example, our office has a local human trafficking hotline, we have community-based service partners like Community Violence Solutions, and there's a national toll-free helpline that's available 24/7." That helpline can be reached by dialing 211.
Supervisor Diane Burgis said she appreciates current anti-human trafficking efforts by the county and community organizations that focus on the victims, but also said that holding all perpetrators, especially ones that exert the most power and have the most money, accountable is something she wants the public to know is a priority.
Melody Saint-Saens, division manager for the Contra Costa Alliance to End Abuse, said that targeting perpetrators in addition to helping victims is a priority for the county.
The county conducted inspections at 18 massage establishments that were suspected of human trafficking for either labor or sexual trafficking. In San Ramon, those inspections resulted in one permanent closure, one sold business and two current investigations. From these illegal establishments, eight human trafficking victims were offered services.
Supervisor John Gioia previously called for further investigation into unpermitted spas after two people died of Legionnaires' disease at an unpermitted spa.
In some cases, according to Saint-Saens, human trafficking victims are often forced to help commit crimes like human trafficking.
"There's not just one solution that fits every situation," Saint-Saens said. To navigate these complex situations, Saint-Saens said developing community partnerships and involving survivors is an important tool to better serve the community.
One solution California lawmakers have come up with to both protect survivors who may have been forced to help traffickers from prosecution and hold actual perpetrators accountable is Senate Bill 14. The bill, which passed 79-0 on Tuesday, would make child sex trafficking a serious felony and require longer sentences for offenders who have committed certain crimes.
The next Contra Costa Board of Supervisors meeting is Sept. 19.