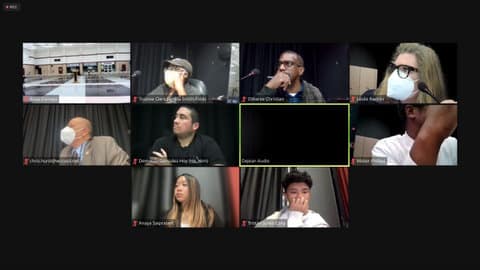 12 Oct

Teacher Recruitment Needs to Reflect 'Who We Are as a District,' WCCUSD Clerk Says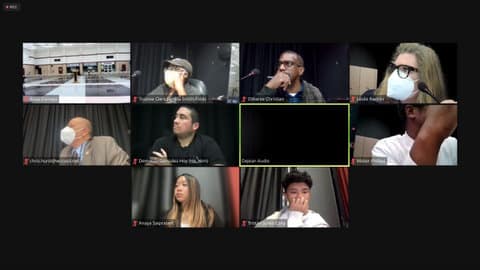 Teacher recruitment was up for discussion at Wednesday's West Contra Costa school board meeting. (Screenshot captured by Samantha Kennedy / Richmond Pulse)
By Samantha Kennedy
After opening the school year with several teacher vacancies, the West Contra Costa school board received a presentation Wednesday on teacher credentialing pathways in the district.
District pathways already support about 30% of teachers in WCCUSD and have the potential to develop 121 credentialed teachers by June 2026.
Clerk Jamela Smith-Folds praised the opportunities available for aspiring teachers and wanted to ensure that teachers accurately represent their students.
"There has to be an intentionality behind who we're seeking," Smith-Folds said. "It's one of those things that, when we are creating this profile of who we are as a district, we need to also create that same profile in our hiring, our recruiting, our retention, our support."
Smith-Fold's concerns were shared by the staff of the teacher development and support programs, who make it a priority to hire teachers that students will identify with. One of the teacher development programs, the teacher residency program, which pairs a mentor teacher with a resident doing an apprenticeship in the district, was made up of over 90% of cohorts identifying as Hispanic or Latino, Asian, Black or multi-ethnic.
"That's when we really are able to shift the district and shift the learning of our students," Smith-Folds said. "Because there's a real connection to the people that are standing in front of them."
The district partners with two universities — Dominican University of California and California State University, East Bay — that focus on special education or diversifying the workforce.  Every single resident in the 2023-24 cohort has previous connections to the district.
To help attract teachers and reduce the financial burden that comes with earning a teacher credential, teacher residents are supported through grant funding that goes toward stipends and university tuition and fees. Earning a credential can cost between $15,000 and $20,000, not including housing costs. WCCUSD teacher residents receive $20,000 to cover these costs.
Residents also commit to four years of teaching in the district.
But recruitment is not as widespread and tries to target classified staff in WCCUSD.
Kristyn Loy, coordinator for the teacher residency programs, told the board that recruitment is still heavily reliant on relationships. Loy said district staff or administration constantly finds a candidate for the program and will set up a meeting with them.
Trustee Otheree Christian, who is a substitute teacher in the Oakland Unified School District, said outreach to classified staff is much needed to fill the teacher vacancies. In fact, Christian said, he would look into getting his credential after hearing about the classified to certificated staff pathway.
Classified staff in the district, including substitute teachers and paraprofessionals, often live within the district and are Black or Latino.
"We need both of them to be in our classrooms," board President Demetrio Gonzalez-Hoy said.
Filing vacancies with culturally competent teachers, especially with staff already familiar with the district, became even more apparent when several teachers and principals advocated for the TeachStart program, which was set to be passed with the consent items that same night.
TeachStart will recruit up to 10 educators to provide support for other teachers. They sometimes act as a substitute teacher when a regular teacher is out or will help a teacher to reduce their workload. After a year of working in this capacity, educators can work full-time the next school year.
Principals from Lincoln Elementary and Michelle Obama Elementary told the board that school sites have to compete with each other to get a substitute teacher. Sometimes, even after a substitute teacher would accept a role at one site, they would cancel at the last minute for a different site. Students would then be without a teacher that day.
The TeachStart program, according to the Lincoln and Obama principals, provides sites with reliable educators who are always ready to take over for a teacher and ensure students don't miss any instruction.
Teachers at John F. Kennedy High School and its principal, Tipawan Mcgee, said some students have been without instruction since the school year began nine weeks ago.
"When you have teachers that are covering classes during prep time," Mcgee said. "They're missing out with providing prep for their own eight-period day."
Cristina Huerta, who teaches at Kennedy, said students impacted by the vacancies usually don't stay in one place. Administrators, other full-time teachers or substitute teachers will supervise students, sometimes in the cafeteria, but will learn nothing. Huerta suggested that Kennedy use Edgenuity, an online learning platform they used when facing similar difficulties last year, to help students learn something.
The board renewed the TeachStart contract which will last until the end of the school year in June.
Those interested in the teacher residency program can learn more at WCCUSD's site and fill out an interest form here.
The next WCCUSD board meeting is Oct. 25.