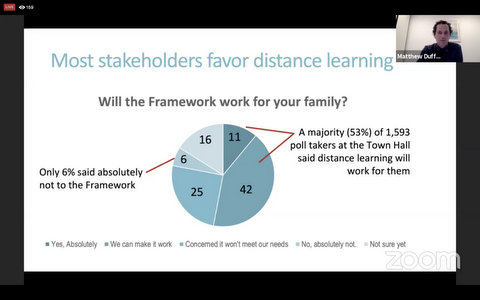 16 Jul

WCCUSD Board Urges Distance Learning: It's 'Life and Death'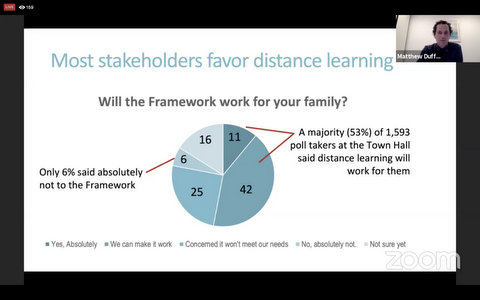 By Edward Booth
The West Contra Costa Unified Board of Education on Wednesday directed staff to not have students on campus when schooling resumes Aug. 17, and to return with a school reopening plan only once student safety could be guaranteed.
"I think the direction from this board is pretty clear, that safety is No. 1, and we all feel like we're dealing with the life and death of our children," board member Consuelo Lara said. "We don't want anyone in danger, our employees, nobody. We don't want to put anybody at risk."
Before hearing from the public and the board, Superintendent Matthew Duffy gave a presentation on the district's framework plan for reopening, which echoed the presentation given by a consultant at a July 10 town hall meeting. The framework focuses mostly on improvements to distance learning while restricting any potential in-person activity to "student support hubs." Access to these hubs, according to the framework, would be phased in for students most in need of support. The framework suggests a return to in-person instruction could gradually roll out through these hubs as the COVID-19 pandemic recedes.
Every board member said they were against a return to in-person instruction until safety was guaranteed. Many cast doubts on the concept of the hubs, saying they could present a safety risk. The board members expressed support for the district putting effort into making improvements to distance learning and closing equity gaps that emerged when schools closed in March.
Board member Valerie Cuevas said though the district was obligated to provide education, she's primarily interested in ensuring safety while the coronavirus outbreak continues. She said she won't support physically opening school campuses or bringing students in for individualized attention until a vaccine becomes widely available, or until the virus is no longer a threat.
Cuevas said she'd never imagined being in a spot where the board's decisions could have immediate life or death consequences. Despite the existence of many safety measures, she said, none offer a guarantee of safety even when properly implemented. The district also doesn't necessarily have the money needed for proper implementation — Cuevas said she knew for a fact that the district couldn't afford to keep people safe at the level she'd want her own family to be safe.
Many district schools are overcrowded, Cuevas said, which decreases the district's ability to enact safety measures such as social distancing. She concluded that the district should focus on improving distance learning, which she said would increase safety for everyone.
"I feel our attention needs to be spent on perfecting, on improving and getting better at distance learning, because that is the way to keep everyone physically safe," Cuevas said. "I know for a fact that I'm not going to contribute to bringing kids back together and putting them and their families and their teachers and their staff in dangerous situations."
Board member Mister Phillips also supported distance learning. He asked Duffy if he could guarantee that no students would be physically at school when it restarts Aug. 17. Duffy responded that it'd be unlikely for students to immediately return, that it would require the district to successfully negotiate a plan with bargaining units and then bring that plan to the board for approval.
Phillips said he was opposed to any students being at school Aug. 17 and that his own children definitely wouldn't be there. He said he recognized what learning loss can do but says the safety of his children is more important.
Phillips also said the pandemic needed to be recognized as a fluid, not linear, situation, and the district shouldn't be thinking about the reopening process in terms of "triggers" and stages along a straightforward path.
Board president Stephanie Hernández-Jarvis said the board needed to make decisions to protect lives above all else. She said that though the tiered hub approach seemed well-intentioned, it could negatively impact the students it intends to help.
Board member Tom Panas said he was extremely uncomfortable with students returning to school, and that it's going to be long after Aug. 17 when students should be going back to school.
"We have to do whatever we can to protect those lives," Panas said. "We have to exhaust all our options to protect our most underserved."
The logistics of distance learning in the fall will take some lessons from how it rolled out in the spring, according to Duffy. Hernández-Jarvis brought up how the district had hundreds of students not attending school during the spring months, which she said is unacceptable. Hernández-Jarvis said that the onus was on the district to ensure students stay engaged with distance learning.
Duffy gave a presentation later in the meeting about the students who missed virtual lessons. He said the district reduced the number of missing students from 753 to 507 by the end of the school year through basic outreach and then, with additional outreach efforts, down to 112 through the summer.
He said the district had learned from the missing students overall and was getting stronger at identifying and dealing with the root causes of their issues, which include limited internet and food access.
Duffy said 68 of the students, out of 383 surveyed, identified internet access as their main barrier. Many parents, Duffy said, expressed shame, frustration or confusion when trying to engage with distance learning. Some didn't know how to get in contact with teachers, and many were also unaware their child wasn't participating because they saw them using the Chromebooks provided by the district.
Going forward, Duffy said, the district needs to find ways to strengthen relationships between teachers and parents, make it easier for families to update contact information, explore why the majority of missing students were English learners, and adapt truancy prevention protocols used during a regular school year to immediately follow up with absent students.
"There are many opportunities for us to get better, many opportunities for us to think about what we weren't able to do during those three months when we were in much more of a crisis mode," Duffy said.