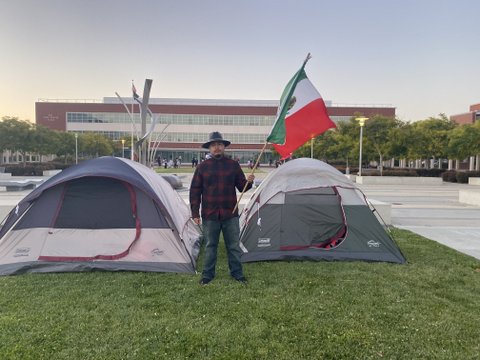 21 Jul

How I Became Part of the Vanessa Guillén Occupation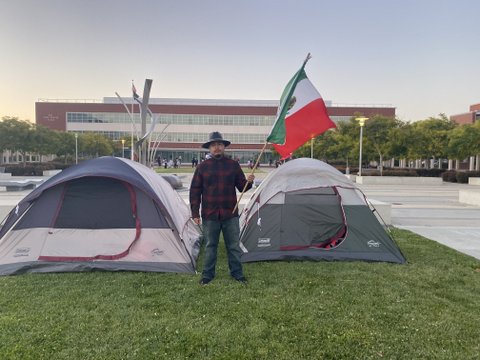 San Pablo resident Carlos Perez, 19, holds a Mexican flag in front of tents he and his brother Jose Perez set up July 7 at Civic Center Plaza in Richmond. (Denis Perz-Bravo / Richmond Pulse)
Commentary, Denis Perez-Bravo
As a photojournalist, I love covering protests because of the causes people fight for.
So as Jose and Carlos Perez put up tents at Civic Center Plaza three weeks ago to kick off an occupation protest to raise awareness for slain Army Specialist Vanessa Guillén, I knew I wanted to see this historic moment play out from beginning to end.
I ended up staying overnight with them for a week, documenting their protest. Soon, it became my protest as well.
The occupation at City Hall calls on the East Bay Latino community to continuously use the Civic Center Plaza as a place to protest and organize.
As I photographed the Perez brothers and others behind the grassroots movement, I couldn't just take pictures anymore. I asked myself: When is it our priority to get our own folks out into our own streets to call for our justice? So I joined.
Now, we are in our third week of occupying the plaza to raise awareness about Guillén's killing at the Fort Hood military base where she was stationed.
Stemming from a weeklong vigil for Guillén, the occupation brought together a group of Richmond, San Pablo and Pittsburg residents, officially calling ourselves East Bay Movimiento.
We want to organize the Latino community from all over the East Bay, and the large Latino population in Richmond could very well make that happen. We should be helping pave the way for all our communities to rise up and fight systemic oppression in the legislative, judicial, and executive branches of government.
As the third week of the occupation approaches, the group is planning to become involved in local legislature. The first project will try to get the Richmond City Council to pass a resolution in support of Guillén, Pittsburg resident Danyelle Ashley Luckey and others who were victimized while serving in the military.
East Bay Movimiento also demands there be an independent congressional investigation into the cases of Guillén and Luckey, a ban on military recruitment in low-income communities, and for Congress to pass the I Am Vanessa bill.
This is the first time many East Bay Movimiento members have directly participated in local government. This speaks to the grassroots movement the occupation hopes to grow, not just in our group, but in others that are popping up throughout the East Bay.
At the northwest side of Civic Center Plaza, 10 tents have been set up with signs planted around them. Candles and flowers sit at the steps of City Hall. Taped on its glass walls, posters with the faces of Guillén, Luckey and other victims of different types of violence face the plaza.
The group is a mix of single parents, young couples, children and other adults, from 12 to 45 years old. A group of four to nine people sleeps at the camp each night, as some are not able to stay through the whole week. Other members come visit throughout the day.
As a "baby" organization, East Bay Movimiento is still learning our strengths by participating and organizing events.
On Saturday, we participated in a caravan from Concord to San Jose, where we met up with residents to raise awareness about Guillén and urge locals to call their elected officials.
On Friday, East Bay Movimiento stood in solidarity with Richmond resident Fabiola Reyes and her family who held a balloon releasing memorial to honor the victims of violence and call for unity. Reyes stood at the steps of City Hall and recalled the day she was physically attacked.
That incident opened her heart to forgive her aggressors, she said, and break a cycle of violence that would have started if she had sought revenge. Her message was that instead of looking at one another as enemies, we must unite.
On July 12, East Bay Movimiento hosted a Black and Brown Unity BBQ to take steps in uniting our struggles with Black causes.
That day, Pittsburg residents Derrick and Annette Luckey visited our camp and shared the story of their daughter.
Danyelle Luckey was 23 when she boarded the USS Ronald Reagan for her first tour of duty in the Navy in the Pacific Ocean in 2016. Not long after, Derrick and Annette were notified that Danyelle had died from natural causes aboard the ship.
For five days, Luckey had been sick, but the medical staff aboard the ship denied her appropriate medical attention because they believed she just had the flu. By the time they realized Luckey was suffering from kidney and liver failure, it was too late. Luckey went into cardiac arrest and died.
Danyelle Luckey is a parallel of Vanessa Guillén, just as the brown community is a parallel of the Black community. Both join the military and are treated unfairly while families are not given answers.
Even though Richmond has no active military base, finding justice for Guillén and Luckey is our fight — both of these young women could have been our sisters, daughters, cousins or partners.
None of us at East Bay Movimiento had plans of doing this longform protesting, but an action for justice can be immensely persuasive.
While many of our younger residents in the Latino community join protests or movements in other cities like Oakland, San Francisco or Berkeley, we need to organize in Richmond to build a pool of activists who will take on the various problems in our neighborhoods. So I urge you to organize and try something because you just don't know how it will turn out.
Sisters Estefany, Jackie and Nadra Sanchez reached out and organized the vigil that began July 6. That night, co-organizer Diego Garcia looked at the crowd and asked, "How many of you are you willing to pitch a tent?"
The crowd raised their hands in agreement with staying until legal progress is made. Jose Perez, 23, knew his next step toward getting justice for Guillén was to occupy the Civic Center.
The next night, Jose and his brother Carlos were the only ones who set up camp on one of the lawns at Civic Center Plaza. That night, I joined them to document this historic moment. Then, more people, including Micha Vargas of Pittsburg and her three kids joined. Equipment and food donations poured in, and we felt the support of the community.
Three weeks later, we are still camping out as protests, rallies, and events are still being planned in the plaza to help grow the Latino movement in Richmond.