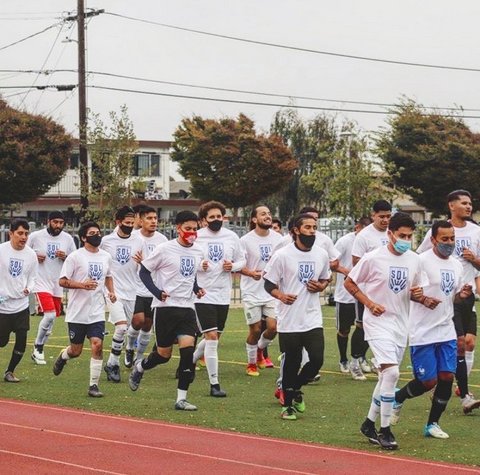 16 Sep

Richmond Sol Football Club Starts Practices, Hopes to Play By End of Year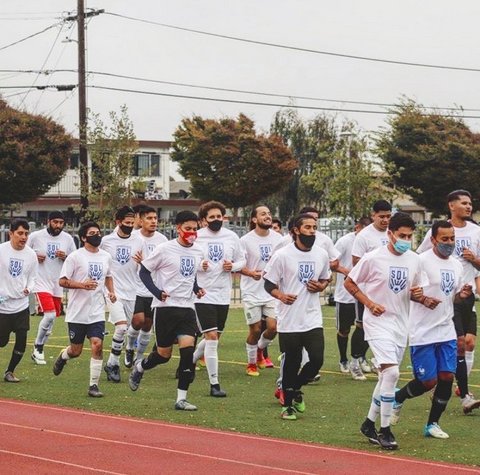 Richmond Sol FC held its first practice this week. (Christine Aguilar)
By Denis Perez-Bravo
The semi-professional Richmond Sol Football Club officially began practices Tuesday at Martin Luther King Jr. Park in Richmond after choosing their 26 member team last week.
The team hopes to start its National Soccer League Pacific Conference season in December or January 2021, RSFC head coach Manuel Martinez said.
As of now, RSFC will hold two practices a week until health regulations allow for more.
"I can't say what we need to work on or see what our challenge will be. We have to keep practicing to see," Martinez said.
One thing is for sure, though: The players need to get physically conditioned because they have not been working out, he said.
Some in the team are former Richmond Sol youth players who have grown up and come out of the area, but all of them have the talent and discipline RSFC coaches were looking for.
Players are 18 to 31 years old, with most younger than 25. Most are residents of the Richmond and San Pablo area. But some are from Marin, Hayward or Oakland, Martinez said.
Midfielder Alonso Del Mundo, 20, was on the Richmond Sol youth team, the Cobras, when he was 8 years old. He left the program when he was scouted into the San Jose Earthquakes Academy at the age of 14. Currently, Del Mundo is also on the soccer team at UC Berkeley.
The National College Athletic Association has canceled its soccer season and allowed athletes to participate in outside leagues, such as the NSL.
Alonso rearranged his school schedule to fit his RSFC schedule as he hopes to be a pillar in the team and set an example of commitment to others.
"Everything I have accomplished was because of the Cobras where I played since I was a child," Del Mundo said.
Del Mundo is excited, now as a young man, to play again with the Richmond Sol organization and to participate in its community first mentality.
"It feels like I am home," he said.
His first challenge — making the team — has been conquered. Now, he must change his lifestyle to that of a professional soccer player. But with the team only meeting twice a week to practice, self-discipline will have to carry him.
"I have to sleep right, eat right and not mess around. It is about being committed the whole time" he said.
He and the rest of the team have to have the same end goal: be the best in the league, win for Richmond and put the city on the map as a soccer elite, he said.
>>>Read: San Pablo Football Club Joins the National Soccer League
Because the league teams are located in many different counties, RSFC co-director Fermin Salazar said NSL officials will not allow season games to be played until all teams are able to start according to health guidelines in each county.
Friendly preseason matches are being planned for October.
"Right now, scheduling games is hard because of the lack of facilities," Salazar said.
When preseason games are played, they might be held in far away counties, but he said RSFC is looking at getting a permit to play on their home field — Martin Luther King Jr. Park.
To be able to play in Richmond is exciting for forward Fabian Martinez, 26. He is grateful for this opportunity to play competitive soccer in his city because it is something he always wanted to do as a grown-up.
"I am excited for this project, I think it has been a long time coming. It's something Richmond needed for the players in this community," Martinez said.
He played competitive soccer growing up, but it has often been outside of Richmond and in Sunday adult leagues. The best times playing soccer, for him, was on Richmond High School's varsity team in 2012.
The atmosphere and the community made it the best but after high school the cost of continuing soccer in clubs was too much and his priorities shifted to getting a higher education and a job.
Martinez graduated from San Jose State University in 2017 and is the program director for College Is Real, a college counseling organization, at Kennedy High School.
Now, he will represent Richmond as a semi-professional player with RSFC.
"This is one of my last opportunities, and I am going to take the shot," he said.