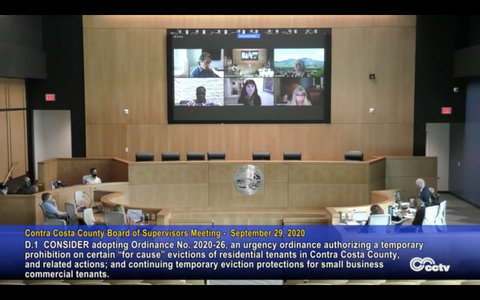 30 Sep

Supervisors Extend Eviction Protections for Small Businesses But Not Residents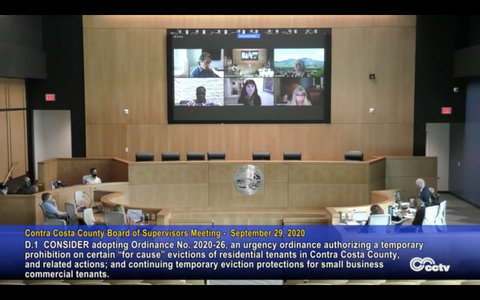 Despite reluctance from some members, the Contra Costa County Board of Supervisors voted unanimously to extend protections for small commercial tenants. (Screenshot captured by Edward Booth / Richmond Pulse)
By Edward Booth
On Tuesday, the Contra Costa Board of Supervisors voted unanimously to extend the county's eviction moratorium for small commercial tenants but stopped short of adding more protections for residential tenants.
The eviction protections for small businesses, first established in April, will be extended for 60 days, to Nov. 30. Rent that goes unpaid during the protection period will be due 120 days after the protections end, on March 31, 2021.
Mary Ann Mason, chief assistant county counsel, said Gov. Gavin Newsom gave the county clear authority in an executive order last week to extend the moratorium, which would have expired Sept. 30. The moratorium applies to businesses that aren't able to pay rent because of impacts from COVID-19.
A few supervisors initially said they weren't inclined to support continuing the county's protections for small businesses. Supervisor Candace Andersen said businesses are in a different place than they were six months ago, as many have reopened and are earning revenue.
"We've given businesses the support when they really needed it, when they were closed down," Andersen said. "Now, especially as it looks like we're going to head into the red tier today, most businesses are open once again."
Anderson also said evicting a business doesn't represent as much of a public health risk as evicting a residential tenant. She added that she'd talked to five people who own strip malls, and all of them had negotiated rent payments with their tenants because they don't want empty storefronts.
Supervisor Karen Mitchoff said she agreed with Andersen but was concerned about hair and nail salons making rent Oct. 1 because they were only recently allowed to open.
Supervisor Diane Burgis said many businesses have only been able to open in a limited capacity, and many weren't receiving aid from the federal government anymore. She said she wanted to continue providing support for the businesses that needed it but didn't want the moratorium to go on for too long.
"I don't want to give a full opening for small businesses to keep not paying [rent] because it is a burden on our economy," Burgis said.
Burgis suggested extending the moratorium by only 30 days instead of 90. Supervisors Federal Glover and John Gioia said they'd agree to a 60-day extension, which the other supervisors also agreed to.
All supervisors except Gioia opposed adding at-fault protections to the eviction moratorium for residential tenants that the board extended last week. These proposed protections would have prohibited landlords from terminating leases under three circumstances: If their tenant refuses to correct a breach in the terms of a lease; If they refuse to execute a written extension or renewal of a lease after a written demand from the landlord; or if they refuse entry to landlord who seeks to inspect a unit.
Gioia said the intent of these changes was to cover up various loopholes landlords could exploit to unjustifiably evict tenants by creating an at-fault reason for the eviction. Gioia said the board should be thinking primarily about public health when considering the change and not about losses of property rights or revenue.
"Evicted renters must move, which leads to multiple outcomes that increase the risk of COVID-19 spread," Gioia said. "Eviction in and of itself, for whatever reason, is a public health issue."
Other supervisors said that limiting the ability of landlords to evict could cause problems for other tenants and their neighborhood. In particular, the supervisors took issue with landlords not being able to evict tenants if they refuse to let them inspect their properties.
All supervisors said they were looking forward to being able to assign funds for the purpose of legal advice or education to help renters and landlords handle the slew of COVID-related legal protections.
Glover said he'd been both a tenant and a landlord, so he had an understanding of both situations. He said he understood everyone's dealing with the pandemic, but landlords need the ability to inspect their properties because they need to know if the community at large is being endangered.
"I understand the good tenant, and I certainly understand the bad tenant," Glover said. "I think the majority of the tenants are good tenants. But we have to make sure that we always have in place a landlord's right to enter a property."