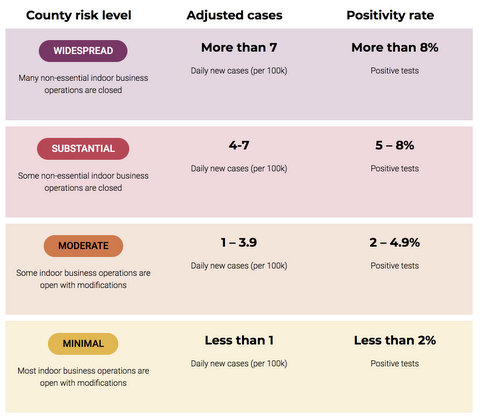 29 Sep

Contra Costa COVID-19 Risk Upgraded to Red Tier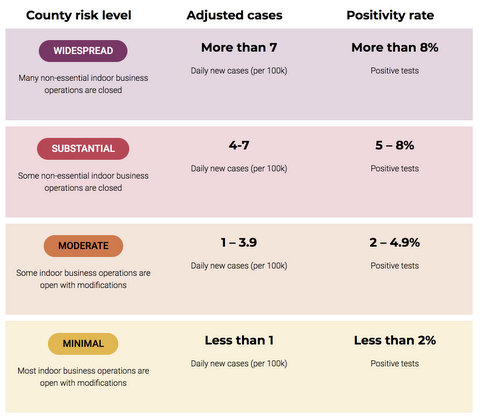 By Edward Booth
On Tuesday, Contra Costa County moved out of the most restrictive tier of the state's color-coded reopening system, the purple tier, into the red tier, which indicates COVID-19 risk is "substantial."
As a result of the move, several sectors of the local economy are now allowed to partially reopen. Places of worship, restaurants, museums and movie theaters can open at 25% capacity or 100 people, whichever is less, according to a county press release. Additionally, gyms can reopen at 10% capacity; personal care services can move inside; indoor shopping malls can open at 50% capacity and food courts are allowed to reopen following state guidelines; indoor retail stores can operate at 50% capacity; and outdoor playgrounds are now open.
"The credit really belongs to the residents of Contra Costa, who have adapted to the new normal and modified their lifestyles to reduce the spread of COVID in the county," said Dr. Chris Farnitano, the county's health officer, in the press release.
If the county remains in the red tier for two more weeks, K-12 schools will be allowed to partially reopen for in-person instruction on Oct. 13, given that they follow state guidelines. Currently, only K-6 elementary schools are allowed to reopen if they're provided a waiver by the county.
In order to move into the red tier, the county needed to see average COVID-19 case rates drop below 7 per 100,000 people, and see testing positivity rates drop below 8%. To move into the orange tier, where COVID-19 risk is "moderate" and more restrictions would be lifted, the county will need to fall below 4 cases per 100,000 people and see testing positivity drop below 5%.
Most Bay Area counties are now in the red tier, with the exceptions of San Francisco, Sonoma, and Monterey counties. San Francisco on Tuesday became the first Bay Area county to move into the orange tier. Monterey and Sonoma are two of 18 counties statewide, out of 58, that remain in the purple tier.
Despite the improvement in numbers, health officials recommend that people still take the precautions they've been urging for months: wear face coverings in public, maintain social distancing, wash hands frequently, and stay home if sick.
Bay Area health officers today also released guidance on how to celebrate Halloween and Día De Los Muertos safely. The guidance suggests people avoid traditional trick-or-treating and traveling to rural fall festivals outside of the local community. Large parties, haunted houses, indoor mazes, and trick-or-treating where treats are handed out from cars are not allowed in state and local orders, according to the guidance.
The health officers instead suggest that people should "stay home and keep it small" while celebrating the holidays by, for instance, carving pumpkins, holding virtual costume contests, or preparing family recipes.