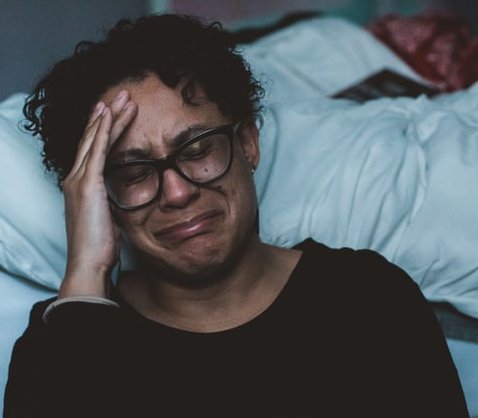 12 Oct

We Need to Talk About Black Mental Health. We Shouldn't Have to Die For People to Listen.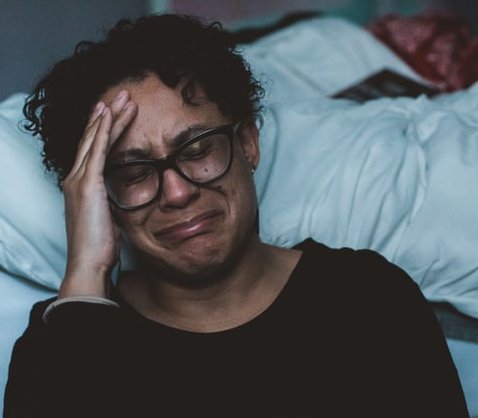 "It hit me that my son may be depressed…just like me," wrote Claudia Wolff in her caption to this self-portrait. (Claudia Wolff via Unsplash)
By Kimyatta Newby
Many Black people are taught not to talk or even think about our mental health, and if we try to, society and our community do not take us seriously. That needs to change.
Rheeda Walker, a psychology professor at the University of Houston and author of "The Unapologetic Guide to Black Mental Health," wrote for The Conversation in January that research has found that among children age 5-11, Black youth "had the highest rate of death by suicide." The American Psychological Association also found that Black teen suicide rates are increasing, and suicide attempts have increased by 73% since 1991.
Those findings are highly concerning, and we need to figure out why this is happening and how to fix it.
In our society, there is a disconnect between Black people and mental health. That is largely because of ignorance and bias towards Black people throughout the medical field. Our pain is suppressed and minimized, not taken seriously. That creates a pervasive distrust that lasts for generations. Over time, people begin to believe they don't need help anymore, so signs of mental illness or a need for resources might be ignored.
Furthermore, mental health can't be addressed with a one-size-fits-all approach. A lot of research, however, is Eurocentric and white-based, creating a complete disregard for a demographic that is predisposed to trauma and mental health issues.
Black people are exposed to trauma and anxiety from birth — genetically even, known as intergenerational trauma. Yet we act like it doesn't exist. Media, resources, even advertisements put white faces on mental health issues, which causes many people to believe things such as depression, suicide, ADHD, anxiety, etc., are just white people problems. They're not.
Plus, we're not exposed to examples or explanations of different variations of mental disorders. If your symptoms don't fit the usual procedure or standards, you might end up assuming there's nothing really wrong with you; that's just who you are. Or, at least, that's what the Black community tends to believe.
As my peers and family know, I have anxiety, which is genetic. But recently I've been struggling with more than its usual obvious signs. My new symptoms include short attention span, random mood swings, impulsive thoughts and an inability to focus. Some people I know chalk it up to cabin fever due to being stuck inside for so long. But I didn't want to minimize how I was feeling anymore. I took it upon myself to contact my doctor instead of ignoring it or assuming it was nothing. Not everybody has the resources or ability to do that.
We have to stop pushing our feelings and thoughts aside because they aren't what we see in the media. But the media also needs to talk about us more.
The Black community has faced so much adversity and pain, but we still get ignored as if we are made of steel. We are not, and our youth and peers are suffering for it. These aren't some hero stories of young kids persevering over oppression or bullying. We are dying, and no one is listening. We are exposed to so much violence and hatred from society and social media, but we are supposed to assume we're OK? That's not fair.
Imagine, you're 14 years old and your parents finally let you sign up for Instagram. It's June 2020, so you're already stuck inside, and everywhere you scroll there's a video of a Black person being suffocated, shot or harassed. You mute it; you pick the "not interested" option to make it go away. But Instagram's algorithm isn't the best, so the videos are still there. Then, there's a post on why Black lives matter or what to do if the police come near — all these things that make you say, "What? Why do we have to convince the world we matter? Why are we dying?" Why this and why that, and it's overwhelming. And that's ignoring the usual changes happening to your mind and body at 14.
That could put you in a bad place. That would be a time to talk to someone or get help, but because you've never really learned about or discussed mental health or stress. You don't even know how to begin that conversation. That starts a spiral.
The adults around us — parents and teachers, even neighbors if you're close enough — need to start showing that they care and that there are resources for us. And the Eurocentric point of view of the medical field needs to stop being the focus.
There are too many battles Black people are fighting. To go home and have to fight our own minds is exhausting.
We're tired, and we shouldn't have to die for people to listen. Begin talking to your children, your parents, your peers, and other people around you.
We can support and listen to each other as a community and grow as a society.
We don't have to know everything, but just the ability to talk to someone about your thoughts and emotions can be helpful.