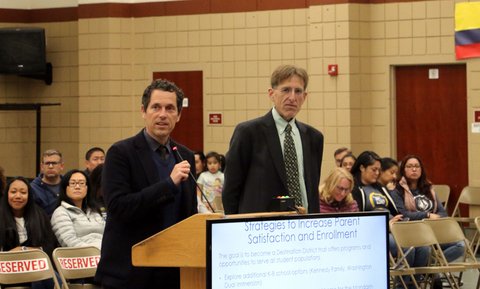 05 Nov

Matthew Duffy Won't Seek Another Term as WCCUSD Superintendent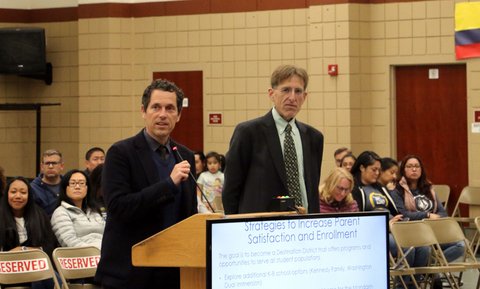 WCCUSD Superintendent Matthew Duffy, left, seen in November 2019 with associate superintendent Tony Wold, will finish out the school year. (Edward Booth)
By Edward Booth
West Contra Costa Unified School District Superintendent Matthew Duffy will step down after the current school year, he announced Thursday.
In a post on the district's website, Duffy wrote that the community wants "fresh leadership" to guide the future of the district. This, he wrote, is represented by the four board members who will take seats in December. Duffy suggested the current board should defer to them in the selection of his replacement.
"For my part, I am committed to making the transition as seamless as possible," Duffy wrote. "I will still be your superintendent for eight months as we navigate through the lingering COVID pandemic and will serve until the end of the school year."
Duffy held the job of superintendent for five years, first arriving in the role in 2016. He replaced Bruce Harter, who stepped down after a decade in the role when the district was hit with allegations of mismanaging its bond construction program.
In June, Duffy received an "intermediate" score on his most recent performance review, the second-lowest possible score. As a result, his contract wasn't automatically renewed, making it set to expire at the end of the 2020-21 school year.
Duffy received criticism from community members after the district announced that it had fallen into a $48 million budget deficit in September last year. In his post on the district website, Duffy wrote that the budget is now in good shape, and the internal systems that contributed to the deficit are getting stronger.
He wrote in his post that much of his work for the remainder of the year will be helping the district transition back to in-person schooling. And he added that the district has many challenges ahead, including supporting historically disenfranchised students and families. The district will need to maintain its efforts to overcome these challenges, he wrote, particularly because, depending on the results of elections, the budget could soon be under significant stress again.
"We will have to work even harder to make sure we can support our learners most historically far from opportunity and achievement," Duffy wrote.
The process of searching for a new superintendent is ongoing: The school board is scheduled Friday to interview representatives from two superintendent search firms.