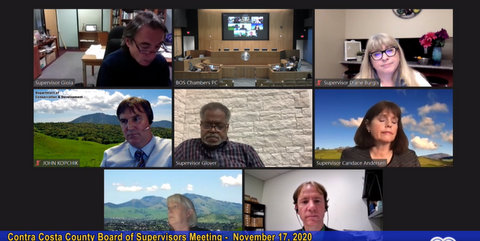 24 Nov

Supervisors Vote to Fund Rental Assistance and Legal Services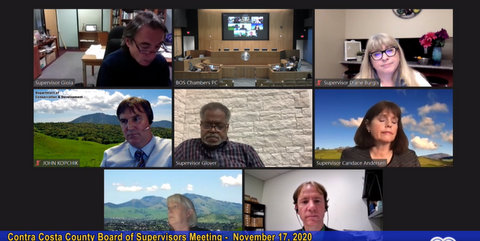 (Screenshot captured by Edward Booth / Richmond Pulse)
By Edward Booth
The Contra Costa County Board of Supervisors allocated about $4.29 million in CARES Act funding Nov. 17 for emergency rental assistance and related legal services during the COVID-19 pandemic.
Additionally, the board extended its moratorium on commercial property evictions for small businesses, if their failure to pay rent is related to the pandemic.
"We have shifted back into the purple tier, and we aren't seeing an expansion of small business' opportunities. We're actually seeing a contraction," Supervisor Candace Andersen said. "At this point, we want to provide some relief."
Shelter Inc. will receive $3.2 million for emergency rental assistance; ECHO Housing will receive $600,000 for tenant and landlord counseling and legal services; and $492,960 will go to the county's Department of Conservation and Development for general program administration.
This CARES Act funding is from the third round of Community Development Block Grants issued by the U.S. Department of Housing and Urban Development in response to COVID-19. The county received roughly $4.29 million this round and about $2.73 million in the first round. The second round of funding only went to states.
The idea for where to spend the funds emerged Sept. 22. When the board voted to extend the county's eviction moratorium, it also directed staff to explore options for funding rental assistance programs and legal services for at-risk tenants. The supervisors approved the specific areas where the grant money should be spent Oct. 20.
The county funneled money from the first round into emergency rental assistance, food security, county administration costs and a microloan program, said John Kopchik, the county's director of conservation and development, on Oct. 20.
The purpose of the county's emergency rental assistance program is to minimize the number of tenants who are evicted during the pandemic.
Under California's COVID-19 Tenant Relief Act of 2020, tenants can't be evicted for unpaid rent from March 1, 2020, through Aug. 31, 2020. Tenants also can't be evicted for unpaid rent from Sept. 1, 2020, through Jan. 31, 2021, but they must also pay at least 25% of their rent during that period of time and inform their landlord in writing about COVID-19 related financial duress 15 days before rent is due.
The emergency rental assistance program intends to pay landlords enough money on behalf of tenants to reach that 25% threshold so the state's eviction protections come into effect, according to the staff report. After a tenant successfully applies to Shelter Inc. for rental assistance, the organization will pay rent directly to the landlord so the tenant reaches the amount needed to be protected from eviction.
ECHO Housing was also given $600,000 to provide counseling between tenants and landlords and related legal services. ECHO proposed to work with Centro Legal de la Raza, a nonprofit organization that gives legal services to low-income tenants, using $540,000 for the subcontract, according to the staff report.
Of the $3.2 million allocated to Shelter Inc., $2.56 million is for direct monetary assistance and $640,000 is for evaluating tenant applications and for marketing and outreach, according to the staff report. As part of the board's motion, the $40,000 for marketing and outreach has the flexibility to go up to $80,000, taking away from the remaining $600,000 that's for evaluating tenant applications, as needed.
Supervisor Federal Glover said the reason for this spending was to make sure communities who need the help are properly informed. Supervisor John Gioia said outreach is especially important in Richmond, San Pablo, Rodeo and parts of Bay Point.
Public commenters supported the emergency spending. Current Richmond City Council member Melvin Willis said the assistance was long overdue. Since the beginning of the stay-at-home order in March, Willis said, people have been struggling to make payments and some have been dealing with harassment from landlords.
"We need to make a choice, and I choose to keep people housed over protecting people's investments right now," Willis said.