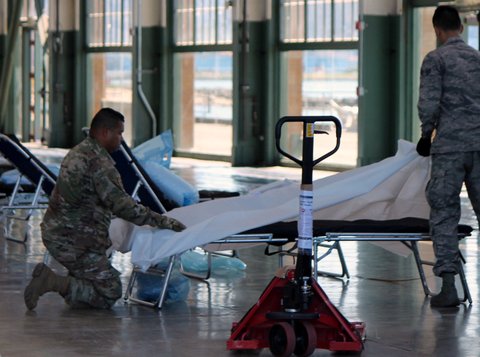 18 Dec

Craneway Medical Facilities in Richmond on Standby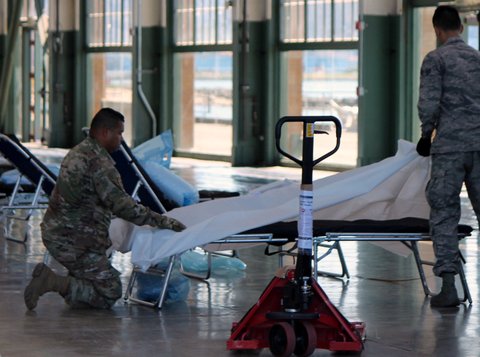 Two National Guardsmen work in April to convert the Craneway Pavilion in Richmond to a temporary 250-bed hospital and medical station. (Michael J. Fitzgerald / Richmond Pulse file)
By Michael J. Fitzgerald
The Craneway Pavilion overflow medical facility on South Harbour Way in Richmond remains ready for patients, Contra Costa Health Services said Friday.
"If needed, the county can quickly activate sites in Richmond and Concord to add as many as 454 additional beds to accommodate a medical surge affecting county hospitals," a CCHS spokesperson said.
The Craneway facility was converted into a 250-bed hospital and medical station in early April in anticipation of local hospitals possibly being overwhelmed with COVID-19 patients.
Since then, the facility has sat unused — but ready — the CCHS representative said.
When the facility was put in place, officials said it might be used for COVID-19 patients, but only for those not in need of intensive care.
"The specific use will depend on circumstances," he said.
The area around the converted facility has remained closed to pedestrian traffic since it was converted. Officials at the time said if it is pressed into service, visitors will not be allowed inside and the parking area by the ferry terminal may be limited to ensure parking for medical staff.
Currently there are no parking restrictions in the area or along the public shore, other than those related to the ferry traffic.
Earlier this week, CCHS announced that only 12.9% of ICU beds in Bay Area hospitals were available. In Contra Costa, 13% of ICU beds were available.
>>>Read: Newsom Announces Regional Stay-at-Home Order
The number of COVID-19 patients admitted to Contra Costa County hospitals in the county and occupying county ICU beds has more than doubled in the last 30 days.
Los Angeles area hospital ICU units are reportedly full.
"CCHS is in close contact with all county hospitals and carefully monitoring to determine if, or when, to activate alternate care sites," officials said.