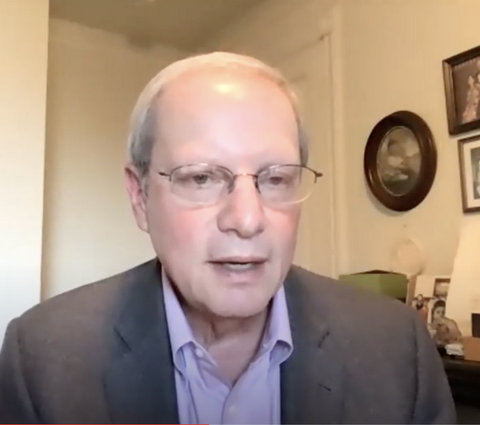 15 Jan

Slow COVID-19 Vaccine Rollout Called 'Scandalous'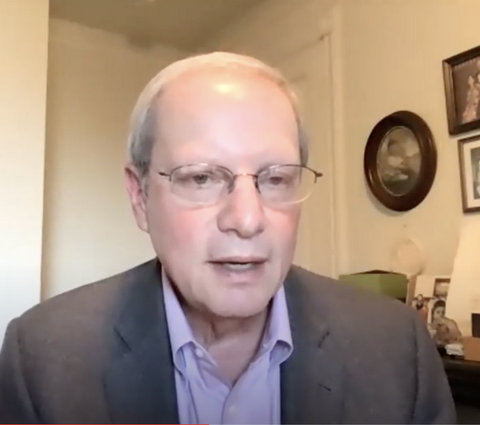 UCSF Chair of Medicine Dr. Robert Wachter criticized the disorganized distribution of COVID-19 vaccines during an Ethnic Media Services teleconference on Wednesday. (Screenshot captured by Michael J. Fitzgerald / Richmond Pulse)
By Michael J. Fitzgerald
The slow rate of Californians receiving inoculations of COVID-19 vaccine is "scandalous," the chair of the Department of Medicine at the University of California, San Francisco said this week.
But both Dr. Robert M. Wachter of UCSF and Dr. William Schaffner of Vanderbilt University voiced some optimism that the incoming administration of President-elect Joseph Biden has a good chance of solving the current problems of distribution and supply.
Schaffner and Wachter were presenters Wednesday in a national media teleconference sponsored by Ethnic Media Services.
Wachter said health authorities "got the science right" when it came to developing the vaccines now being administered across the nation. But the organization needed to get vaccines to people in a timely manner should have been a careful, thoughtful national plan, not simply fobbing the process off to the states to figure out, he said.
"States were left to do it themselves," Wachter said. "Then, they handed off a fair amount of responsibility to local institutions — all of which were doing improv."
Adding to the disorganization is that in many states, medical authorities have set up hierarchies to determine who should receive the vaccine first. The systems they created have slowed things down in a good-faith effort to achieve some kind of healthcare equity, he added.
"I think we created something more complex than we are capable of handling," Wachter said. He predicted the nation may end up with some version of a lottery for vaccinations that will be much faster and more efficient.
"How do you herd a ton of people through a system as efficiently as possible — but one that is not gameable?" he asked.
Schaffner suggested the first thing the incoming Biden administration should work on is an overarching federal policy for vaccine distribution and inoculations.
"We don't need a crazy quilt of state-by-state policies," he said. "This is already starting, emphasizing public health and scientific principles — and providing sustained, clear, continuous communication."
He suggested that the current system of vaccine distribution needs to be straightened out also. Clinicians distributing the vaccine need to know for sure the vaccine will be available when they need it.
"If you have to turn someone away who has an appointment, that makes everyone grumpy," Schaffner said.
The two researchers also discussed the skepticism about the efficiency of the two vaccines currently being administered, one by Pfizer, the other by Moderna.
Much of the skepticism centers around the speed with which the vaccines were developed.
But Schaffner said it's very important to look at the entire development process.
"We don't do the vaccine development process justice," he said. "Yes, the vaccines themselves were developed fast. But for 15 or 20 years before that, the basic science that underlies these new mechanisms of making vaccines was under development. We don't really count that very much."
The technology had been waiting for a problem to solve, he said. Plus, researchers and others worked literally day and night to get the COVID-19 vaccines developed.
One of the biggest boosts in speeding the process was a big infusion of government money. That made it possible to speed up testing and various other processes, he said.
"And then we did some things rather than in sequence, we did them simultaneously."
That included the federal government urging the vaccine companies to begin manufacturing the vaccines — even before the clinical trials were completed. The government was betting that the vaccines would be efficient enough to be used.
As it turned out, both of the current vaccines being administered are much more likely to protect patients than first predicted.
"We won the lottery," Schaffner said. "We had two vaccines fabulously effective, very safe and each company had a warehouse full of vaccine ready to ship. That's how we were able to reduce the time."
This week, Contra Costa Health Services Announced that it has expanded the pool of people eligible to receive a vaccination to include residents 65 years old and older.  Those and other people who meet the eligibility criteria can fill out a form online to request an appointment to get the vaccine.