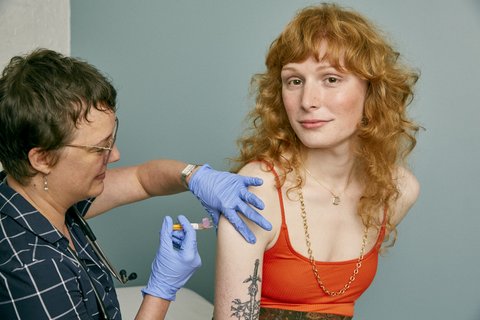 22 Jan

Contra Costa County Wants to Give 1 Million Vaccine Doses by July 4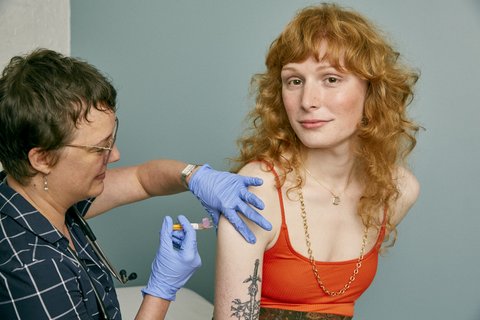 ("Woman receiving a vaccine in a doctor's office" by Heather Hazzan for Self Magazine, licensed under CC BY 2.0)
By Edward Booth
Contra Costa County Health Services announced Friday that the county plans to administer 1 million COVID-19 vaccines by July 4.
The county went from providing zero doses to 5,800 each day during the first month vaccines became available, and the daily average continues to climb, according to a press release. CCHS and county partners will soon have enough capacity to provide up to 9,000 doses of vaccine daily, if the state can supply the doses. Over 65,000 doses have already been administered so far in the county, according to the press release.
"There is no higher priority in Contra Costa County than delivering COVID-19 vaccine to as many eligible residents as possible, as quickly as possible," said Diane Burgis, chair of the Contra Costa County Board of Supervisors, in the press release.
The county also has a new section on its COVID-19 data dashboard that provides daily updates on the vaccination campaign. The announcement follows the promise by President Joe Biden to administer 100 million doses of the vaccine in his first 100 days in office.
The county also launched a vaccine appointment phone line, reachable at 1-833-VAX-COCO (1-833-829-2626). Those unable to schedule vaccine appointments online can call the number and book an appointment from Monday to Friday between 8 a.m. and 8 p.m.
The first wave of vaccine recipients included healthcare and emergency workers and people who live or work in residential care facilities. Now, all county residents 65 or older can request a vaccine appointment.
But it may take weeks for some eligible residents to get vaccines because of the scarcity, according to the press release.The county prioritizes appointments for people in the highest risk categories according to state and federal guidelines. Factors include age, underlying health concerns, how close the appointee lives to a vaccination site and whether they live in a community highly affected by COVID-19.
"This is really, again, the biggest vaccine effort in history," said county health director Anna Roth in a Friday press conference. "It really can't be understated what we're working towards here. And we're grateful to know that our community partners that we've called on to help us reach this challenging but attainable goal, we're so grateful that we're going to be doing this together."