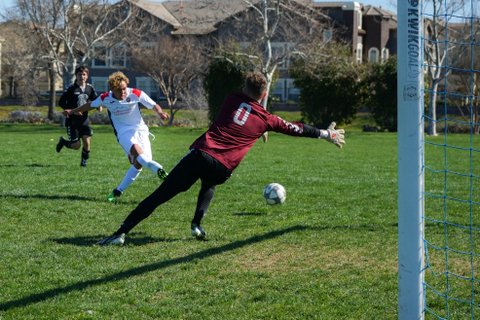 01 Mar

San Pablo FC Defeats Shorthanded Azteca FC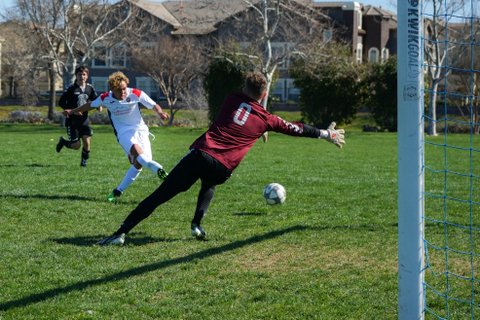 Javier Romero, who scored two goals Sunday, shoots the ball during San Pablo FC's 9-0 win over Azteca FC. (Denis Perez-Bravo / Richmond Pulse)
By Denis Perez-Bravo
ELK GROVE — San Pablo Football Club's second game in a semiprofessional tournament in Elk Grove delivered a 9-0 win against a deflated Azteca Football Club.
The Sacramento-based Azteca FC came into the game with nine players after five starters weren't able to travel the nearly 200 miles from their homes in Monterey to Elk Grove.
San Pablo FC started off strong as midfielder Juan Alejandre Jr. tapped in the first goal feet away from an empty goal box off an assist by forward Pedro Hernandez, who later scored in the 10th minute. Forward Makenna Pendleton scored in the 28th and 40th minutes.
As the referee blew the whistle to signify halftime, San Pablo Football Club was up 5-0 over a nine-player, co-ed Azteca squad.
In the fourth minute of the second half, Pendleton scored his third goal to complete the hat trick. Then, forward Javier Romero scored two, Alejandre Jr. scored another and midfielder Osbaldo Solis scored one.
The SPFC coaching staff named Pendleton the man of the match for his hat trick performance.
"I was focused on putting shots on target and making myself a threat," Pendleton said.
The win against Azteca FC is only a piece of the bigger picture. In addition to helping the team advance in the Elk Grove tournament, Pendleton wants to play his part in making SPFC a "successful" semiprofessional team.
The tournament in Elk Grove is made up of 11 semiprofessional teams from different leagues. After 10 games of weekly weekend league play, the top four teams advance to the knockout playoffs. First place will be awarded $1,000 and second place, $500.
This tournament will allow SPFC to continue playing until their league, the National Soccer League, begins, Alejandre Jr. said. COVID-19 has stalled the NSL's start, and it is looking at late March to early April as its start date.
Although not ideal, the timeline will allow SPFC to practice more and solidify their team's style of play before the league starts. Because of regulations on what fields they can practice on in the Bay Area, other COVID-19 related issues, and the players' work schedules, the team has not seen a consistent practice time with the whole squad, Alejandre said.
Sunday's game against AFC was the first time many of the players were together as a whole squad and played together. For Romero, his second game with SPFC served as a platform to get to know his teammates.
"I still need to know how to group up with my teammates and know their preferred playing style," Romero said.
Romero started the first half missing multiple goal opportunities inside the box but was able to focus after he got advice from his coaches and teammates during halftime, he said.
For AFC, though, the game was more of a test of perseverance than a training opportunity as they had to fight an uphill battle that they had slim chances of winning.
"We knew it was going to be hard, but we still wanted to give San Pablo a game, especially because they came all the way from the Bay Area," AFC midfielder and captain Alex Raya said.
In the first half, AFC had eight field players and their goalie. A few minutes into the second half, reinforcements arrived to complete an 11-player squad.
But by the second half, SPFC had buckled down to play together, pass more and create team-generated opportunities to score, SPFC assistant coach Diego Orellana said.
SPFC's squad was able to shed the feeling of complacency in the second half and stuck to the game plan of passing and using runs to open up space, he said.
The team's growth is dependent on how they can play together despite what the other team has or lacks.
"No matter what level the opposite team brings, we need to stick to the game plan," Orellano said.