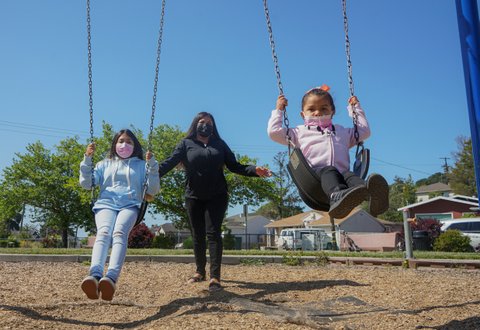 26 May

Moms Forced to Make More Sacrifices During Pandemic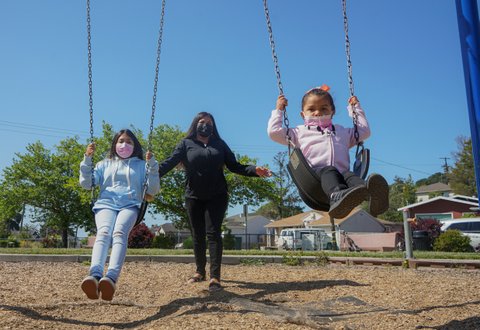 Yenny Garcia with her daughters, Yennell, 12, and Sarah, 4, at Sandlot Park. Garcia also works and goes to school part-time. (Denis Perez-Bravo / Richmond Pulse)
By Maria Bernal
Yenny Garcia's days require a lot of her. She works, attends school, makes food and takes care of her children and her home. To get even a brief moment to herself, she gets up at 6 a.m. for affirmations, yoga and a hot cup of coffee.
Juggling relationships, the responsibility of work, and helping their kids in distance learning has been overwhelming for mothers in Richmond, like Garcia.
Garcia is a mother of two and a part-time office admin and student. For her, expectations of what it is to be a mother weigh heavier on her now because of the pandemic.
Research shows that a significant number of mothers have experienced negative effects on their mental health during the pandemic.
Working mothers are 28% more likely to experience burnout than fathers, studies show. Black, Asian and Latina moms are also more likely than white mothers to feel burned out.
With so much expected of mothers, they need assistance from community resources.
Garcia turns to the Latina Center, located at 3701 Barrett Ave., for that support.
"They helped me a lot to identify the needs of my kids but also what I needed to do as a mom to be better for myself, and then, obviously, that would trickle down the effects of my kids," she said.
Garcia says that her feelings as a mother trickle down to her children. For her, taking breaks and checking in with herself are important for her mental health.
"For me to be OK, I need to do something that is going to nourish my mind and my soul and my everything," Garcia said. "And so I have to constantly say that to myself 'Are you OK?' Because if [I am] OK, [my] babies are going to be OK."
Yenny Garcia, with daughters Yennell and Sarah, encourages fellow moms to ask for help and be specific about what they need. (Denis Perez-Bravo / Richmond Pulse)
The pandemic presents layered challenges for mothers whose children have disabilities.
Ashley Nevels is the mother of an 11-year-old son who has a brain condition. For her, the hardest part of being a mom during the pandemic is the anxiety. 
Her son's condition puts him at high risk for COVID-19 because his immune system is compromised.
With schools closed, her son has had to learn on his tablet, but it hasn't been easy for him to learn properly.
"I try to be home as much as I can to help him with his studies, but it's pretty impossible," she said. "He's not able to have his physical therapies and things like that, that are beneficial to him. So it's only so much you can do through a tablet."
Nevels has had to sacrifice her social life to keep her son safe and turn down job opportunities to help him as much as possible.
Mothers have always made sacrifices for their children, but the pandemic has forced many to give up their jobs and put their well-being in jeopardy.
Women in the country disproportionately lost more jobs over the past year. According to the U.S Bureau of Labor Statistics, 140,000 women were dismissed from their jobs while 16,000 men were hired. 
It's not just working mothers — stay-at-home moms say they are under more stress during the pandemic too.
Moms are three times more likely than fathers to be responsible for housework and caregiving. They are also almost twice as likely than fathers to spend 20 hours a week on housework and childcare. That's equivalent to half of a full-time job.
Tomasa Espinoza is a Richmond housewife and a mother of three. Her priority is taking care of her children and she says being active in their lives fulfills her.
Espinoza's emotional well-being is affected by her family's economic need. Being unable to work during the pandemic is a source of stress.
She said the uncertainty of being able to pay off bills, feeding her children, and paying rent has brought "tension to parents."
More than half of all women surveyed by the Kaiser Family Foundation reported that the pandemic had a negative impact on their mental health, and the top stressor for parents is their financial situation. 
Additionally, the shift to distance learning was frustrating for Espinoza because she did not initially know how to use the online school applications.
"There are days where the programs don't work, and on some occasions, I didn't always feel knowledgeable about the [online] programs my kids were using," Espinoza said.
>>>Read: Distance Learning Presents Challenges for Students, Parents and Teachers
Because of the stress the pandemic has brought to her family, she asks others to support moms during the pandemic by abiding by the health rules so that society can return to normal. 
Garcia encourages mothers to communicate their needs and ask for help.
"Most of the time people do want to help; they just don't know how," Garcia said. "And so moms need to know that there is support for them, and most of the time people are willing to offer their support in ways they can and [mothers] just need to say what they need."
Similarly, Nevels encourages people to reach out to friends with kids to offer their help.
"And just maybe reaching out helping out a friend that has children. So we need some type of support, even if it's from a distance, just check it in with us," Nevels said. "So I do feel like we have extra added stress and anxiety during this situation that we're going through right now."
In the majority of households, the mom is the primary caregiver and despite the pandemic being overwhelming, Richmond mothers continue to push forward for the well-being of their children and family.
"Distance learning and relationships and your personal life, and there's just so many elements, and mothers are in need of more recognition for all that they do," Garcia said. 
Resources for mothers living in the East Bay:
The African American American Wellness Program helps achieve emotional wellness and provides mental health referrals and community resources. It has a support group called The Mind, Body and Soul that teaches nutritional and physical activity to promote well-being. 
The Latina Center has classes on parenting, wellness and nutrition. It offers support groups, training and leadership positions.