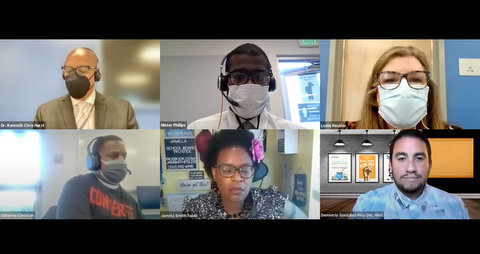 14 Jun

WCCUSD Projects Budget Deficit in Future Years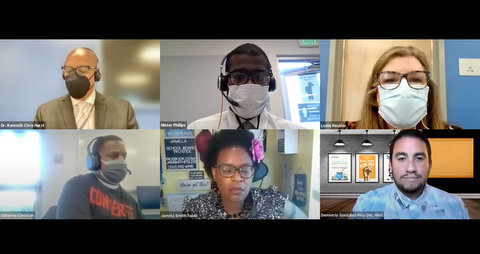 West Contra Costa school officials discussed the district's financial state and educational goals at the board's June 9 meeting. (Screenshot captured by Clara Brownstein / Richmond Pulse)
By Clara Brownstein
The West Contra Costa Board of Education on Wednesday discussed the budget and the district's Local Control and Accountability Plan and passed three resolutions.
Associate superintendent for business services Tony Wold presented the board with a budget proposal for the upcoming fiscal year and elaborated on the district's financial situation in future years.
Wold said though the district's financial situation has improved since the board worked to fill in a roughly $49.9 million structural deficit in 2019-20, the district will likely face additional budget challenges in future years. Wold added that the district can use one-time funds to pay for expenditures for the next two fiscal years but will likely face a budget deficit starting in the 2023-24 school year and may need to use up to $15 million from the district's reserves to cover it.
Assessors from the Fiscal Crisis and Management Assistance Team also presented their Fiscal Health Risk Analysis, a report on the financial health of the district. The team's findings said the district is at high risk of fiscal insolvency, which would mean the district doesn't have enough money to pay its bills.
During the discussion of the FHRA, board member Demetrio Gonzalez-Hoy said while it is important to be conscious of funding, the board has an obligation to continue supporting students as much as possible.
"If we were to right now decide we should not have a deficit; we should not use one-time funds — that means directly cutting services and staff and support to our schools, and I'm not for that at this moment. To me, we have to provide our kids with everything we can," Gonzalez-Hoy said.
Board president Mister Phillips warned that the state could step in if the district can't successfully balance its budget.
"Back in slave days, [Black] people would discipline their children … because they knew if the slave master disciplined them, it would be way worse. … It didn't feel good and you didn't want to, but you did it because you knew that if you didn't do it, the punishment that your child was going to get was going to be 10 times worse," Phillips said. "If we don't take responsibility for the punishment that these kids are going to get, it's going to be 10 times worse."
The board went back and forth on whether or not an audit would help the district financially. New superintendent Kenneth Hurst recommended an audit, while Michelle Giacomini, deputy executive officer at FCMAT, said she didn't think an audit would be helpful in this case, but she encourages the district to perform self-assessments regularly.
The board also discussed the district's LCAP, a three-year plan required by the state for the district to set its educational goals.
Wold outlined what he considers the district's biggest successes and failures since the last LCAP. Wold said that, promisingly, a higher percentage of students now receive scores of 3 or higher on Advanced Placement tests; the district-wide graduation rate has increased by 3%; and the percentage of students completing Career and Technical Education programs has increased by 19%.
However, students' Smarter Balanced assessment scores did not increase as much as the district had hoped. Furthermore, the number of students completing A-G requirements — the series of courses required by the University of California and California State University systems for admission — has increased, but still only 45% of district students complete the requirements. Some students are also dropping out of middle school, Wold said, though he didn't have data on how many.
Parent groups including the African American Parent Advisory Council, Multi-Lingual District Advisory Committee, Community Advisory Committee and District Local Control Accountability Plan Committee suggested a variety of changes, including provisions for more college readiness work and hiring more Black educators in special education. The parent groups also advocated for more support for English learners in the district, pointing out that 76% of English learners do not earn enough credits to be eligible to apply to University of California or California State University schools.
The board also passed three resolutions — Resolution 83 declaring June as Immigrant Heritage Month and directing the district to support education about immigration; Resolution 84 honoring Pride Month and directing the district to support education and activities about LGBTQ+ students and families; and Resolution 85 recognizing June 19 as Junteenth, "a day of celebration of the past, present and future of Black resilience, culture and liberation."
Hurst, in his third week on the job, also provided his first superintendent's update to the board, outlining his goals and describing some organizational changes he intends to make. Hurst said that in planning for the coming school year, he wants "everyone to have a seat at the table" and will be engaging with the community leading up to July 19, a date on which he said the district will make reopening guidance publicly available. Hurst also reaffirmed the district's commitment to a 100% in-person learning model in the upcoming fall semester.
Kennedy High School teacher Miesha Harris Gash said in public comment that she appreciated Hurst for his clarity.
"Dr. Hurst — thank you for your transparency," Harris Gash said. "What you have presented and shared tonight doesn't leave many questions or doubts or reservations, and you've communicated it in a way that says this is a team effort. In all the years that I've been in this district, which I've been in a while, that hasn't always been the case, so I look forward to what gets accomplished under your leadership."