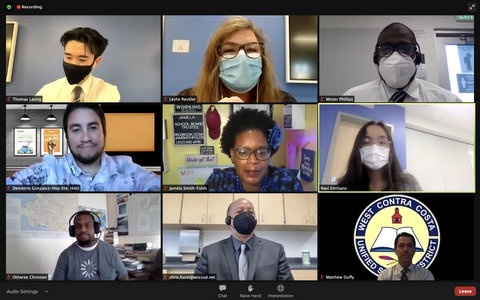 24 May

As Duffy Departs, Further Changes May Be in Store for WCCUSD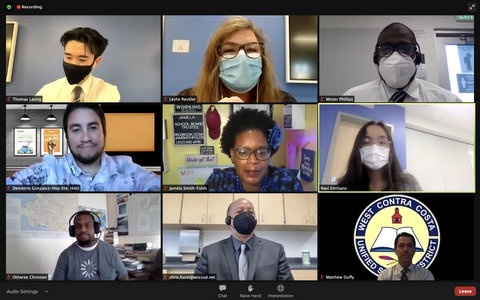 (Screenshot captured by Edward Booth / Richmond Pulse)
By Edward Booth
The West Contra Costa Board of Education on May 19 recognized outgoing Superintendent Matthew Duffy and a few other district administrators.
Additionally, the board voted unanimously to appoint board members Demetrio Gonzalez-Hoy and Jamela Smith-Folds to an ad-hoc committee that will consider renaming Juan Crespi Middle School.
Roughly the first three hours of the five-hour meeting consisted of recognitions for outgoing members of the school community. Along with Duffy, the two outgoing student board members, Navi Emiliano and Thomas Leung, were honored by the board and community; chief academic officer Ruben Aurelio, who is leaving for a position in the Berkeley Unified School District, was recognized for his roughly three-year term; and executive secretary Debbie Haynie, who is retiring in June, was recognized for 33 years of service.
Duffy first arrived at WCCUSD as superintendent in 2016, and held the role for five years. He announced in November last year, in a post on the district's website, that he wouldn't seek a contract extension after the current school year, and that the community wanted "fresh leadership" for the district.
Duffy's November announcement arrived months after he received an "intermediate score" on his performance review in June, which meant his contract wasn't automatically renewed and would expire at the end of the current school year. Duffy received criticism from community members after the district announced a $48 million budget deficit in September 2019.
The district worked over six months to select Kenneth Hurst as the new superintendent, announcing his selection at a board meeting in April. Hurst started working in his new position last week, with Duffy staying on briefly to help him adjust to the new role.
At the meeting last week, current and former board members and district employees praised Duffy for his five years in the district.
Consuelo Lara, a current member of the Contra Costa Board of Education and former WCCUSD board member, said she recognized Duffy as an innovative person who helped her think bigger and be more creative. Madeline Kronenberg, also a former board member, said Duffy was selected as the unanimous choice of the school board in 2016, and a lot of what he helped with was bringing in community support for the 2016 Measure T parcel tax and Measure R, a $575 million bond measure passed by voters in 2020.
"Brining in resources is a huge part of what he needed to do to lead this community, and Mr. Duffy did it and he did it well, and he did it with heart," Kroneneberg said. "He never disappointed the people who were in that room who picked him."
Claudia Velez, principal of Michelle Obama Elementary, thanked Duffy for supporting building the school as a flexible learning environment, and thanked him generally for his support of creativity and innovation.
"I truly appreciate your unending message of thinking outside the box, supporting us in moving from the traditional way of schooling to innovative possibilities while always keeping our learners at the center of the transformation," Velez said. "The flexible learning environment at Michelle Obama school is a pillar of the vision that you so eloquently communicated to us for the past five years."
Board president Mister Phillips thanked Duffy for everything he did, tried and wanted to do as superintendent.
Gonzalez-Hoy praised Duffy for the time he spent visiting schools and interacting with the community — which Gonzalez-Hoy often did alongside Duffy — as well as his quick responses to emergencies such as the COVID-19 pandemic.
"I believe that you were instrumental in saving lives in our community a year ago when you decided to close our schools when you did," Gonzalez-Hoy said. "I'm going to be forever thankful for your leadership because leaders really show their colors in emergencies and crises and you showed us your true colors time and time again."
Duffy said it's bittersweet to be leaving, but he's excited about Hurst's upcoming leadership.
"I feel so honored to have been able to do this and to be able to lead a community, Duffy said. "It's an incredible privilege, as challenging as it is, it's a privilege at the end of the day."
New superintendent goals
Hurst last week released an eight-page superintendent entry plan that he wants to receive feedback on. The new superintendent will hold a Facebook Live session about the plan at 5 p.m. Thursday. According to a post on the district's website, Hurst will meet with students, staff, families and community partners to listen and learn as much as possible.
That "listening and learning" is phase one of Hurst's plan, which is meant to last until July. The plan identifies key questions as: what should Hurst know about the WCCUSD community; what are the challenges facing the district; what are strengths of the district that should be sustained; and what are some opportunities that WCCUSD needs to explore.
Phase two is "Analyzing, planning and reporting," which will involve putting together a summary of findings and observations and identifying next steps. That is intended to last from August to October, according to the plan.
Juan Crespi Middle renaming committee
Guthrie Fleishman, principal of Juan Crespi, said at the meeting that a conversation around renaming the school has evolved throughout the year. The primary reason for wanting to rename the school, among both staff and students, is that Crespi was involved in the Spanish Mission system in California, which sought to evangelize Native Americans.
"We are on Ohlone land in our district and really most of the East Bay," Fleishman said. "And we really felt that was not a name we necessarily wanted to be attached to anymore, or at least we wanted to investigate and interrogate whether it was the right name for our community."
The board unanimously voted to appoint Gonzelez-Hoy and Smith-Folds to the ad-hoc renaming committee.
Fleishman said the school's history department designed a research project to investigate Juan Crespi and the California Mission system and its impact on indigenous people. Students shared their findings in research projects.
Fleishman also mentioned two suggested names for the school that the community came up with. The first is Betty Reid Soskin, who at 99 years old is the oldest living park ranger in the United States. The second suggested name is "Chochenyo Middle School," in honor of the Ohlone tribe whose land the district inhabits.
The item also included a presentation by Anaya Zenad, an eighth grader at Crespi. Anaya talked about the research projects the students carried out and what they learned about Crespi and the mission system.
"The mission system was horrible for a lot of people, especially people of color," Anaya said. "There was a lot of abuse."
Anaya went on to say she was disappointed the school was named after Crespi considering his involvement in the mission system and how he treated people of color. She said Crespi is not a great role model for the students, and that the name doesn't match with the school's culture. She added that a school's name is an expression of what the school stands for.
"Our central question: Should we change the name of Juan Crespi Middle School," Anaya said. "My answer: Yes, because missions are symbols of oppression, slavery and forcing people to reject their beliefs in favor the beliefs of others."