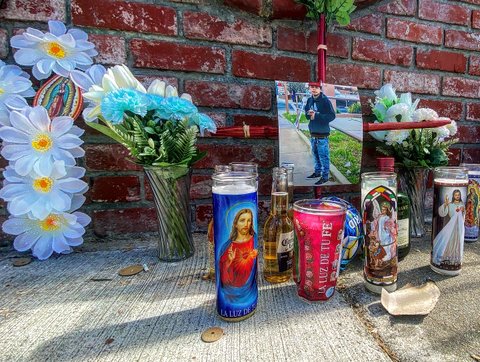 23 Jun

Mass Shooting Leaves 3 Dead as Homicides Surge in Richmond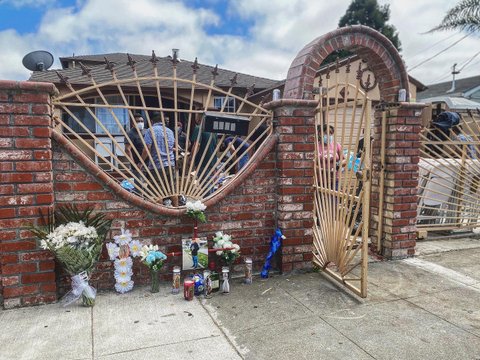 Two suspects are wanted in the mass shooting at a house party at Dunn Avenue near 23rd Street on Sunday night. Three people were shot and killed, one is in critical condition and four others had non-life threatening injuries.
Story and photos by Denis Perez-Bravo
Gunfire silenced the festive sounds of live marimba music at a house party Sunday night as eight men were shot in the latest shooting in Richmond.
According to Richmond police, two men died at the scene. Six others were wounded and taken to hospitals in the area. One of the six people injured died the next day.
"We were having a celebration," Martin Sales George, 40, said.
George lives in the home with three others. He, like most of the people who attended the party, is from Guatemala and speaks Mam, a Mayan dialect.
To celebrate their chapìn (a word describing someone from Guatemala) culture, they played the marimba, Guatemala's national instrument. The hosts set up tables and chairs, made food and put out Modelos and Coronas.
"It is sad. This was the first year that we did this," George said.
Word of the dancing, drinking and good time at the Dunn Avenue home spread through word of mouth and social media. More than 80 people showed up, not all of them familiar to the hosts, George said.
But just before 11 p.m., two people approached the house, and shots rang out.
Richmond Police Lt. Matt Stonebreaker said six bullet casings were recovered.
Police are unsure if there were two shooters, but there are definitely two suspects, he said.
There is still no clear motive to the shooting, and no suspects have been arrested, Stonebreaker said.
"In this case, it seems to be personal," he said.
Police said there is no evidence the suspects were part of the party. Rather, it appears they came to the house looking for someone.
A witness, who wished to remain anonymous, said the shooters seemed to be targeting one of the two men that died at the scene, an 18-year-old.
The 18-year-old man's family set up an altar at the Dunn Avenue home Monday morning after police cleared it for reentry.
Candles, flowers and alcohol surround a picture of a young man who was gunned down during a mass shooting outside a house in Richmond on Sunday night.
Richmond has experienced 11 homicides this year. Last year, Richmond saw 22 homicides. Since Mayor Tom Butt took office in 2015, the highest recorded homicide rate was 24 in 2016.
Butt has blamed the recent surge in homicides on the Richmond Progressive Alliance council members' repeated efforts to cut the police budget. Just last week, the Council voted to redistribute $3 million from the Richmond Police Department's $67.2 million budget, 40% of the city's budget.
"Homicides are on the rise again in Richmond, and we have the Richmond Progressive Alliance City Council members to thank for it," Butt wrote in his email forum.
As Richmond Pulse reported, the money cut from the police budget will be part of the $6.38 million earmarked last week for various community measures. In total, $1.98 million will go to the YouthWorks program, $1.6 million to the Office of Neighborhood Safety, $1.8 million to homelessness services and $1 million to create a non-police crisis community response team.
The budget cut will put a strain on staffing, and response times will go down because calls can build up, but shootings will always be a high priority for the department, Stonebreaker said.
Stonebreaker said the Police Department has been patrolling what it calls "hot areas" where a shooting might happen as part of its violence suppression units. But figuring out why there has been a rise in shootings is difficult because the incidents have not been related, he added.
The morning after the shooting, Yenny Garcia of the Latina Center took action after seeing the news circulate online.
"They were just having fun," Garcia said. She said she wanted to do something for the people living in the home.
Garcia contacted community organizer Yaqueline Valencia and Bay Area Peacekeepers founder Gonzalo Rucobo and went to the home Monday afternoon to help clean up the front yard and offer the residents community resources and moral support.
"It is not your fault. You did not decide anyone's choices," Garcia said to Martin and the other tenants after cleaning up.
She offered her condolences for them being caught up in such a traumatic experience and reassured them the community is behind them. Then, she hugged one of the women who lives in the home.
"There are a lot of leaders playing politics, but the way to impact the most vulnerable communities is to come to them directly and help out," Garcia said.
"The biggest thing is being there for support," she said.
Anyone with information regarding the shooting should contact Detective Brian Hoffman at BHoffman@RichmondPD.net or (510) 621-1755, or call the Richmond PD tip line at (510) 307-T1PS (510-307-8177); you can always remain anonymous while providing information.