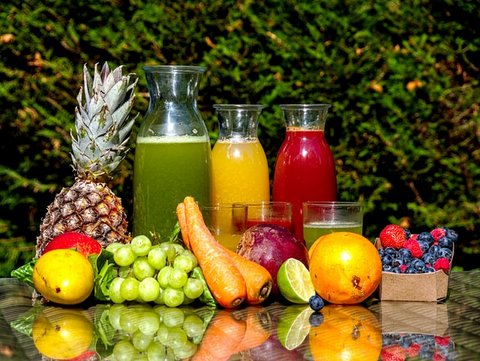 05 Aug

Tips to Eat and Drink Your Way to Good Health This Summer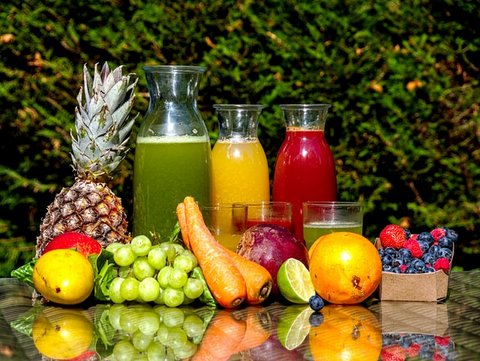 Eating fruits and vegetables or drinking juices made from them can give you vital nutrients. Just keep an eye on the sugar in fruit juices, especially. (Photo by Zlatko Đurić on Unsplash)
By Olivia Lozano
Summer has finally arrived, and as COVID restrictions slowly lift in California, people are embracing this time of rejoice. Many people are excited to do things they haven't in a while, including going out to restaurants and trying the latest food trends. Here's how you can make the most out of cooking and eating healthy this summer.
Smoothies versus juices
Many health blogs have weighed in on this subject, and both offer different concentrations of nutrients. Should you drink a thick and icy smoothie, or should you go for a cooling and refreshing juice? Let's unpack the pros and cons of drinking both.
Smoothies are a great way to add vitamins and, most important, fiber to the diet. Fiber is a carbohydrate known to be a great prebiotic that can aid with maintaining gut health and digestion. It has both a soluble (digestible), and an insoluble (nondigestible), form. According to USDA recommendations, a healthy intake of fiber is about 25 grams for women and 38 grams for men; however, the average intake among U.S. adults is only 16 grams. Great sources are whole fruits and vegetables, whole grains, and beans. Multiple studies have shown that a high fiber diet corresponds with decreased incidence of heart disease and can aid in fighting insulin resistance and diabetes.
Smoothies are flavorful and easily customizable. Parents love them because they can sneak some veggies into their kids' smoothies without sacrificing taste. They are a great meal replacement on a hot summer day and can keep you full longer due to the higher fiber content. The thing to watch out for with smoothies is, of course, calories. Because the whole fruit and vegetable goes into the smoothie, they are often much higher in calories than juices. If you are trying to watch your weight or are monitoring a health condition, you may want to consult your medical professional or dietician to see how you can make smoothies work for your lifestyle. Smoothies are an easy way to feel healthier because they can easily help you reach your nutrient goals.
>>>Read: The Daily Fix Nutrition Brings Healthy Treats to Richmond
Juicing has gotten more popular over the years thanks to chains like Joe & the Juice and The Juice Shop making colorful drinks that are aesthetically pleasing and perfectly Instagrammable. Like smoothies, juices are packed full of flavor and vitamins. They are a refreshing treat and very hydrating. One thing to watch out for with juices, though, is the sugar content. Whenever I go to Joe & the Juice, I like to get the Hell of a Nerve, which contains elderflower, strawberries and banana. According to the nutrition information, it has 60 grams of carbohydrates, including 53 grams of sugar but just 3 grams of fiber.
A drink high in sugar can spike blood sugar and exacerbate insulin resistance for those with preexisting diabetes or obesity. One way to avoid this is to drink your juice alongside a high fiber meal that also contains protein and some healthy fats. Eating a combination like oatmeal with some peanut or almond butter alongside your juice can slow digestion and help sustain your energy for a longer period of time.
You can also go for juices that have more vegetables than fruits, which tend to be higher in sugar. Joe's Green Tonic, for example, contains cucumber, kale and celery and has only 6 grams of sugar.
Smoothies and juices are nutritious and a fantastic way to enjoy eating healthy. Try out some juice places this summer, or get crafty in the kitchen and make your own.
Water
Water, also known as the life force, is one of the six essential nutrients for good reason. Truth is, you're probably not drinking enough. The average healthy adult should consume at least the equivalent amount of water in milliliters as calories they eat in a day. For example, if a person consumes a 2,000 calorie diet, their minimum water intake should be 2,000 milliliters, or about 8 1/2 cups. According to the Academy of Nutrition and Dietetics, women should drink about 11 1/2 cups per day; men, 15 1/2 cups.
With this summer expected to be the hottest on record because of climate change, hydration is necessary to keep your internal organs cool while detoxing the body and eliminating waste. To maintain a good balance of fluids throughout the day, space your drinking out, as you would with snacks and meals, and drink a cup of water while eating. The best way to help the body digest foods is to take sips of water after swallowing a few bites of food. Once in the stomach, water can actually help break down your food. What's not to love about water? It's free and a great alternative to sugar-sweetened beverages high in calories, so pour yourself a cup and drink up.
Antioxidants, greens and herbs
I'm not talking about fancy supplements or those chlorophyll drinks popularized by TikTok, just your standard grocery store favorites like leafy greens, parsley, basil and mint. "Eating your greens" gets you one step closer to ideal health, or so they say. Antioxidants are organic compounds that can minimize damage in the cells that can manifest into multiple forms of cancer, skin damage and other diseases. Fruits and vegetables are high in antioxidants such as vitamins A, C and E, which are the most common forms of antioxidants.
Herbs, perhaps surprisingly, have potent doses of both vitamins A and C. Consuming half a cup of parsley, for example, can give you 108% the recommended daily intake of vitamin A and 53% of the recommended daily intake of vitamin C. Herbs and spices also contain high amounts of phytochemicals, which are molecules known to regulate inflammatory processes and cell growth and differentiation in the body. One study found that mint leaves of the Mentha species possess strong antioxidant properties. In the study, mint was shown to prevent LDL cholesterol oxidation, which can cause inflammation and plaque formation in the arteries. LDL, or low-density lipoprotein, is the kind known as "bad cholesterol."
>>>Read: My Journey to Becoming Vegan
Adding herbs to foods as a garnish or to bring out the flavor of the dish can help you achieve greater consumption of these helpful antioxidants. This summer you can try adding your favorite herbs like mint and basil to your water with some cucumber and pineapple for a refreshing treat. For something savory, you can make a parsley chimichurri sauce for tofu and tempeh "steaks" or toss it into salads and tabouleh. You can even make some cooling virgin mint mojitos by mixing together mint, fresh-squeezed lime juice, sparkling water, agave or simple syrup and ice. It's a summer full of rejoice and positivity after months cooped up sheltering-in-place, so make one in celebration of the "new normal."