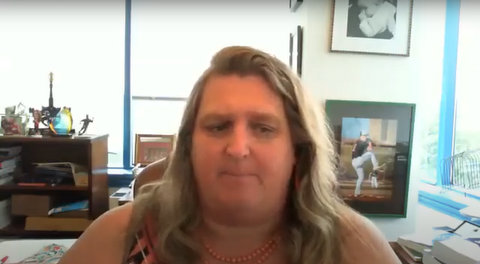 31 Aug

Biden's 'Aggressive' Immigration Reform Reverses Many Trump Policies, But Not All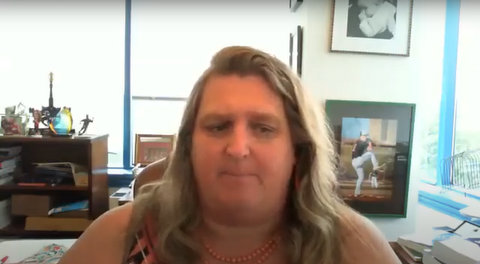 "It's better than Trump but not where most of us wanted it to be," said immigration attorney Ava Benach, referring to the number of people in detention but reflecting advocates' attitudes toward immigration reform under President Biden. (Screenshot captured by Danielle Parenteau-Decker / Richmond Pulse)
By Danielle Parenteau-Decker
The Biden administration has acted swiftly and decisively on immigration, taking many steps to end Trump-era policies. But Republican attitudes and a public health order continue to hold back many immigrants.
"In the first six months of the Biden administration, 155 immigration actions have been taken," said Muzaffar Chishti of the Migration Policy Institute.
Chishti spoke as part of an Aug. 6 Ethnic Media Services panel looking at immigration policy in President Joe Biden's first months in office, comparing it with the Trump administration.
Of those 155 actions, Chishti said, "half of them have been unwinding Trump and other half have been improving on pre-Trump policies … [and] improving things that prior Democratic administrations were not able to do."
Biden enacted a handful of immigration-related executive orders on his first day in office. Those orders included rescinding all travel bans by Trump, stopped border wall construction and reversed Trump's policy of not counting undocumented people in the census.
"He said that he will expand and preserve DACA," Chishti said.
>>>Read: Advocates Set High Bar for U.S. Immigration Policy Under Biden
The director of Immigration and Customs Enforcement under Trump said, "Every unauthorized person should be looking over their shoulder every day," according to Chishti. That meant "all 11 million unauthorized people were fair game," Chishti said.
But under Biden, undocumented people who have not broken other laws can reasonably assume they could leave their homes in the morning and come home at night.
"Eighty-seven percent of the unauthorized population today have nothing to worry about with enforcement," he said.
Since taking office, Biden has made victims of gang and domestic violence eligible for asylum and extended Temporary Protected Status to Haitians and Venezuelans in the U.S. The status allows people from designated countries affected by armed conflict or natural disaster who would otherwise be unauthorized to live and work in the U.S. for a limited time. Trump had wanted to end TPS.
Despite the "most aggressive" immigration reform of any president, "Biden can't do it by himself," Chishti said.
For one thing, wholesale legalization is possible only by an act of Congress, and Congress is divided. "The division between Democrats and Republicans on this has never been wider," he said.
>>>Read: Legislation Could Help Millions of Immigrants
Plus, the Biden administration had put an end to the "remain in Mexico" policy, formally called Migrant Protection Protocols, but the U.S. Supreme Court ruled Aug. 24 that it must be reinstated.
The policy requires asylum seekers from Central America to wait in Mexico, rather than the U.S., until their cases are decided.
Secretary of Homeland Security Alejandro N. Mayorkas said in a memo to top immigration officials "that MPP does not adequately or sustainably enhance border management in such a way as to justify the program's extensive operational burdens and other shortfalls."
Speaking before the Supreme Court ruling, Nicole Ramos, the director of Al Otro Lado's Border Rights Project, pointed to the ending of MPP as "a positive" and an example of the "clean up of the havoc wreaked by the Trump administration."
Ramos also criticized some immigration actions taken since Biden took office, among them the renewal of Title 42.
Title 42, which comes from the Public Health Service Act of 1944, prohibits immigration when there is a serious threat of disease spread.
The Centers for Disease Control and Prevention first issued an order under Title 42 on March 20, 2020. The order restricts entry into the U.S. of individuals from "Coronavirus Impacted Areas … who would be introduced into a congregate setting" — people who would typically be detained by immigration authorities. It has since been renewed by the Trump and Biden administrations.
Ramos said the order is unfair because citizens and legal residents can come and go without health screenings. She also said the policy had created an "open market" for organized crime.
"The amount of income we are growing for organized crime [through] Title 42 is astronomical," she said.
The policy "has made migrant children and parents easy prey for the criminal groups waiting just on the other side," writes the Los Angeles Times' Molly O'Toole. Many people have been kidnapped shortly after being expelled from the U.S. and then held for ransom.
The CDC said July 16 that it has reassessed its policy and was making an exception for unaccompanied minors. But Ramos said many of these children are still being turned away and "left to their own devices," with some ending up in a dangerous tent city in Tijuana.
Chishti also criticized the decision to keep Title 42 in effect but tried to put it into context.
"Of course, that's a problem, but you're not looking at the series of political and real policy challenges the president has," he said.
Chishti said real change is not possible at this time for one key reason.
"Almost everything is held a prison to the border issue," he said, deepening the political divide.
"As long as the border is seen or perceived as out of control," you can't get Republican support for immigration reform, Chishti said.
"It's a tale of two cities," said immigration attorney Ava Benach, "at the border and the rest of the country."
Benach did say there had been "some positive developments," which "got us back to the status quo … pre-Trump."
She also said the number of immigrants in detention had gone down from 60,000 to 15,000-30,000.
"It's better than Trump but not where most of us wanted it to be," Benach said.