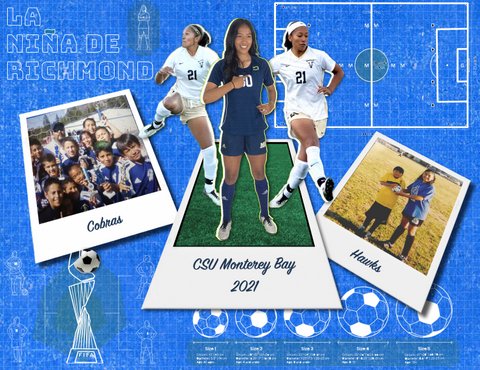 09 Sep

Q&A: Her Soccer Journey Began in Richmond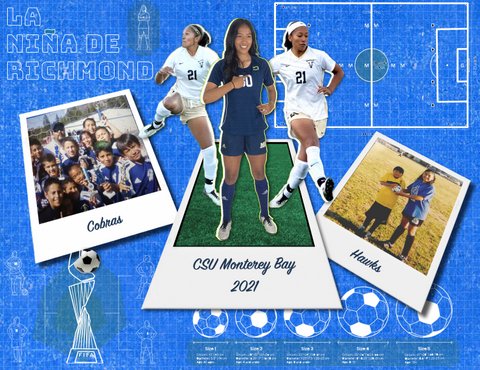 Mitsy Ramirez went from playing youth soccer in Richmond to, now, playing for Cal State Monterey Bay. (Graphic by Denis Perez-Bravo / Richmond Pulse)
By Denis Perez-Bravo
California State University, Monterey Bay soccer player Mitsy Ramirez is determined to become a professional soccer player.
"This is my plan A, B and C," Ramirez said.
Ramirez has played soccer her whole life, starting with club soccer as a little kid in Richmond, then the local high school league, regional club teams and national contests.
Ramirez played three years at Making Waves Academy and was named first team All-Bay Area Conference player two of those years. She has played at Cal Magic Soccer Club based in Orinda where she was part of three U.S. Club Regional championships and a 36th Annual San Diego Surf Cup champion in 2016.
The Surf Cup is a national tournament that in 2016 hosted 468 teams with 216 boys and 252 girls. The girls' teams were divided into 17 categories in U15 (age 15 and under) through U18 (18 and under) age groups. Ramirez participated in the U18 Super White category with the team California Magic 99G.
Soccer was her passion, and she strove for greatness. But as she started life after high school, she wanted to prove to others, including herself, her family and friends, that she could be something other than a girl who plays soccer.
>>>Read: Kennedy Girls Soccer Seniors Reflect After Difficult Year: 'Every Loss Is a Win'
So she became a full-time student at San Francisco State University and got a full-time job. She only played the occasional soccer game, opting not to try out for San Francisco's team. But that lifestyle went against the competitive athlete Ramirez had grown up to be, she said.
Now, she has decided playing soccer is what she wants to do as a career, and she is determined to never give up on her goal.
Ramirez has played her first two games with Monterey Bay. In the first, against Cal State East Bay on Sept. 4, she put up one shot and played 84 minutes during their 1-0 win. Against Menlo College, she played 88 minutes during a 0-0 draw.
The Richmond Pulse talked with Ramirez about her soccer journey and how it led her to CSU Monterey Bay. 
RP: How did you start playing soccer?
Mitsy Ramirez: My dad is a Mexican immigrant. From Monday to Saturday, he would work. And Sunday was the only day he would take us out, and it would be to go to his soccer games. There, I started dribbling the ball and mimicking what they would do on the field. But my dad was very old school and did not want me to play soccer because I was a girl.
RP: I saw on your Instagram page you shared a little about this. It was your uncle who brought a Richmond Sol FC flyer to your dad?
MR: It is funny because those moments taught me that it can be the people closest to you that will not believe in you. My dad did not see it in me. It was my uncle who always saw me with my ball. One day, he was at a Latino store and saw a Richmond Sol FC flyer. They were starting a soccer team called Happy Faces, a U8 co-ed team. I was turning 7. The team was just starting up, and we lost all the games that season.
RP: How long did you play with Richmond Sol?
MR: I played until the U15 club season ended. After that, the girls and the boys can't play together because, at that time, boys and girls start to develop at a different pace. That was when I looked up to see how to continue my soccer career.
>>>Read: Richmond Sol Football Club Joins National Soccer League
RP: You also started playing in the Making Waves girls' soccer team. That 2015 season, the Marlins made their first playoff appearance. How was that?
MR: I was a freshman at that time, and Making Waves Academy high school was very new. There were not a lot of kids to choose from [to play soccer] and even fewer girls. But the team had a lot of seniors that played club soccer and that helped out a lot.
RP: Had you been in an environment where you had girl role models that were playing soccer at a level that you wanted to?
MR: I always tell girls that we go through it. Not only on the field, but also in the classroom. Being with girls that looked out for you and looked like you can make you feel like you can reach the goal you want to accomplish. And it was a very good group that had chemistry and would lead each other by example.
RP: What was Cal Magic for you? 
MR: I played friendly games with guys from Cal Magic that were the same age as me. One day the coaches also brought along the girls from the club team. The girls were better than the guys, who were good players. The coaches invited me to join the team with a free spot. Their registration costs thousands of dollars, so it was very kind of them to give me a free spot. Without that opportunity, I would not be the player I am today. There, I learned a work ethic that would later pay off.
That experience taught me that sometimes it takes getting out of Richmond to see what is out there. In Orinda, 30 minutes away, there is a difference on how they support girls' soccer.
RP: How was it playing in the Surf Cup?
MR: The Surf Cup is one of the biggest tournaments in the nation. There are three games that you play for sure. Going all the way means that you play six games in a matter of three days. Your endurance is tested. And the Surf Cup exposed me to a lot of college coaches.
>>>Read: CCC Women's Soccer Recruitment Rebounds Despite the Coronavirus
RP: What influenced you to go to the University of Colorado, Colorado Springs to play soccer? 
MR: I met the head coach, Sian Hudson, at the Surf Cup. She insisted that she wanted to scout me. And at the time, I did not see myself going out of state. Although, I never met a more insisting woman. She kept in touch with me and always emailed me. It said a lot about her, and I also missed competitive soccer. In 2019, I reached out and she took a chance on me. She got me back in shape and we got to work.
Mitsy Ramirez, left, playing soccer for University of Colorado, Colorado Springs. (Photo courtesy of Mitsy Ramirez)
RP: What was your first university soccer season like?
MR: At Colorado Springs, I met a lot of people from all over the world, and we went on undefeated season. We lost in the NCAA [South Central Region] finals. That season felt like it happened so fast, and it made me realize, after getting a taste of success, that I want that for more than just a season. 
RP: With so much success there, why leave Colorado Springs? 
MR: [Hudson] got an offer to coach at Louisiana State University. Colorado is a [Division II] and Louisiana is a [Division I], so it is a great opportunity for her and her family. Because I went to Colorado based on Hudson, I don't feel like it is the right place for me without her there.