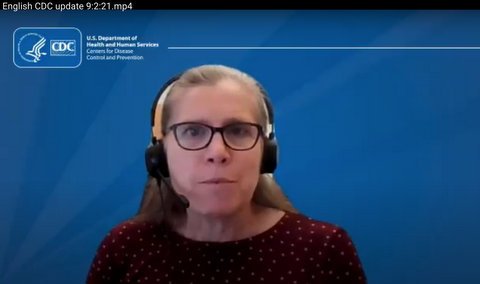 10 Sep

Doctors Urge Americans to Get Vaccinated to Stop Delta Variant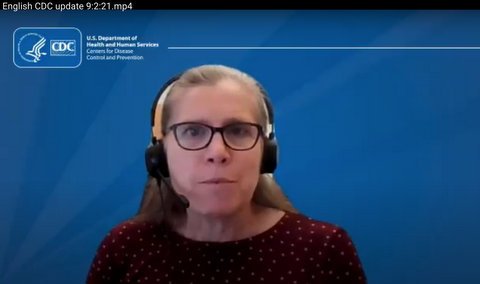 The CDC's Dr. Peggy Honein said everyone who is able needs to get vaccinated against COVID-19 to do their "part to protect children" and help stop the "fairly large surge" of the delta variant. (Screenshot captured by Danielle Parenteau-Decker / Richmond Pulse)
By Danielle Parenteau-Decker
Doctors with the Centers for Disease Control and Prevention are urging Americans to get vaccinated to help stop the spread of the delta variant of the coronavirus and protect children from COVID-19.
"We're in the midst of a fairly large surge," said Dr. Peggy Honein, a member of the CDC's State, Local, Tribal and Territorial Task Force, part of its COVID-19 response.
Honein and colleagues spoke earlier this month about vaccination disparities, changing guidelines, booster shots and travel safety during a press teleconference hosted by Ethnic Media Services.
Overall, more than 177 million people in the U.S. have been fully vaccinated as of Friday, according to the CDC's online Data Tracker. That includes about 63% of the population 12 and over; 65%, 18 and up and 82%, 65 and over.
Approximately 67% of Contra Costa County residents are fully vaccinated.
The rate of vaccination against COVID-19 can vary greatly by area, however, which can skew the data when trying to determine who is and is not getting vaccinated.
"It's hard to provide a large overview of the disparities," said Dr. Jennifer Layden, deputy director of the CDC's Office of Science.
According to Honein, about 40% of 12-to-17-year-olds in this country have gotten the COVID-19 vaccine, but those numbers don't tell the whole story. In Vermont, she said, about 60% in that age group have been vaccinated, while in Mississippi, just 11% have.
Honein pointed out the risk of infection for vaccinated people is very low, but that risk is also relative to location. More infections and fewer vaccinations means the risk is higher even for the fully vaccinated.
>>>Read: Q&A: Delta COVID Variant Spreading Among the Unvaccinated
She said the coronavirus "continues to take a toll" despite the existence of proven medical treatments and vaccinations.
Much of that is attributed to vaccine hesitancy. Many people are reluctant or outright refusing to get vaccinated. Layden said the CDC has done "a lot of work on vaccine confidence," but added there is still work to be done.
The key to ending the pandemic is getting as many people as possible vaccinated, Honein said. When a population has enough unvaccinated people, the coronavirus can continue to spread and mutate, resulting in variants like delta.
"We have seen clear evidence that the delta variant is highly transmissible," Honein said, more so than previous variants.
To counteract vaccine hesitancy, Honein encouraged "kindly sharing information" with friends who say they don't want the vaccine. She also said members of the media should be thinking about how people might misinterpret things even when reported accurately.
>>>Read: 'Time Will Always Tell': Doctor Addresses Coronavirus Vaccine Concerns
The CDC staffers addressed the changing nature of health guidelines, which contributes to vaccine hesitancy by making some people think that health officials are arbitrarily changing their minds.
"Recommendations have and will change based on when the science and data change," said spokeswoman Kristen Nordlund. She was not part of the EMS Zoom conference but answered questions via a chat box.
Honein said things change quickly because they "are learning quickly. … As the data has evolved, we got more concerned."
The possibility of booster shots has made some readily vaccinated people reluctant to get another shot.
The CDC recommends that moderately to severely immunocompromised people receive a third mRNA dose at least 28 days after their second. The inoculations made by Moderna and Pfizer/BioNTech are messenger RNA vaccines, while the Johnson & Johnson/Janssen shot is a viral vector vaccine. Each acts in a different way to teach the body how to protect itself from the virus without the risk of getting sick.
The CDC has not yet recommended additional shots for the general population, but the federal Department of Health and Human Services said in an Aug. 18 statement "that a booster shot will be needed."
But that has some people wondering whether Americans should have a third dose available to them when many people around the world haven't gotten a first inoculation.
In a San Francisco Chronicle story on the ethics of booster shots, Dr. Jodi Halpern, a UC Berkeley professor of bioethics, said "that 24% of the world's population is fully vaccinated, but 1.3% of people in low and middle income countries have received even one shot."
Tedros Adhanom Ghebreyesus, the head of the World Health Organization, said in a press conference Wednesday that booster shots should not be given to healthy people "until at least the end of the year to enable every country to vaccinate at least 40% of its population."
But Honein said it is not an either/or situation. The CDC is working on both increasing vaccinations to protect the U.S. population and providing vaccines and technical assistance to other countries, she added.
Dr. Cindy Friedman, chief of the Travelers Health Branch of the CDC, said people should generally put off traveling. But, she continued, if you do have to go somewhere, you should be fully vaccinated and check the situation, local requirements and travel advisories for wherever you're going.
She also said the real risk of illness during air travel comes not on the plane but at the airport. According to Friedman, most viruses don't transmit well on planes because of how the air is circulated, but it's hard to maintain a safe distance from people inside an airport, particularly when going through security.
Honein said the CDC is "particularly concerned about children" because of increasing ER visits and hospital admissions due to COVID-19.
"We can all do our part to protect children," she added — by getting vaccinated, if eligible, and practicing health safety measures such as mask wearing, hand washing, physical distancing and staying home when sick.