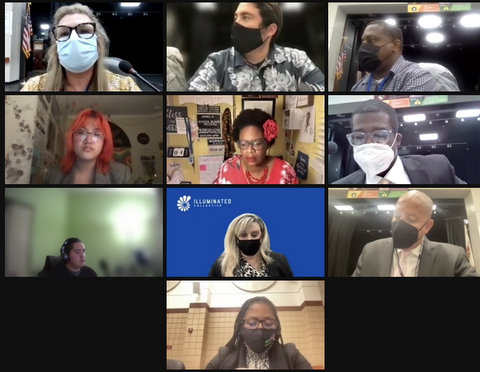 06 Nov

Players and Parents Support Coach Before WCCUSD Board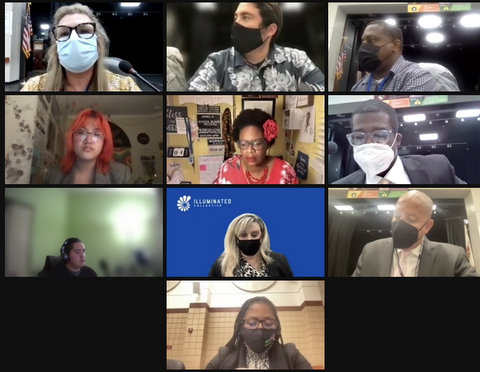 Football-related controversy and the COVID-19 vaccine came up during a special school board meeting discuss to address inequity in education. (Screenshot captured by Julia Métraux / Richmond Pulse)
By Julia Métraux
The West Contra Costa Board of Education gathered for a special board meeting Thursday to discuss the second part of the equity audit. It replaced the regular meeting scheduled for Wednesday that was canceled earlier in the week.
Despite the fact that children ages 5 to 11 years old can now receive the COVID-19 vaccine, the COVID-19 mandate was not the predominant concern raised by members of the community during the public comment period at the beginning of the board meeting.
Six football players and parents spoke out against the decision to put El Cerrito High School football coach Jacob Rincon on administrative leave following the resurfacing of a 2019 video that showed El Cerrito football players participating in the controversial "machine gun" drill. In this drill, players are hit repeatedly by two other players.
NBC Bay Area reported that Rincon himself was not present when the drill took place. The assistant coach who led the drill was fired after the video originally made the rounds, according to the Richmond Standard.
What's this drill called? pic.twitter.com/IhYx2n0609

— Football Is Life (@FootbaIl_Tweets) October 8, 2021
Adam Gibbs, a football player and senior at El Cerrito, said that Rincon is "a mentor, educator and just role model to all of us."
"The lack of transparency and fairness is plain as day," Gibbs said. "He roots and stands for the kids he encounters on a daily basis for them to succeed in life, not just football."
Charles Sutherland, another football player at El Cerrito, read a letter from Lamont Thompson, who returned to El Cerrito as a coach after his NFL playing days were over but was unable to attend the meeting.
"As a former NFL player, I understand the importance of player safety," Sutherland read from the letter. "I also understand that Coach Rincon should not be made to be the scapegoat for a moment that was addressed over two years ago."
Gaps for Richmond and Kennedy High School
During the second presentation of the equity audit, IlluminatED Collective president Cheryl Hibbeln, whose company oversaw the audit, highlighted that in comparison to other high schools in WCCUSD, students from Richmond High and John F. Kennedy High School were less likely to complete high school requirements to qualify for admissions for University of California schools.
Approximately 33% of students at John F. Kennedy High School and 37% of students at Richmond High School completed high school requirements for UC admissions, below a district average of 44%. In comparison, about 62% of students at Hercules High School and close to 56% of students at De Anza High School completed these requirements. There were also gaps based on race and whether someone was in foster care or homeless.
"There are considerable gaps between access for Black and Latino students and their Asian peers," Hibbeln said. "Kennedy and Richmond have fewer students in higher math across the board."
During the public comment section, WCCUSD Director of African American Student Achievement William McGee also raised awareness about where Black students can get more support.
"One of the things that I want to just point out is that the board did pass the resolution in support of Black student achievement, January 15, 2020," McGee said. "So there are supports that are put in place for Black students, their family and Black employees."
Equitable Access to COVID-19 Vaccine Clinics
During the public comment period, Miesha Harris Gash, a special education teacher at John F. Kennedy High School, asked that a COVID-19 vaccine clinic be hosted on her campus again so that students could get their second dose more easily.
"We also talk about the inequities that the Kennedy community experiences," Harris Gash said. "If other schools are having their second, Kennedy needs to have their second clinic as well."
Harris Gash said she received her booster shot at the Kennedy site, and she stayed with and talked to a student who wanted support during her first COVID-19 vaccine.
>>>Read: Some Eager, Some Reluctant — Teens Reflect on the Vaccine
"I'm thinking about her [and] where she's supposed to get her second one," Harris Gash said. "It happened at school, it was convenient, and we need to make it happen for the Kennedy students and community to have that second clinic, so they can be fully vaccinated."
No plans have been announced yet to have vaccine clinics at elementary schools. The next regular board meeting is scheduled for Nov. 17.