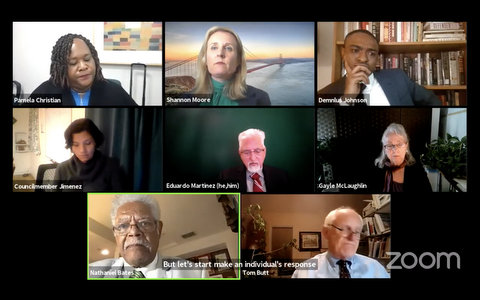 18 Nov

City Council Rejects New Fireworks Ordinance, Will Look For Other Solutions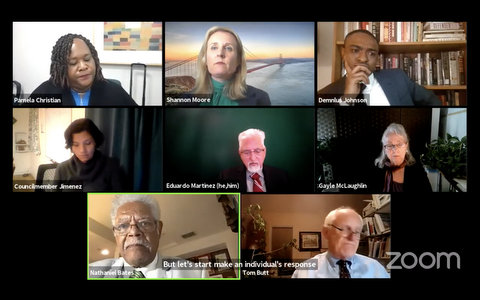 The Richmond City Council voted 4-2-1 on Tuesday against an ordinance that would have strengthened restrictions against fireworks. Under current rules, officers may cite someone only if they see them discharging illegal fireworks. (Screenshot captured by Mathew Miranda / Richmond Pulse)
By Mathew Miranda
Richmond City Council voted against a staff-recommended ordinance that would have potentially made property owners, tenants and parents liable for the possession or use of fireworks at a residence.
Instead, the council directed staff to track fireworks used for the following year, review policies from other cities, consider a buyback program, educate the community on fines, and establish incentives for residents to report illegal fireworks sales. The motion was passed 4-2-1 with Mayor Tom Butt and Council member Nat Bates voting against it. Vice Mayor Demnlus Johnson abstained.
Tuesday's decision follows the July 22 council meeting during which staff was directed to make amendments to the city's current fireworks ordinance. Under the existing law, police can only write a citation if they personally observe a person discharging illegal fireworks. This leads to challenges in the city's ability to enforce the ordinance, said Senior Assistant City Attorney Shannon Moore. Since 2018, the police department has received 4,577 calls related to fireworks but issued only 11 citations.
The new ordinance intended to increase citations by making it unlawful for any person to possess, sell, store, use, display, ignite or discharge fireworks. "Responsible parties" would also have been held liable for any violations. A "responsible party" is defined as someone who owns, rents, leases or is in immediate control of a residence or private property, according to Moore. Parents and guardians of minors would also be liable. Redwood City, Pacifica, Cloverdale, San Jose, Hanford and Folsom have enacted similar liability ordinances.
"It's very significantly different from what we have," said City Manager Linda Snideman. "We think it would be more effective."
Richmond Progressive Alliance-backed Council members Gayle McLaughlin and Claudia Jimenez effectively disagreed with Snideman while citing a few concerns and suggestions. Jimenez cited the potential for profiling and believed the ordinance provided too much discretion to the code enforcement officers. She also said the city could be held liable.
McLaughlin centered her comments on holding online sellers and distributors more accountable. She said the ordinance could unfairly punish parents, property owners and managers. McLaughlin hoped the city would look towards other solutions including continued education, buyback services and rewards for reporting illegal fireworks.
"I don't see this measure as the right measure and I doubt if it will be effective," McLaughlin said.
Bates chastised those council members, who he said were avoiding taking any action. He encouraged future ideas but stressed the need for the city to begin its enforcement efforts immediately.
"The public right now is fed up with these individuals using firecrackers…. Let's start making individuals responsible for setting off these fireworks," Bates said.
City Manager Transition
In other news, the council approved a more than $300,000 severance package as part of Snideman's separation agreement. Snideman's last day is Dec. 1, according to the published agreement that Butt shared late Tuesday night on his e-forum.
The package includes $215,000 in severance pay, $62,000 in leave balances and $25,000 for attorney fees. Butt denies signing the letter as it was "illegally approved by the City Council majority as a Brown Act Violation" and "erroneously characterized statements made by me as false." A signature from Johnson was needed to make the agreement official. Snideman, who held the position for less than two years, has seven days to revoke her approval if she chooses to do so.
At its next meeting, the council is expected to approve a three-month agreement with Shasa Curl as interim city manager. Curl's monthly salary will be $21,250. The contract period will end Feb. 3 but may be extended for another three months.