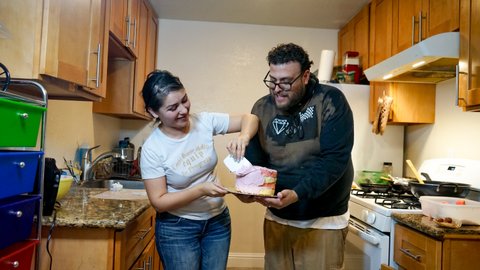 29 Nov

Workers Putting Themselves First — by Quitting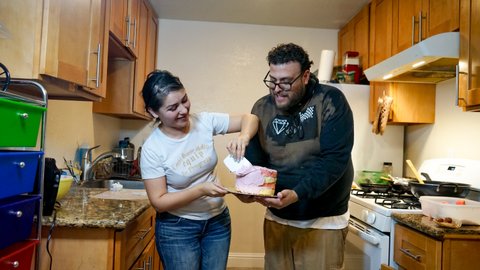 Husband and wife Enrico and Noehmi Guerra started selling sweet and savory dishes online during the pandemic through their company Rico and Mimy's Delights. (Denis Perez-Bravo / Richmond Pulse)
By Keisa Reynolds
The COVID-19 pandemic pushed many people out of their comfort zones, allowing them to better recognize unhealthy work environments, the impacts of low wages and the lack of a good work-life balance they found themselves in.
It wasn't just stimulus checks and increased unemployment aid that has led workers across many industries to resign in big numbers.
More than 4.4 million people quit their jobs in September, exceeding August's record 4.3 million — a phenomenon that many people are calling the "Great Resignation."
"Great Resignation" was coined by organizational psychologist Anthony Klotz to describe the mass exodus of people from jobs in many industries.
"I don't like saying it's a job shortage because it's not a job shortage; it's a well-paying job shortage or job with benefit shortage," said Corinna Espino, a social worker and co-founder of Empathy in Action. "We're seeing people not wanting to go back to work because their well-being is not prioritized in the workplace."
Many workers quitting jobs are staying in the workforce by finding other positions with better benefits, shifting careers entirely, or becoming self-employed.
"When the environment is healthier, when there is more flexibility, when someone feels like they are actually seen and valued in their work, it improves not only their productivity at work, it also improves their overall outlook on themselves as well their jobs," said Tiana Beard, a mental health counselor based in Richmond.
Beard worked as a mental health consultant for a YMCA early childhood program before going full-time in her own practice. She was early in her pregnancy at the start of the pandemic. She says she had to consider the increased health risks for her and her unborn child.
With a newborn, having a work-life balance became a priority as she decided to make a change.
"I sat down and said that I need to figure out a plan so that work fits into the life that I want instead of me trying to fit my life around this job," she said.
Today, Beard has 25 clients, most women under 40 years old. Clients who were at retirement age and financially stable got excited at the possibility of moving on to new horizons. Others were less sure they would be successful pursuing a different path.
Shifts in the workforce during the pandemic were particularly jarring for people who hadn't experienced the reality of actively relying on government aid or guidance from public officials.
"The pandemic had a lot of people anxious at first. I think it really puts into perspective how much we are not in control when it comes to many aspects of life," Beard said. "We really get comfortable and a shift like this happens that's not in our control, and we are left to navigate and manage it in the best way that we can."
Like many Americans, many of Beard's clients were concerned with the financial implications of the pandemic and how their families would be negatively impacted.
The Great Resignation hasn't appeared to happen on a large scale in Richmond. This could be because of socioeconomic factors such as class and race that may prevent many people from being able to take risks.
Beard knows many people who created side hustles out of newfound hobbies. Many workers regained a sense of stability after tapping into other skills and talents.
"The biggest shift was realizing that work cannot be our end all-be all. Our life has to encompass more than our 9 to 5 and where we go clock in," she said. "Figuring out how to become fulfilled without now going to the office every single day, I think that is where a lot of the focus has been."
According to Beard, many people have started to question how to approach work itself without becoming consumed by it.
"I think that might be a reason that we are seeing some folks resigning because they realize that there's a disconnect in what they say they want their life to look like and what it was before the pandemic," she said.
Enrico Guerra moved from San Leandro to Richmond shortly before the pandemic. He and his wife worked at a transitional housing facility in Oakland before getting laid off when they got sick in January 2020. (They were diagnosed with bronchitis, though there was no testing for COVID-19 at the time.)
Guerra had hoped to build up his existing screen printing design business called Left, Right & Bear Handed when the job loss and pandemic halted those plans. Eventually, he and his wife, who bakes and creates fruit arrangements, were able to turn their talents into profit as Rico and Mimy's Delights.
"It has shown us that we can do it on our own," Guerra said. "Business hasn't been the most fruitful, but it showed us that we've been given the seeds to get started."
>>>Read: Pandemic, Social Media Give Home Food Businesses a Boost
He is back on the job market while maintaining a small business since the pandemic taught him that having multiple streams of income is essential.
The COVID-19 pandemic was a turning point for Corrina Espino in her thinking of how to support organizations and people that serve marginalized communities.
"With the shelter-in-place order, we saw the community get really isolated from the things that brought them joy, helped them take care of themselves," Espino said. "That's when I started thinking deeper about how I could have a larger impact on the community and what that could look like to do it under my vision of us developing deeper empathy for each other."
In November 2020, Espino co-founded Empathy in Action with her best friend. The organization focuses on social-emotional learning, trauma-informed practices, conflict resolution, youth development and social equity.
"One big inspiration for Empathy in Action was us realizing that for maybe the first time in our lived history, everyone had experienced some sort of trauma," Espino said. "And everyone was having some sort of disconnect with social-emotional learning. Youth were really struggling because they didn't have those opportunities."
She wanted to give youth those opportunities by working with different influences such as school districts and nonprofits, to develop a trauma-informed approach.
"Now, everyone is working from spaces and experiences of chronic stress, so that impacts our behaviors. That impacts how we engage. And that impacts our overall health and well-being," Espino said. "We want to see these organizations really start centering the wellness of their constituents as well as their workers."
As workers across industries demonstrate how people increasingly no longer feel beholden to a steady paycheck, Espino thinks the pandemic has given everyone time to reflect on their lives.
"I think the pandemic has given all of us time to do some of that soul searching" and self-reflection, Espino said. "I encourage folks to lean into that and see what you can get out of that."