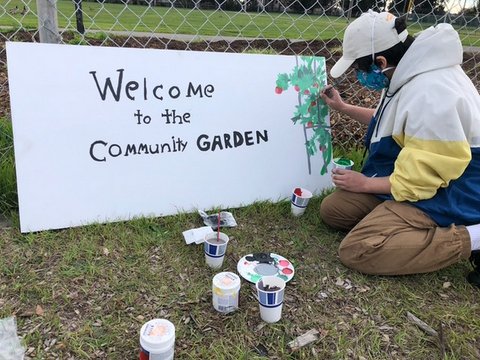 18 Jan

YES and Youth Bring New Garden to Nicholl Park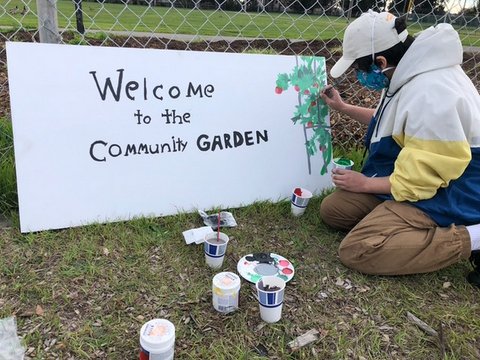 A local nonprofit opened a community garden Saturday at Nicholl Park, where it is set to involve the community in additional improvements.
Story and photos by Maria Fernanda Bernal
Youth volunteers turned a small patch of land behind the Nicholl Park play structure into a community garden Saturday. Two years in the making, it marked the first day of YES Nature to Neighborhood's garden project to beautify the city.
Joanna Pulido, youth engagement specialist for YES, said the nonprofit sent out a survey in 2019. YES received over 460 responses, with the community saying it wanted to see more gardens and learning spaces in Richmond.
Plans to create gardens were paused because of the pandemic. But YES applied for a Love Your Block grant and after receiving it last February, began to plan this weekend's event.
The event started with four youth volunteers but slowly grew to two dozen. Volunteers were split into three groups: one to paint signs, while others used tools to soften the soil.
Youth volunteers carefully scanned the small patch of land for trash to create a clean space to build the 8ft by 4ft garden beds. They focused on their efforts to change the landscape while BART trains rushed by in the background.
Volunteer Meliza Muñoz has been with the YES since the inception of this garden project. The 17-year-old says that nature takes her to a different space. It helps her disconnect from everyday problems and connect to a world beyond herself.
>>>Read: Activists Try to Renew Black People's Connection to Land and Healthy Food
She hopes Nicholl Park will become a safer space for the community and that the new plants will make the park more colorful.
The garden includes spearmint, rosemary, sage and lavender. All of the plants in the garden were chosen because of their drought-tolerant characteristics and medicinal purposes.
Pulido says YES will hold workshops for the community on the garden's plant health benefits and how to use them.
Another youth volunteer, Sophia Lopez, is concerned about how residents will interact with the new garden.
She said some residents might not be able to enjoy the garden because their work schedules might not give them the time to visit it.
"It's important because, like, if they can't, at least their kids can," said Sophia. "If they can grow up in, like, an environment where they're able to learn to appreciate the nature, I'm pretty sure that will make a difference in everything."
>>>Read: Lifelong Nature Lover Finds Passion at Verde Garden
She grew up in San Pablo and enjoyed going to parks to be with nature. Sophia hopes that the new garden can be a meaningful space for residents and that it will be taken care of.
"Just come out to the park. Put your phones aside and just, like, enjoy the nature and don't destroy the parks because people take their time to build them" Sophia said. "Because that's kind of selfish. And don't destroy the plot because there's all of us are taking time out of our day and doing this and it's a lot of hard work to do."
The garden project includes painting a mural on the park's bathroom commissioned to local artist Richard Salazar Morrow. The painting will take place Feb. 5 and Feb. 12.
With its grant, YES will also upgrade the restrooms and host a park cleanup, among other efforts.
The garden is accessible to the public and will be maintained by YES.