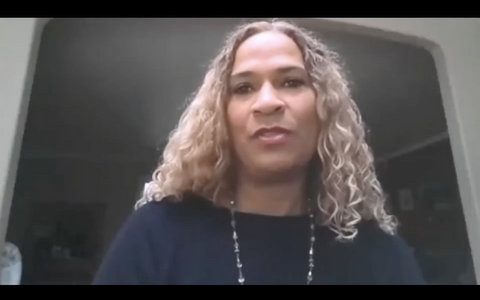 20 Jan

Contra Costa Unveils New Crisis Initiative for Behavioral Emergencies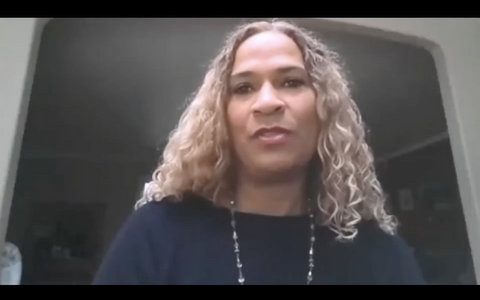 Taun Hall spoke Jan. 12 during the unveiling of Contra Costa County's new initiative for people experiencing mental health crises. Her son Miles was killed by police during a mental health episode. (Screenshot captured by Grace Galletti / Richmond Pulse)
By Grace Galletti
On June 1, 2019, Taun Hall called the police because her son Miles Hall was having a mental health emergency. Unfortunately, officers never came because, according to Hall, he did not meet the right criteria. She said there were not really any resources available unless he was a danger to himself or others or gravely ill.
"That was really the hardest time for our family because I couldn't get Miles help," said Hall.
The next day, the police were called again because Miles' condition had worsened. Instead of getting the help he needed, Miles was shot and killed moments after the officers arrived.
"Miles was the kind of person you would want to know. He was extremely sweet, loving, kind, and Miles' death should have never happened," said Hall.
Miles, however, is one of many killed in response to a behavioral health emergency. Angelo Quinto died after Antioch police were called for a mental health emergency in December 2020. Laudemer Arboleda, who was mentally ill, was shot and killed in Danville in November 2018 by the same officer who later shot and killed Tyrell Wilson. According to Contra Costa Health Services, approximately 14,000 emergency medical calls were related to behavioral health.
>>>Read: Who Responds to Nonviolent Crises? New Urgency to Remove Police From the Equation
In response to community advocacy after the death of Miles Hall, Contra Costa County unveiled on Jan. 12 its new community crisis initiative, A3 (anyone, anytime, anywhere), for people experiencing mental health crises.
"For years, we've seen the deadly consequences of lack of comprehensive response within our mental health system. And the lack of mental health care and emergency crisis response services disproportionately harms people of color and the unhoused in our community," said Assembly member Rebecca Bauer Kahan during the unveiling.
The goal of A3 is to ensure that anyone in Contra Costa County can access timely and appropriate behavioral health crisis services anywhere, anytime and to reduce law enforcement involvement.
"We know that in behavioral health emergencies, the first responder often is law enforcement. And sometimes they don't have the skills, training and knowledge to appropriately address this mental health crisis that impacts so many in Contra Costa," said Dr. Chad Pierce, mental health program manager at Contra Costa Health Services.
CCHS plans to receive and triage behavioral health emergency calls at the Miles Hall Community Crisis Hub. It will also have specially trained response teams and alternative locations for care. Only the level 3 care team, deployed in situations with a risk of escalation and where there may be safety concerns, will work with law enforcement.
"While we want to lessen the need for law enforcement, we do recognize that sometimes, that is an appropriate response," said Pierce.
>>>Read: Police Adapting to Changing Expectations, Says Acting Richmond Chief
The crisis initiative is expected to be fully staffed and able to take calls 24/7 by June 2023.
Gigi Crowder, executive director of the National Alliance for Mental Illness – Contra Costa, questioned whether the initiative could live up to its name.
"I'm excited the program is [underway], and it'll improve things, but I think we have to be cautious of saying it's going to really be anyone, anyplace, anytime," she said in an interview. "There's a person from the Hindu community who speaks Punjabi. Are you really going to have someone be able to meet their needs in the same way as an English speaker from Concord?"
The A3 initiative launched a pilot program in August to test the telecommunications program, as well as dispatch and communication technologies, according to Pierce. The county also currently operates a mobile crisis response team that can be reached on weekdays from 8 a.m. to 10:30 p.m. and on weekends from 8:30 a.m. to 5 p.m.
This spring, Contra Costa Health Services will continue to build out the call center hub to increase availability, hire and train more hub members and continue the mobile crisis response team's work.
A3 was developed in partnership with local government, first responders, behavioral health professionals, mobile crisis team members as well as those with lived experience and their family members.
"I have been with the county for several years and had never been a part of such a big multidisciplinary collaboration and partnership with such commitment and dedication," said Pierce.
The community crisis initiative is being supported by a one-time allocation of $5 million in Measure X funds for infrastructure and $20 million in ongoing funds to support operation of the program, including staffing.
"There's a long way to go. It's not going to take away the systemic problems we have — there's systemic racism, implicit bias," Hall said in an interview. "So we have to address that as well."
You can learn more about the program here and watch the recording of the event here.
If you or someone you know needs help, you can call the National Suicide Prevention Hotline at 800-273-8255 or the Contra Costa mobile crisis response team at 1-833-443-2672 for adults and 1-877-441-1089 for minors.