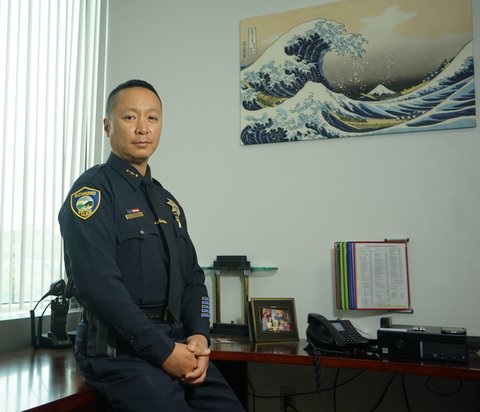 20 Dec

Police Adapting to Changing Expectations, Says Acting Richmond Chief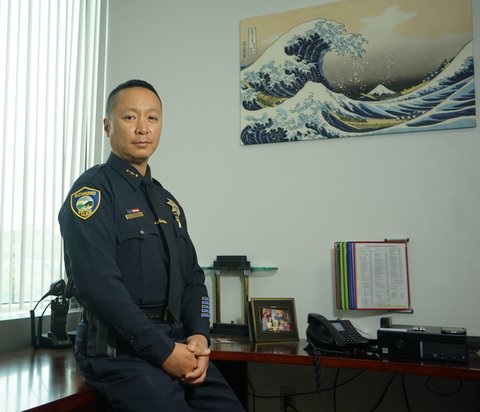 "Some days I feel like the boat, other days I feel like the wave," acting Richmond Police Chief Louie Tirona told the Pulse. (Denis Perez-Bravo / Richmond Pulse)
By Danielle Parenteau-Decker
Richmond's new acting police chief says staffing shortages and changes in how the public views police, in general, are making the RPD rethink priorities and approaches.
Acting Chief Louie Tirona recently took over the department after Chief Bisa French was put on administrative leave following domestic violence allegations. It was effectively his second promotion of the year, as he became assistant chief Jan. 3. Tirona joined the RPD in 1994, and it is the only police department he has worked for.
"We have to adapt to expectations from the community, locally and nationally," Tirona said Dec. 13 in an interview with the Pulse. But those expectations can be especially murky in any mental health crisis response.
Activists increasingly say police should not be first responders to reports of someone who might be experiencing a mental health crisis — particularly if the person doesn't seem to pose a threat to themselves or others.
"I think that the police should be involved when there's a threat of danger," Tirona said. "Would I want my officers involved [otherwise]? I actually would not." But the reality is not so simple for police. Dispatchers may be unsure of the person's background history.
This year, there have been cases in which crisis response teams said they would not get involved without a police presence. And some ambulances won't respond to mental health calls without police there.
"We're still the ones expected to go," Tirona said.
"In many ways, the recent discussion [about mental health and police] has been beneficial," he said. "Officers are being more patient with calls, not just mental health, but all calls."
This is a change from the early '90s when Tirona started in police work. Richmond's high murder rate and other violent crimes in the city created a feeling among police they needed to deal with every case very quickly.
To improve police handling of mental health cases, Tirona supports additional training with mental health experts involved. He says working more closely with crisis response teams would be beneficial to the department's already good relationship with county mental health professionals.
The acting police chief is a self-professed "training junkie." He got the department in the past to start scenario-based training, paying for the necessary equipment out of his own pocket. The idea is to let the officers work through situations "so they could make mistakes in the training environment," he said.
Next year, the department is expected to begin using virtual reality technology in trainings.
Tirona is concerned that RPD's ranks are too thin and at risk of diminishing further. The department has 130 officers out of the 145 it has been allocated. But 20 officers are currently eligible for retirement and that number is set to go up to 33 before long.
>>>Read: Richmond Has Fewer Police Officers Amid Budget Reallocation Talks
"We are significantly smaller as a department," he said. "That's just the reality."
Tirona said the department is also short on supervisors, particularly lieutenants. This means promotions are necessary. But they create coverage gaps. If a sergeant gets promoted to lieutenant and, in turn, an officer becomes a sergeant, there's one less officer on the street.
This year, the department has lost nine officers, Tirona said.
"They're very concerned about their future in the city of Richmond," he said. "Every officer who puts on the badge accepts the risk of being killed in the line of duty. That's just reality. What they don't accept is the loss of job security [or not knowing] that even if they are killed, their family will be provided for."
Some officers retire, some leave for other departments, and, as the Pulse reported in May, some leave policing for other lines of work.
Some officer candidates who opted not to join the RPD told Tirona it's because they're worried about layoffs. Increased competition with other departments and a "perception by some that police are not necessarily welcome in the city of Richmond" hurts recruitment, he said.
When he was a captain, Tirona chose — as a morale booster — to work as a beat cop on holidays to relieve officers under his command. He's continuing that as acting police chief and worked this past Thanksgiving.
But the 50-year-old Tirona acknowledges he might have lost a step. "I'm old now, so I'm not going to run as fast after a crook as my officers," he said, laughing.
When it comes to RPD, staffing patrol is Tirona's top priority.
"I only have so many people … for the things we are expected to do," he said. "When someone is the victim of a crime, I want to make sure response level is adequate."
He said he has reassigned people from special investigative units and eliminated units altogether, including ones that studied trends in violent crime and those who worked with legal cannabis dispensaries to make sure they were up to code. Now, the code compliance of cannabis dispensaries is a city responsibility.
>>>Read: Richmond Police Report Crime Trends, Changes in Service and Reforms
"I've taken all those detectives and sergeants and put them back on patrol," Tirona said. "Hopefully, their tremendous amount of experience can have a positive effect."
But staffing shortages have left him unable to fill vacancies, particularly in traffic enforcement.
The department gets many complaints about illegal parking. "But it's unclear what the expectations are of police," he said. Currently, two non-sworn officers work on parking enforcement.
Tirona says traffic moving violations seem worse since the pandemic started but said that is not unique to Richmond. "People are driving like maniacs," he said. He personally has witnessed "violation after violation" when he has been driving. "So then it comes down to how much enforcement is necessary or expected," he said.
RPD officers are instructed to focus on violations that lead to collisions — such as speeding, running red lights, changing lanes without signaling and suspected DUIs.
Tirona noted that Richmond has largely been spared the headline-grabbing robberies perpetrated by large groups of people in other Bay Area cities. "I like to think that's because our community is a little more sane," Tirona said. Plus, he believes Richmond isn't experiencing these thefts because it doesn't have the same "attractive venues" as some other cities.
People aren't likely to rob "a chemical plant," he said.
In analyzing these attacks on businesses, Tirona blamed social media's ability to organize group criminal activity and changing attitudes toward low-level crime. "If there are no consequences or they're so low," he continued, "it shouldn't surprise people."
In these big robbery cases, a company might write thefts off as an insurance loss, prosecutors might decide not to press for a conviction, or an officer might hesitate to engage a suspect. In many officers' minds, there is the question "Is it worth it?" Tirona said, even if the use of force is legally and morally justified.
Trainings focusing on issues like use of force and de-escalation have been in place since long before the murder of George Floyd or the Ferguson protests, part of the RPD's community-policing approach.
That approach gained the city major recognition when Loretta Lynch, attorney general under President Obama, visited Richmond and called it "a model of community policing."
More recently, it prompted two officers who had quit to return to the Richmond Police Department.
Tirona will remain in his role as acting chief "until Chief French's situation is resolved…however that turns out" and however long that takes, he said in a text message to the Pulse (ellipsis his).
"My hope is she returns at some point, but it's hard to predict with any degree of accuracy."