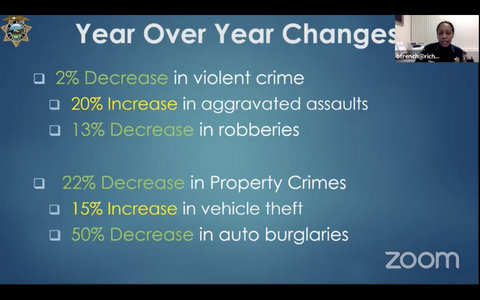 22 Jan

Richmond Police Report Crime Trends, Changes in Service and Reforms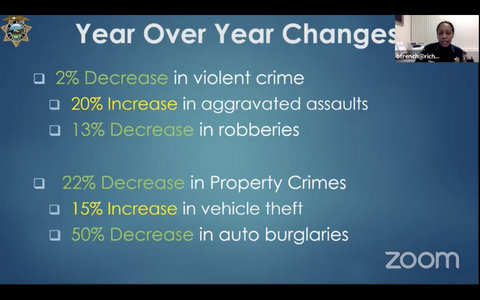 Richmond Police Chief Bisa French said she initially thought violent crime had gone up in Richmond in 2020 but was glad to see even the small decrease. (Screenshot captured by Edward Booth / Richmond Pulse)
By Edward Booth
Despite expectations, violent crime in Richmond was down in 2020 but not by much, according to police.
The Police Department on Tuesday presented a report to the City Council, covering crime trends in 2020, department operations this year and policing reform efforts that have recently been put in place.
Police Chief Bisa French said in 2020 there'd been 195,602 communications calls to the police department; 82,599 calls for service; 380 guns recovered; 11,523 reports taken; 2,893 vehicle collisions and 2,196 arrests, including 355 arrests of people driving under the influence.
"Traffic and traffic safety concerns remain a top issue of ours, as well as the No. 1 complaint received from the community," French said. "Unfortunately, due to our reduction in staff, we are only able to staff our traffic unit with four traffic officers at this time."
French said that, in terms of violent crime last year, there were 93 sexual assaults, 250 robberies, 529 cases of domestic violence and 22 homicides, up from 17 in 2019. As for property crimes, there were 1,084 stolen vehicles, 787 burglaries, 422 auto burglaries, 52 cases of arson and 1,334 thefts.
Overall, Richmond experienced a 2% decrease in violent crime in 2020, as compared with 2019. French said she initially thought the city saw an increase in violent crime, which she said was the case in most cities, but she was happy to see the small decrease.
Richmond additionally experienced a 20% increase in aggravated assaults, a 13% decrease in robberies, a 22% decrease in property crimes, a 15% increase in vehicle theft and a 50% decrease in auto burglaries.
>>>Read: Richmond Police Department Addresses Rise in Violence at Town Hall
French also talked about staffing in the department. She said there's currently 145 sworn staff members, though 157 positions are budgeted. Among non-sworn staff, the department has 53 current staff members and the budget for 60. Additionally, 22 police officer positions and about 12 non-sworn positions were frozen as a result of budget cuts last year, French said.
French added that the department continues to see employees leave, which has resulted in operational changes. Particularly, she said, dispatchers have left for other agencies. Richmond is currently the second-lowest paid area in the county when it comes to dispatching jobs, French said, and the department's communications center, which handles police, fire and emergency medical dispatch, does more work than any other center.
"We currently have vacant positions and continue to see personnel, both sworn and civilian, leave the city of Richmond for positions in other departments," French said. "And we've recently even experienced officers leaving to get out of policing altogether, which seems to be a new trend."
Operational changes include an additional shift team on weekends and a reallocation of investigative staffing.
Previously, French said, the department only had two teams, a night shift and a day shift, activated Fridays, Saturdays and Sundays. The swing shift team supplements the two others.
But adding the team, French said, meant the department had to cut from other areas. The department's special investigations section — focused on gang members, drug activity and people on probation and parole — was eliminated. Those efforts will now have to be taken up by patrol officers and a few intelligence officers left in the department's criminal investigations section.
The department also carries a reduced traffic staff and no longer has a foot and bike patrol team, which French said focused on quality of life issues throughout the city.
"My priority is to add this foot and bike team back as well as add officers to our traffic section as soon as we can fill our current vacancies," French said.
>>>Read: Q&A: Richmond Police Chief Talks Defunding, Community Policing, COVID-19
The department made several changes in service delivery this year to account for reduced staffing and adjust for COVID-19.
Noise complaints from businesses will now be handled by the city's Code Enforcement Division, which has the ability to revoke permits. Noise complaints related to barking dogs will now be referred to Contra Costa County Animal Services, and the police department will no longer respond. French said the city pays the county over $700,000 each year for animal services, which includes responding to barking dogs. The police department will still respond to other noise complaints, including complaints that happen after hours, French said.
Council member Nat Bates also suggested the city should research what other cities are paying for animal control. He said, in his opinion, Contra Costa County constantly rips off Richmond.
City manager Laura Snideman said the topic was a source of frustration around the county and that city managers and police chiefs are discussing it. The over $700,000 figure, she said, is determined by a formula and the level of service is a concern to city managers throughout the county.
Mayor Tom Butt said he was concerned with the department's new noise policies, specifically when it comes to after-hours complaints. French said the department would still respond to such complaints and would issue warnings and citations as needed. In the event an after-hours complaint has to do with a business, the department will respond but refer the case to code enforcement. As for after-hours complaints about barking dogs, French said, the department will still respond, but there are many cases where no one's around to issue a citation to and the case will be referred to the county's animal control to take care of when they're actually working.
"We can issue a citation, but that doesn't guarantee the dog is going to be quiet," French said.
Additionally, the department will now only respond to civil standby calls — when someone needs to go into a situation that has potential to turn hazardous, such as a woman needing to visit her ex-boyfriend's home to collect possessions — during business hours, though the sergeant and watch commander have the authority to make adjustments and respond after hours if needed.
The department is also asking for crime reports that don't have any suspect information, such as lost property, a hit-and-run and vehicle burglaries, to be made online. And people who make discretionary calls – calls which don't necessarily have a criminal component, such as a parent calling the police because their child won't get out of bed to go to school — will be referred to other resources and be told the police won't respond to the call unless it's determined they should.
The council members asked about mutual aid and reserve officers, among other items. In the only public comment, Richmond resident Elsa Stevens asked how the department identifies and weeds out officers who are members of white supremacist hate groups such as the Ku Klux Klan or Proud Boys.
"We don't have tolerance for any hate groups to be within our department," French said. "If we're made aware that there's any white nationalists or anybody from those groups, we immediately take action to terminate them."
New Council member Claudia Jimenez asked how payment for mutual aid requests operates. Assistant Police Chief Louie Tirona responded that requests for aid go through the county; reimbursement is also distributed by the county to any agencies that provide additional officers. He said police chiefs make final decisions on whether to give aid or not, and they can hold back resources if necessary. The Richmond Police Department declined to assist on several requests for aid in the final few months of 2020, he said, because of prior incidents at those locations and out of concern that officers could be overworked to the point where it might become unsafe.
Bates, a retired probation officer, asked why there's no longer much of a presence of volunteers in the police reserve. French said there are three officers in the department's reserve program, and they haven't increased that number because it takes a budget to train the officers. She added that there are issues with some reserve programs because reserve officers aren't as highly trained as paid workers.
Tirona said reserves were an important element of law enforcement for a long time, but there's very little interest in volunteering in police reserves today.
"It's hard enough to get people who are interested in the policing profession when they're getting paid," Tirona said. "But to get folks interested in the same profession with the same risks on a volunteer basis is becoming very challenging."
To end the presentation, Tirona went over reform efforts within the department. Officers are now ordered to intervene in instances of other officers using what appears to be unnecessary or excessive force and then report the use of force. The department is also requiring officers to make the use of deadly force a last resort and to give a warning prior to acting with lethal force.
The department also looked for ways to increase transparency and accountability of officer performance, Tirona said. This includes working with the University of Southern California Safe Communities Institute to create a database identifying all officers who have been terminated or resigned because of misconduct.