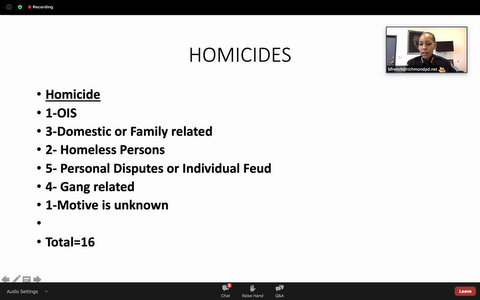 28 Sep

Richmond Police Department Addresses Rise in Violence at Town Hall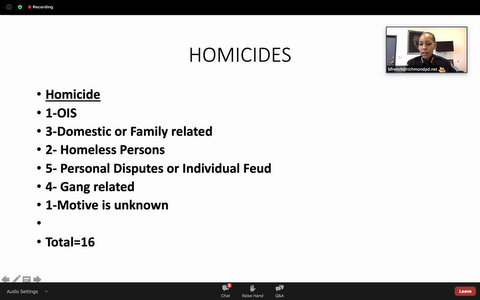 There have been 16 homicides in Richmond this year, with the first coming in April, according to Police Chief Bisa French. (Screenshot captured by Edward Booth / Richmond Pulse)
By Edward Booth
The Richmond Police Department held a town hall Thursday to talk about the rise of violence in the city over the past few months.
Richmond Police Chief Bisa French said there have been 16 homicides in Richmond this year, with the first in April. The city previously went six months without a homicide, dating back to October 2019, she said. Violence has increased since June 1, she said, with September being the worst month so far.
"Violence really picked up since the beginning of summer," French said. "Today we really want to specifically talk about that violence and what we're doing to address it."
Of the 16 homicides — one of which occurred the day before the meeting — one was an officer-involved shooting, three were domestic or family related, two were of people experiencing homelessness, five were related to personal disputes or individual feuds, four were "gang related," and one had an unknown motive, French said.
There were also 17 homicides last year, she said, which means the city has just about reached the same homicide count as last year with three months remaining in 2020. Last year, French said, there were 37 total victims of gun violence — a historic low. This year, she said, there have been a total of 73 shootings, including the homicides.
French said there were a myriad of possible reasons why violence was increasing — the COVID-19 pandemic, neighborhood disputes, homeless issues, domestic violence — but the police haven't been able to figure out exactly why it's occurring.
"We don't exactly know why we're experiencing this level of violence," French said. "There's just a lot of different reasons and, to be honest with you, we can't pinpoint any one reason why the violence is occurring."
RPD Capt. Timothy Simmons — who is responsible for criminal investigations and special investigations such as shootings and homicides — said the RPD had recently put together a strategy to disrupt the cycle of gun violence and to engage as many community stakeholders as it can.
Simmons said the RYSE Center has taken the lead on getting stakeholders together to address the young people in Richmond who he said are involved in the violence.
Naturally, he said, part of the RPD strategy is to reach out to young people in Richmond and help them make better decisions or give them better places to go and people to talk to.
"Young people are waiting for adults to show up," Simmons said, quoting Kanwarpal Dhaliwal, co-founder and associate director of RYSE. "I thought that was a pretty profound statement, and that's really what this effort is on the behalf of the police department. We want to do our part to show up."
The RPD strategy is to build strong relationships and engagement with the community, Simmons said. Officers and detectives specifically assigned to the operation will be getting out of cars, connecting with community stakeholders, and attending community meetings, he said.
Simmons said the department had no desire to target specific neighborhoods or groups; rather, it wants to understand who the individuals who commit gun violence are. Aside from RYSE, the department is working with the Bay Area Peacekeepers, the Office of Neighborhood Safety, the Police Activities League, the Ya-NEEMA Healing Circle and the West Contra Costa County School District, among others, Simmons said.
"The overarching goal is to help folks understand that the police department is just one resource. We're one part of this process," Simmons said. "It is going to take an all hands on deck sort of mentality to really be successful."
Though RPD doesn't currently have a contract with WCCUSD — as the school board voted in June to eliminate contracts for School Resource Officers — French designated some officers to be youth resources, Simmons said.
RPD members responded to questions from Richmond residents for about half the hourlong meeting.
One questioner asked, in a written Zoom comment, if the police department is looking to partner with the community group that's working to reimagine public safety that gave a presentation on the subject at the City Council meeting Tuesday. French said the RPD would love to partner with them, and any group willing to work with the department, and she thought there were some great ideas in the proposals the group put forward at the council meeting.
"We realize that changes need to occur and we want to be in partnership with people talking about what changes can occur," French said.
>>>Read: Q&A: Richmond Police Chief Talks Defunding, Community Policing, COVID-19
Randy Joseph, who sits on the city's Community Police Review Commission and is involved in the public safety community group, asked what the police are doing to get guns off the street and to create processes to help communities heal from the violence.
Simmons said one step taken toward healing is to engage with the Ya-NEEMA Healing Circle, which seeks to help community members affected by gun violence. The department is also more actively engaging police chaplains to help those who have been affected by homicides, to connect them to resources and engage with them in an emotional or spiritual manner.
Simmons also said gun buyback programs have been successful in the past, but most of them have been grant driven and there isn't extra room in the city budget.
Richmond resident Deborah Small, also a part of the reimagining public safety group, criticized the use of "gang related" as one of the RPD categories of homicides because a "gang" implies a group of people whose reason for being together and interacting is to engage in criminal activity. She said in other cities, such as Boston and Highland, N.C., police departments found that much of what they thought were gang-related shootings had more connection to interpersonal conflicts.
French said the term refers to people who are "actively co-mingling together to engage in criminal activity." French said, earlier in the meeting, she did want to be careful with the term "gang related" because it's an informal term that's connected to certain neighborhoods — such as North Richmond, Central Richmond or Crescent Park, she said — and people in those neighborhoods.
"I said that to be mindful of that language because I know it can be harmful to label communities," French said. "We're having conversations around what that means and what we should actually be referring to when we say 'gang' or 'community violence' or stuff like that."
RPD Crime Prevention Manager Michelle Milam said that, after growing up in Richmond, she was tired of going to funerals. She'd prefer to attend more positive celebrations like birthday parties and graduations, but she thinks everyone will need to do their part and work together to get there.
"If there's one part of this that doesn't work, it doesn't work at all," Milam said.