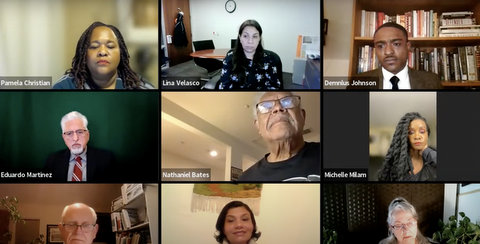 26 Jan

As Debate Over Homelessness Continues, City Looks for 'Win-Win Solution'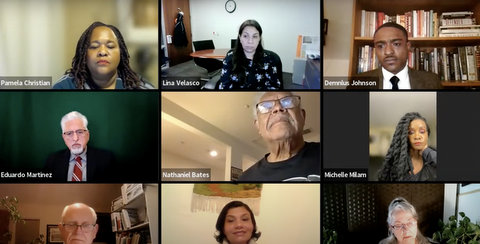 By Julia Métraux
Discussions about different interventions to help Richmond's unhoused population were front and center at Tuesday's Richmond City Council meeting.
The Bay Area is facing a housing crisis, in part due to the lack of affordable housing. The Richmond City Council currently has two ad-hoc committees to address homelessness issues in Richmond, which Mayor Tom Butt and council member-at-large Nathaniel Bates recently stepped down from, citing what they called their inefficiency in finding solutions.
"I think everyone is really been trying to do their very best with what I view as a humanitarian crisis, which is our homeless issue," said Christy Saxton, the interim director of health, housing, and homeless services at Contra Costa Health Services. "There is no one solution. Things do not happen overnight. [It] takes a lot of collaboration, and it takes a lot of innovation."
A contentious issue among members of the public was news that members of the unhoused population may be moved to SureStay Plus Hotel By Best Western Point. The SureStay is less than half a mile from Washington Elementary School.
Numerous parents raised concerns, citing a post on NextDoor, that six sex offenders had been placed at the hotel near the school. Council member Claudia Jimenez, who has a child that is a student at Washington Elementary School, said she communicated with the county about parents' concerns. Jimenez said that about six people who had been placed at SureStay last August were moved after being the subject of concern.
"I believe that we can go to a win-win solution to keep our kids safe and find opportunities to support our unhoused community," Jimenez said. "I am looking forward to the conversation with all of the parties, and the principal, and all the community."
Mister Phillips, a trustee of the West Contra Costa Board of Education, asked that the city work in collaboration with the West Contra Costa Unified School District on the new project.
"I'm very concerned about some of the things [about] this new project and the potential of putting folks so close to a school," Phillips said. " I would urge you to reach out to the superintendent and have communication because you all want to partner, and we do too."
In response to people speaking against the project at SureStay, other members of the Richmond community, including some unhoused people who attended the meeting held over Zoom, spoke against conflating all unhoused people as violent and as sex offenders.
"This conversation has gone on for two-plus years of trying to find place for unhoused people and every time you turn around, every neighborhood says don't put them there," said Randy Johnson, a member of the Richmond community.
The city of Richmond's community development director, Lina Velasco, and Richmond Police Department crime prevention specialist Michelle Milam also gave updates on strategies to address concerns about the Castro and Rydin encampments. This includes moving unhoused people into temporary and permanent housing.
Members of the city council, in particular Gayle McLaughlin, spoke in favor of finding solutions to stop more RVs from moving to these encampments while the city is trying to find housing for Richmond residents located there.
Council member Eduardo Martinez encouraged city staff to survey members of the Castro and Rydin sites to see how the city can support people's individual needs.
"What we need to do is to survey the population," Martinez said. "Find out what their needs are, find out why they're there, how they ended up there so that we could direct services to them specifically to help them out."
McLaughlin introduced a motion to give the staff more direction to enforce parking regulations for any new RVs, with a friendly amendment from council member Martinez to develop a vetting process for housing placements. The motion passed 5-1, with Butt voting no. Council member Melvin Willis was absent from the meeting, though the reason for his absence was not disclosed.
Since stepping down from the homelessness committees, Butt has gone outside city government to address the issue. He recently partnered with local organizations including the Richmond Rotary Club on an initiative to place unhoused people in apartments with a year's rent paid.
The next Richmond City Council meeting will be held on Feb. 1.