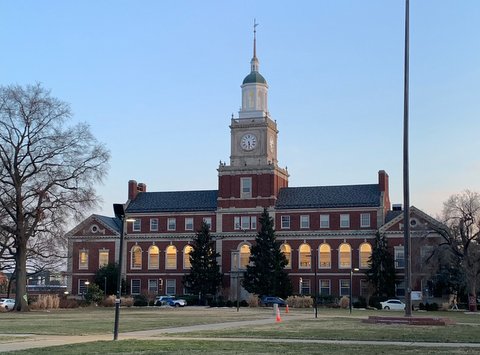 17 Feb

'We Can't Stop a Bomb With Good Vibes': Richmond HBCU Student Reacts to Threats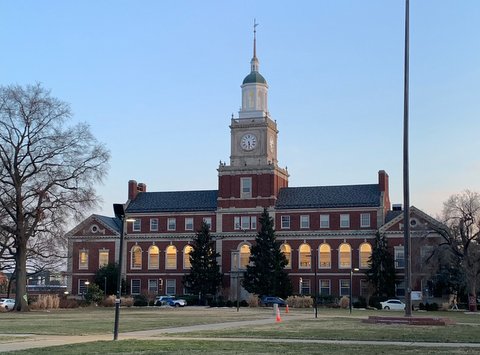 Howard University and other Historically Black Colleges and Universities have been subjected to bomb threats this year. (Kimyatta Newby / Richmond Pulse)
Commentary, Kimyatta Newby
My school, Howard University, received yet another bomb threat on Valentine's Day. It was at least the fourth this year. I've only been living in D.C. and attending school in person since the middle of January. After distance learning from across the country, I was excited to finally be on campus. But my new homey environment is being disrupted — hateful people are threatening to bomb us.
More than 20 bomb threats have been made against Historically Black Colleges and Universities around the U.S. in 2022 so far. The first was phoned in Jan. 4 against Xavier University in Louisiana. The FBI is investigating the threats as hate crimes. The Joint Terrorism Task Forces are heading the investigation, which "involves more than 20 FBI field offices across the country," according to a press release. Six "tech-savvy" young people from across the U.S. are persons of interest in the threats, which are believed to be racially motivated, HU public safety reported.
Going to an HBCU still is one of the best decisions of my life. Receiving higher education in a space full of people who are in cultural alignment with me and understand my trials and tribulations is fundamental to my growth.
But, with these ongoing threats, HBCU students are feeling extreme anxiety. Being targeted by racists is nothing new, but that doesn't mean we need to shrug it off and "show resilience." Black people always have to stay strong and make sure nothing shakes our footing because we're people who persevere — that is invalidating and dismissive of our human emotions.
>>>Read: We Need to Talk About Black Mental Health. We Shouldn't Have to Die For People to Listen.
Some HBCUs closed down for the day when they received bomb threats. Not Howard University. Instead, the administration put more Metropolitan Police and Department of Public Safety officers on campus.
There was extreme tension. Bringing more cops to a school full of Black students seemed counterproductive and tone deaf.
University president Wayne A.I. Frederick responded to the threats in a statement online.
"It is critical that we do not allow these harassments to distract or deter us from the purpose that has brought each of us to Howard University," he said. "The Black community is no stranger to these sorts of threats, both real and fabricated."
Overall, students are angry and overwhelmed. Personally, I am embarrassed. We can't stop a bomb with good vibes and determination.
Keeping the school open despite students' fears sounds a lot to me like the U.S. government keeping the economy open while the COVID-19 virus runs rampant.
After some pushback, Howard students were given Feb. 4 off as a "Mental Health Day." While this was appreciated, it's evident there are other priorities over the students' lives.
Frederick was right about one thing: This kind of hatred against us as Black people is nothing new.
People are racist, that is evident and common knowledge. So going to a school that is majority Black and flaunts it places us in the eyes of people who hate Black people let alone seeing Black people happy.
There are internet trolls all the time, being weird and derogatory. They interact with the school's accounts. They call Howard University racist for being majority Black. They say all HBCUs promote division because of the high population of Black students.
Last semester, a ransomware attack against Howard made our school accounts and other HU technology unsafe. It kept those of us attending virtually out of school for two weeks.
We also have our own internal moments of chaos. Howard is dismissed from funding conversations because we get public donations. However, students do not see the trickle-down effect of that money. The rift between the administration and students and staff causes conflicts such as the #BlackburnTakeover last semester when students protested dorm living conditions, tuition and more.
Nevertheless, this is still where I want to be.
I was accepted to Howard University in May 2020. I looked forward to joining like-minded students and following famous alumni such as Chadwick Boseman, Thurgood Marshall, Zora Neale Hurston and Kwame Ture. But for almost two years, I had to attend classes from my parents' house in Richmond. Now, on campus, I can engage with my peers and staff properly.
Going to an HBCU, especially coming from a majority-Latine environment, is almost like visiting distant cousins because we're tied together culturally.
>>>Read: From High School to College, How I'm Adjusting to a New Reality
It's been about a month since classes started, and it's been an interesting adjustment. "Why send an email when you can go to someone's office hours?" "Oh, I have to put in genuine effort to go out and socialize." "Make sure to do your weekly COVID-19 test." "As much as I want to dance, this party sounds absolutely overpopulated, and I really just want to go home and lay in my bed."
I have enough to think about with worrying about someone dropping bombs on my school.
We received a phone notification and shelter-in-place was initiated after the threat came in Monday.
This shouldn't be a new normal for HBCU students. We shouldn't be at risk because some "juveniles" have too much access to technology that lets them display their hate to the world. We should not have to go about our college careers suffering and being subjected to acts of terrorism.
While I wouldn't choose another school over an HBCU, I hope the protests and threats remind Howard University and other institutions of higher education that their students matter. It's the bare minimum.
This is an opportunity for not only Howard but also the FBI and other institutions to take initiative to protect Black students. We can point fingers at institutions for not reacting accordingly; however, we have to acknowledge the society and government that makes people feel safe enough to continue perpetrating such heinous acts.