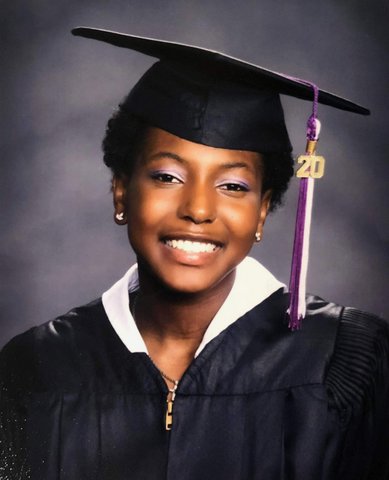 10 Aug

From High School to College, How I'm Adjusting to a New Reality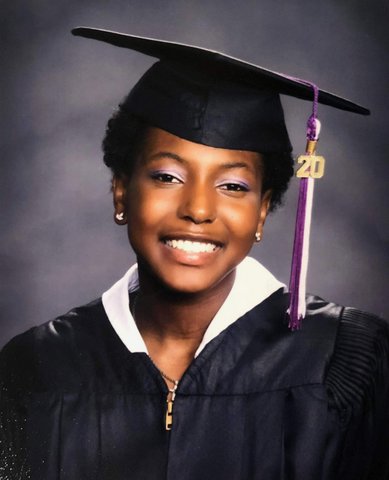 Kimyatta Newby graduated this year from Middle College High School in San Pablo. She'll attend Howard University virtually in the fall. (Photo courtesy of Kimyatta Newby)
By Kimyatta Newby
High school seniors walked into school last August ready for the traditional senior experience: prom, graduation, college acceptances, making fun of freshmen, and finally telling that math teacher from sophomore year you never liked their class. By March, however, a new reality began to dawn on us — we may not get our senior year dreams. Fast-forward to this August, and everyone is sitting in bed, receiving schedules for whichever college they have been accepted to and decided to attend with a heavy heart.
College has always been something I've looked forward to. I was so ready to leave my house and go across the country to Howard University in D.C. When I got accepted, it was one of my brightest moments within the shutdown. I held onto slight hope that the pandemic would calm down and we wouldn't have to take extreme measures for something that would fade.
Days turned into weeks and weeks into months, and suddenly, leaving the state seemed borderline impossible for me. I wanted to believe I could still go to D.C. and attend college remotely from my dorm, but that became irrational. Between the cost of college and the unpredictability, the safer road was to just stay home.
>>>Read: WCCUSD Students Reflect on Challenges, Benefits of Distance Learning
The thought of the school closing due to increased COVID-19 rates haunts the back of my mind, and I don't want my family at risk; however, you're at risk wherever you go, so tuition being lower was my main motivation to stay home. Seniors have experience with online learning, so going back to that won't be hard; holding ourselves — well, speaking for myself, holding myself — accountable and responsible will be the hard part. Especially with the three-hour time difference and my already completely skewed sleep schedule. A 9 a.m. class in D.C. is a 6 a.m. start in California, and I'm nowhere near prepared to wake up at 6 a.m. I better start working on that.
Besides classes, my heart is tender from the loss of swag surfing with the other Bison (Howard's mascot) and having a homecoming or freshmen week. I love clichés and coming of age films, and I really wanted my freshman year of college to be something out of a cheesy coming of age film, from running around dorms to move-in day to my first homecoming to being a random smart aleck that a professor wouldn't even remember, I was ready, and I'm pretty sad, honestly, that I won't get that till possibly spring or next fall.
As of now, I've been living in Oakland with my older sister, who's 21, by accident. I meant to spend a weekend here and now it's been three months. So it's my sister and me, two college students, living in a one-bedroom house, going to protests, rarely leaving for social events, and two dogs. Spiritually, it makes up for the dorm room experience that I'm losing.
>>>Read: 'Our Ancestors Fought': Bridging Activism's Generation Gap
It's different, though. A lot of recent high school graduates were preparing to leave, to explore and to make changes to their lives and themselves, but due to this pandemic and such massive changes in society's plans, we aren't able to do that. For some people, it's given them more time to prepare, to save money and depend on their parents. Others were so close to grasping freedom, ready to dash at any chance to experience the world without the leash of a parent and now can't. Living with my sister gives me a little wiggle room.
Overall. I deal. I'm a little sensitive whenever people bring up my senior year, but at least I have my diploma and I'm done, and there will always be new memories. It's sad that the class of 2020 won't get the normal experience, and I hope we all grow and get new ones, but I'm proud of us all for pushing and getting through and adjusting to this abrupt change — so very proud.