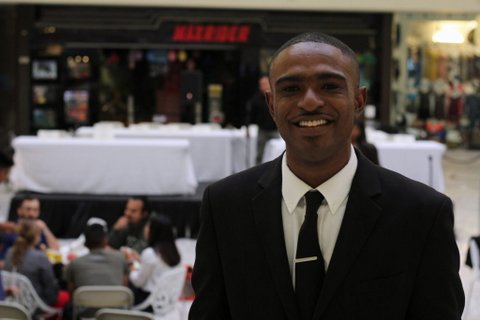 27 Feb

Q&A: Demnlus Johnson Sets Eyes on Washington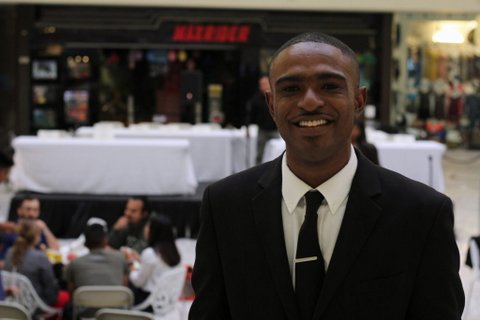 Demnlus Johnson is looking to go from City Council to Congress. (Richmond Pulse file)
Interview, Richard Tzul
Richmond City Council Member Demnlus Johnson has officially launched his campaign for Congress. Johnson, 29, is running to represent the new District 8, part of California's congressional districts map that will take effect later this year. 
Johnson has been on City Council since 2019, closer to the center than his Richmond Progressive Alliance-backed peers but not as moderate as Mayor Tom Butt or council member Nat Bates. While still a council member, Johnson's term as vice mayor ended earlier this month.
Days after his Feb.17 announcement, Richmond Pulse interviewed Johnson about his campaign and his goals for the new district, which includes Richmond. This interview has been edited for length.
Richmond Pulse: Why have you chosen to run for Congress?
Demnlus Johnson: There's a new congressional district. It was formed thanks to racial justice advocates, including the NAACP, who looked to have a majority-people-of-color-district in the Bay Area.
Some young activists in Richmond called to see if I would be interested in running because they know my history growing up not just in Richmond but also my ties to Pittsburg, having graduated from Pittsburg High School, as well as my family ties to Vallejo and Fairfield.
I began to look at the cities that made up the district and saw this would be a great opportunity to have an impact on the lives of people who've poured so much into me throughout my entire life, whether that be in Richmond, Pittsburg, Vallejo, Fairfield or Antioch.
After being approached by the young activists and following up with some of the elected and Democratic leaders throughout the district, I made the decision to run for Congress because I felt it would be a way to have the most impact on the most amount of people in terms of making people's lives a little bit easier, [more] equitable, whether socially or economically.
RP: The majority of District 8 residents will be Black, Latino or Asian. What do you identify as the unique needs of these communities, and how will you address them?
DJ: One of the first needs I've realized throughout my work on the City Council, in West Contra Costa Unified School District, and as the California policy and government relations manager for Jumpstart for Young Children, is a need for education.
In addition to improving our facilities [and] curriculum, we have to take a deeper look at early childhood education and the offerings we have throughout Contra Costa and Solano counties. We have to take a deeper look at early childhood education accessibility.
In terms of higher education, we need to make college debt-free, not just for students but for parents. We talk a lot about eliminating student loan debt, which I'm 100% in agreement with, but there's nothing about the Parent PLUS loans that a lot of families have to take out to make sure their kids have an education.
Another big piece for me is transportation. I'm chair of the West Contra Costa Transportation Advisory Committee. We want to make investments in infrastructure that's going to improve transportation. We're also looking to see if there's new transit and transportation that can ease those traffic trends.
Our district is dealing with gun violence on our highways and within our cities. We need individuals in office who understand the impact of such violence.
Employment is a really big deal in Solano and Contra Costa counties. It's about making sure we have those employment training centers and programs like RichmondBUILD.
Of course, there's climate justice. We have five refineries right here in the district. We have to come up with a specific plan for a just transition that has zero job loss. These are all things I feel are very important to our district and that I can have a positive impact on.
RP: What lessons have you learned from being on Richmond City Council that you plan on applying to your time in Congress, if elected?
DJ: On Richmond City Council, one side accuses me of being the Richmond Progressive Alliance, and the other side accuses me of being in bed with big business. Both are wrong.
One side can have a proposal that benefits people of color, and the people that I serve, or the other side can have it. All in all, we're all Democrats.
It's about not being closed off 100% to a political philosophy, or to someone who may not come from the same ideological background as me, but to just listen and see if there's a chance for us to work together. That's the biggest lesson that I can take from Richmond City Council to Congress.
RP: Some naysayers might say, 'You're too inexperienced, too young, or you've only been on City Council for a few years.' What would you say to them?
DJ: There's precedent. Young people get elected to Congress all the time. In fact, because things are changing so much, I think it's a little bit more advantageous to have people who are closer to the problem and closer to the changes being able to legislate and pass policy, versus individuals who need their staffers or an entire policy brief or memo to explain what a text message or social media platform is.
But if you do know of Congressman Eric Swalwell or other congressmen who've been elected from city council — John Lewis was a city council member before he became a congressman. Individuals who have been in the public eye before. There's a precedent. The same chance you gave them, you give me.
That's all I ask. I'm not asking for special treatment. I'm not asking for special consideration. All I'm asking is the same chance that you gave Eric Swalwell and John Lewis is the same chance that you give me.