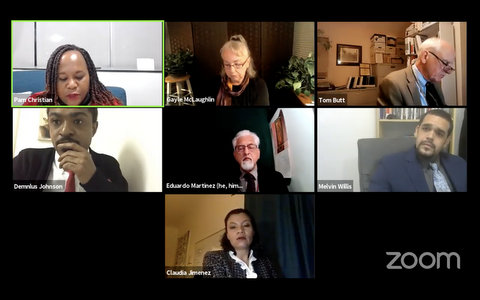 18 Feb

Richmond Council, Community Call for 'Just Transition' from Chevron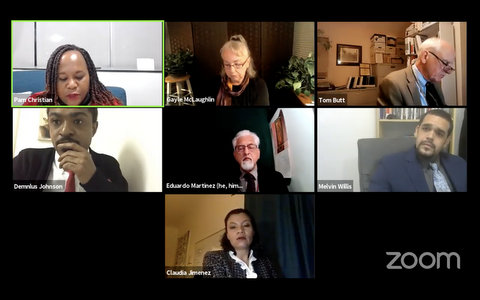 The City Council voted 5-1 Tuesday to establish recommendations to transition from the Chevron refinery. (Screenshot captured by Mathew Miranda / Richmond Pulse)
By Mathew Miranda
As a result of last week's oil spill and years of public health hazards from Chevron's Richmond refinery, the City Council approved a motion Tuesday to research case studies from cities that have moved away from fossil fuel industries.
City staff was also directed to engage with local partners to establish a set of recommendations on how to plan for a "just transition" from the refinery. Just transitions are generally defined as economies that move away from fossil fuels and toward clean energy sources.
The motion passed 5-1, with Mayor Tom Butt voting against and Council member Nat Bates absent. 
"It's not like we're calling for Chevron to close right now, but as city leaders, we need to make sure we are leading and thinking about a just transition," said Council member Claudia Jimenez, who brought up the motion.
Chevron remains the city's top employer, providing more than 3,000 jobs.
Butt said his objection was due to the City Council having more important issues to prioritize than studying just transitions.
Before voting, the council heard presentations from several agency representatives involved in the oil spill's cleanup and investigation. Agencies present Tuesday night included the Chevron Richmond Refinery, Contra Costa Health Services, Richmond Fire Prevention Services and San Francisco Baykeeper.
San Francisco Baykeeper attorney Ben Eichenberg called into question much of Chevron's response and said Chevron likely acted late on the spill due to a weakness of monitoring.
"Just because this was a small spill doesn't mean it was a good response," Eichenberg said. "This small spill was purely a matter of luck."
There are no reports of effects on wildlife to date, but Eichenberg said much was unknown about the spill.
Randy Sawyer, deputy director of Contra Costa Health Services, said air samples tested the night of the spill for carbon monoxide, carbon dioxide, etc., did not show above normal levels, though odors were detected.
Sawyer added that a third-party agency will be hired in the next couple months to conduct an independent investigation. Chevron will also conduct its own investigation, according to Linsi Crain, Chevron Richmond's manager of public and government affairs.
Eviction Protections
Richmond will begin exploring practices for stronger eviction protections for city renters, due to the growing number of COVID-19 caused evictions.
The motion passed 5-1, with Butt dissenting.
Richmond will base practices on recent implementations from Berkeley, Oakland and San Francisco, all of which have passed additional protections since the pandemic began.
Fourteen of the 15 public speakers on this item called for more protections. 
Anne Tamiko Omura, executive director of the Eviction Defense Center, an Oakland nonprofit that serves low-income tenants, said Richmond tenants are being evicted at higher rates than all of Alameda County.
"In the past four months, we have not had a single client in all of the 14 cities in Alameda evicted," Tamiko Omura said. "In Richmond, we get regular calls from tenants from sheriff's notices that are later put out in the street."
According to Tamiko Omura, 98% of those facing eviction in Richmond are people of color.
"We as leaders need to do the most things to protect our most vulnerable communities," said Jimenez. "We heard tonight that a lot of the folks getting evicted are Black and Brown."
Budget Adjustments
In other news, the council voted 6-0 to approve mid-year budget adjustments that increase the operating revenues and expenditures for the 2020-21 fiscal year.
The revenue change stemmed mainly from a $7.4 million increase to the transfer tax, the city's share on large property sales in 2020.
Total budget adjustments result in an approximate 2.3% surplus in the general fund balance which equates to roughly $4.1 million, according to city senior management analyst LaShonda White.
Much of the council raised questions to staff about confusion over the city's current financial state, given that two months ago a state auditor deemed Richmond among the most financially unhealthy California cities.
"You can't be both," Butt said. "You can't be a city that is healthy fiscally and also be a city that is the fifth most at-risk city in the state of California."
Council member Gayle McLaughlin echoed Butt's concerns.  
"Some bad figures were presented in the past and that's not right," McLaughlin said.  "I would like to get clarity."
Staff was directed to return with financial documents that could provide clear answers to the council's concerns. 
Moving forward, Council member Demnlus Johnson will serve as vice mayor. He was appointed with a 6-0 vote.