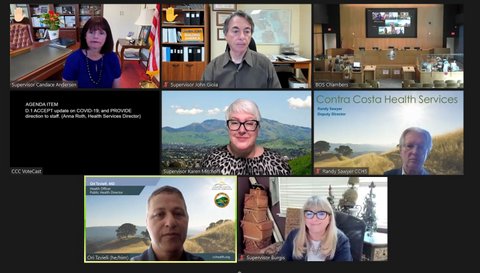 27 Mar

Calls to Oust Contra Costa Sheriff Intensify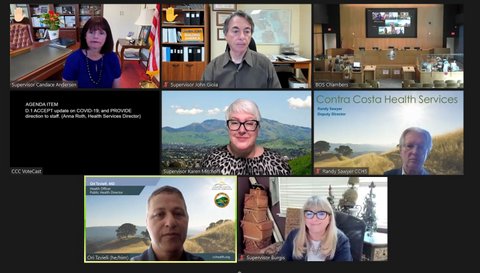 By Richard Tzul
Members of the public on Tuesday called on the Contra Costa Board of Supervisors to remove Sheriff David Livingston from office.
Community members expressed despair and outrage at the board's meeting this week over Livingston's support for a former deputy who shot and killed two mentally ill people of color.
Former deputy Andrew Hall was sentenced March 4 to six years in prison for assault with a firearm after he shot and killed Laudemer Arboleda, 33. The unarmed and mentally ill Filipino man had been knocking on doors in a Danville neighborhood Nov. 3, 2018, before attempting to drive away from police at a speed of 6 mph. Hall fired his gun 10 times, striking Arboleda nine times.
In an internal department letter written the day of Hall's sentencing, obtained by KTVU, Livingston told his staff it was a "sad day."
The letter does not mention Arboleda by name, though it does reference what happened that day and the internal investigation that said Hall's actions were "within departmental policy." Livingston also wrote to his deputies, "I have your back."
One public commenter at the supervisors' meeting identified herself as Wanda Johnson, the mother of Oscar Grant, the unarmed Black man who was killed by law enforcement in 2009 at the Fruitvale BART station in Oakland.
>>>Read: Remembering Oscar Grant and His Unifying Legacy
"I am appalled. I am disgusted by those words of Sheriff Livingston," said Johnson. "The letters that he spoke was atrocious. They were a disregard to human life."
She asked the board to make a motion to recall the sheriff, echoing the sentiments of several members of the public.
John Gioia, the District 1 supervisor, said he has supported the creation of a civilian commission to oversee the sheriff's department. He called the fatal shooting of Arboleda "tragic and unnecessary" and said the judicial system, not an internal sheriff's investigation, should determine "an officer's guilt or innocence."
In response to the calls for removal, Gioia said the sheriff is elected, not appointed by the board.
Commentators said that some board members have previously endorsed Livingston. None of the supervisors commented on rescinding their endorsement.
District 4 Supervisor Karen Mitchoff supports Livingston and told KTVU that in his position "he gets to say whatever he wants." She doesn't support outside oversight, she said, because it "doesn't do anything."
The Sheriff's Department is not just in hot water with the public. A coalition of progressive district attorneys, including Diana Becton who prosecuted Hall, have called on the supervisors to audit the agency's discipline practices and establish independent oversight.
The district attorneys slammed the sheriff for his letter and criticized an internal investigation that cleared Hall from misconduct.
The 2018 killing of Arboleda was not the only instance in which Hall killed a mentally ill person of color. In 2021, Hall fatally shot Tyrell Wilson, a 33-year-old mentally ill and unhoused Black man. Authorities said Wilson, who did not approach Hall, did not comply with orders to drop a knife.
The two killings have prompted wrongful death lawsuits, which resulted in the county paying out $9.4 million to the families of the men, in contrast to most of the county's recent history of lower payouts in similar litigation.
County COVID Rates Move Down
Two county health officials reported Tuesday that there was a daily average of 73 new COVID-19 cases in the past week, down 13.4% from the previous week. Within the same time frame, there were 35 hospitalizations, a 4.4% decrease. The county has returned to a pre-omicron case rate.
The COVID-19 report was provided by Randy Sawyer, the county's deputy director of health services, and Dr. Ori Tzvieli, the county's public health director.
Health officials are monitoring the BA.2 variant spreading in Europe, said Tzvieli, which research says may be a more contagious subvariant of the omicron variant. Wastewater assessments suggest that the subvariant accounts for approximately half of COVID-19 infections in the county, he said.
"I read about it this week, and I thought, 'Oh no,' " said Mitchoff, referring to the subvariant. "But let's continue to not just keep our fingers crossed, but work to not spread that."
About 81% of county residents have received two doses of the Moderna or Pfizer vaccine or one Johnson & Johnson shot, and 50.4% are boosted. Moderna and Pfizer have requested authorization for a fourth dose from the U.S. Food and Drug Administration. Pfizer is also awaiting authorization for vaccines for children younger than 5.
The county has two CVS pharmacies, both in Walnut Creek, at which people with COVID-19 symptoms can make an appointment to see if they're eligible for treatment, regardless of health insurance status. Health officials are working with local and federal authorities to expand the number of treatment centers. Meanwhile, the regional hospital plans to "streamline access" to COVID-19 treatments, said Tzvieli.
On Friday, the state will open sites offering PCR or antigen testing. The latter is recommended for quick results and people who are symptomatic.
Supes Appoint County Director of Employment and Human Services
In county personnel business, the supervisors unanimously appointed Marla Stuart as the director of employment and human services.
Stuart has previously served as deputy director of Solano County Health and Social Services. She holds a doctorate in social welfare from UC Berkeley.
Climate Task Force Outlines Goals
The Interdepartmental Climate Action Task Force outlined its goals to the supervisors, including installing electric vehicle chargers to speed up the transition from gas-powered cars to electric vehicles. The task force also plans to install LED lights with motion sensors at county-owned facilities.
The task force, formed in 2020, consists of public agency leaders charged with helping the county reach its climate objectives. The committee is required to provide updates to the board twice a year. Tuesday's presentation was given by John Kopchik of the department of conservation and development and Steve Kowalewski of the department of public works.
The county will also implement a new program called the Green Government Group, otherwise known as the G3 Champions. The program will recruit volunteers from each county department to monitor and lead environmental practices in their respective agencies. Each volunteer will adopt the practices from the county's Green Business Program, guidelines primarily meant for private businesses to get certified as environmentally responsible.
"So we [are] really trying to emulate what the private sector does and bring those practices back to the county," said Kopchik. "Not to certify ourselves but basically to follow the lead of the businesses."
The volunteers, referred to as "champions" by the program, will meet periodically and are expected to commit two to three hours a month to the initiative. Volunteers will be recruited over the coming weeks with the program formally launching around Earth Day, April 22.
The county will use a dashboard to track its progress under the Green Business Program Model. The dashboard would be accessible to county staff.
Mitchoff asked if the progress data would be publicly available. Jody London, the county sustainability coordinator, said, "We'll look for ways to make the data available."
The next board meeting, March 29, will mark the return to in-person meetings. Public comments may still be made remotely.