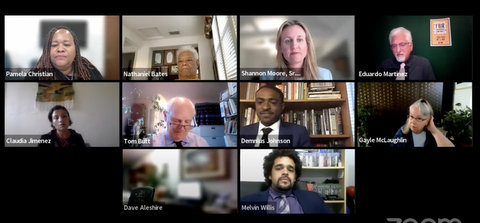 27 Apr

Council Questions Use of Military-Grade Police Weapons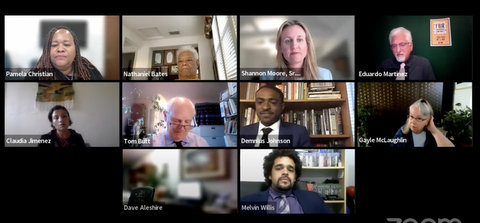 The Richmond City Council on Tuesday discussed a potential ordinance regarding a military funding acquisition and use policy, which concerns police equipment. (Screenshot captured by Julia Métraux / Richmond Pulse)
By Julia Métraux
The Richmond City Council discussed a potential ordinance to approve a military funding acquisition and use policy on Tuesday evening. This ordinance comes after Gov. Gavin Newsom signed Assembly Bill 481 into law at the end of September 2021, which requires law enforcement agencies to have this policy endorsed by their local city council.
This military funding acquisition and use policy was originally part of the consent calendar at last week's meeting, but council member Claudia Jimenez pulled it for discussion.
"The acquisition of military equipment and its deployments in all communities adversely impacts the public's safety and welfare, including increased risk of civilian death, a significant risk to civil rights, civil liberties and physical and psychological well-being and increment of significant financial costs," Jimenez said.
The Richmond Police Department's inventory was not posted until April 11, and the inventory under the state law has to be posted 30 days before the council votes on such a policy.
The RPD's military equipment inventory includes a tactical robot, breaching projectiles, SWAT equipment and chemical agents. The full list of equipment, authorized uses and training required to use these devices is available here.
As a result of when the inventory was posted, the city of Richmond's senior assistant attorney Shannon Moore said that she was not asking the City Council to adopt the policy that evening.
"I want to make sure everyone understands that these findings need to be made, that the military equipment is necessary because there's no reasonable alternative that can be achieved that can achieve the same objective for both officer and civilian safety," Moore said.
Richmond Police Department's Al Walle also said that this military equipment is used mainly defensively, not offensively. Acting RPD Chief Louie Tirona was absent from Tuesday's meeting.
"It is used really to save lives, to protect officers, to protect citizens [and] to safely apprehend suspects," Walle said.
Council member Gayle McLaughlin asked for a report on what situations these types of weapons would be used for and also questioned that there is no reasonable alternative.
"Without researching reasonable alternatives, [this] seems to me [to be] a lack of due diligence," McLaughlin said
Adding on to the concerns of his colleagues, Vice Mayor Eduardo Martinez also asked what type of independent oversight would be used for military-grade weapons that the Richmond Police Department has.
"There's going to be a new complaint system where the police department will be establishing a community concerns and complaints process, either by telephone or in-person," Moore said. "We're still working out the details on that."
Members of the community who called in to discuss this policy were divided on the issue.
"There is a misconception that because the RPD has weapons that might be considered military-grade that they routinely make use of them," Richmond resident Don Gosney said. "We need to ask and learn when has the RPD had the need to actually use this equipment."
Deborah Small, the executive director of the Berkeley-based Break the Chains, expressed concerns about situations that SWAT equipment may be used.
"Increasingly over the last two decades, we've seen that SWAT tactics and SWAT equipment are used for things like searches and drug warrants on people whether they're suspected of having weapons or not," Small said.
The City Council voted to have staff incorporate feedback from the council and community in the ordinance and come back with the ordinance at a future meeting. Vice Mayor Martinez voted against this, and council members Jimenez and McLaughlin abstained.
The Richmond City Council also voted to approve its second reading of the selection of the redistricting map, with Map 201 being approved again. Council members Nathaniel Bates, Demnlus Johnson and Mayor Tom Butt again voted against endorsing this map.
The next City Council meeting will be held May 3.