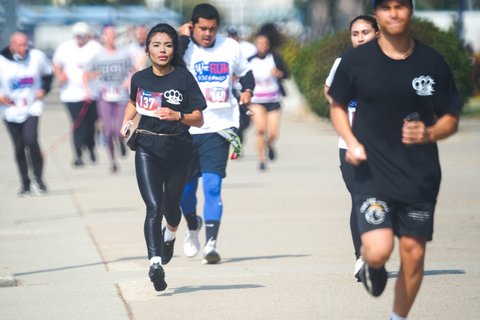 12 May

Q&A: Moving Forward Prepares for Sixth Annual We Run Richmond 5k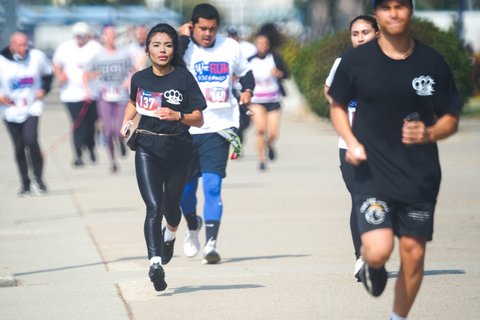 Amalia Vargas, center, took part in last year's We Run Richmond 5k.
By Denis Perez-Bravo
There are 237 spots left and dropping as of Thursday for the sixth annual We Run Richmond 5k event hosted by Moving Forward in collaboration with Urban Tilth.
Individual tickets are currently $50 plus a signup fee of a few dollars, though the costs will increase as the run draws nearer. Registration will go up by $5 each on the first of June, July and August, with nominal increases to the signup fee.
The We Run Richmond 5k will take place Aug. 13 at 10 a.m. The location has not been announced but will, of course, be in Richmond. A virtual option will also be available in which people may walk or run in a location of their choosing and then submit their results electronically.
The goal of this year's 5k is to raise $100,000 to support the Moving Forward Scholarship Program and Back to School Giveaway.
>>>Read: We Run Richmond 5K to Raise Money for Low-Income Students
Registered participants are encouraged to create a running team with friends and family and to spur friendly competition amongst each other. Teams can be created when registering online.
Richmond Pulse interviewed Moving Forward founder Anselmo Ramirez about the upcoming event. This conversation has been lightly edited.
Richmond Pulse: What do you want the community to know about this event?
Anselmo Ramirez: I want people to know that it's more than just a 5k. It's really focused on raising money and helping the community. Of course, we want to make sure that people have a good time while they do it, but there's really a purpose to it.
RP: Can you go a little bit more deeper into that?
AR: Well, myself personally, growing up, going to school and being from Richmond, I always felt like there's a lack of resources. Putting together this project with my friends was a way for us to do something to give back to the community. Creating a scholarship program that's community-led shows the community that we can do this. We don't need someone else to come in and do it for us. We can create opportunities for our people and let our young people know that we do value their education.
RP: For the people that are interested, what should they expect?
AR: First and foremost, they should expect a really cool shirt. We're working on finalizing the design now. Also, everyone who signs up gets a participation medal. And I know, personally, you get a rush from running, participating or walking in an event like this with so many people doing the same thing for the cause; you just get inspired.
When you see that there's people working towards something just like you, that makes a big difference.
Not only that, anyone from the community can participate. The only thing is we can't really provide everybody with a free shirt and medal cause there's a lot of overhead costs to have those printed up. But anyone is invited to come out and just check it out, walk and run.
[Editor's note: According to Ramirez, everyone who registers for the race will receive a shirt and medal. People who choose to participate without signing up in advance would not.]
A woman in a unicorn costume was among the creatively dressed participants in the 2021 We Run Richmond 5K.
RP: Do you guys have your location set?
AR: So the date is going to be Aug. 13; that's set. And we have two [potential] locations that we're keeping under wraps because we don't want to get anyone's hopes up. Once we have the permits finalized, then we'll be able to announce that. We just don't want to get too far ahead of ourselves.
RP: What is the price to participate, and will it go up for those that procrastinate?
AR: Yeah. Sign up soon because the prices are going to keep going up. This is more like a marketing strategy than anything else. The money is being raised for a good cause. And it's a marginal increase, usually $5. So it's not like we're raising a ton more money just because of the increase. It's to put a little heat on the community to get them to sign up sooner rather than later, because the sooner you sign up, the more we know how many people to expect, and we can prepare properly.
RP: Have there been any challenges in organizing the event this year?
AR: We've learned so much over the years. We didn't have any experience doing this type of thing. And, honestly, I felt like I got in way over my head as far as organizing something like this.
From the outside looking in, it looks like a piece of cake. The reality is, it's a different story. This year, we've been able to use our experience and the connections we've made throughout the city to really help us out a lot and make it easier.
>>>Read: Bay Area Residents Run for a Good Cause at Marina Bay Park
RP: Anything else you would like to say about the event?
AR: Man, this is the sixth year doing it, so we're just getting better and better. And we're working on making sure that we get the best people, as far as vendors, to be there and be present.
They'll show different resources that are available in the community so that you can also learn about different things that you can do and have access to. Overall, I hope you sign up. If not, you can still donate.
If you don't feel comfortable walking and running, we have events twice a week, a free community fitness class, that we host to get people physically prepared for it.
Overall, the mission of what we're doing is more important than actually having you donate or come and run. It's more about raising awareness about inequalities and inequities in education, making sure people know that there are people from the community that care about this. And making sure people know that we're actually putting our time and energy into improving. That's what we're really caring about: community service and academics. They are the foundation of everything that we're doing.