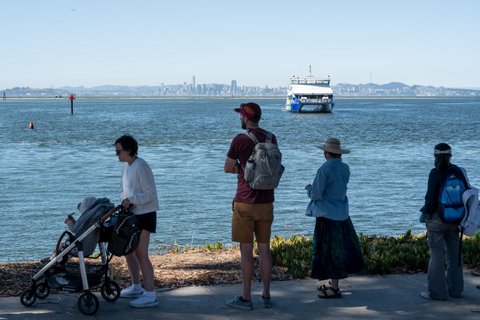 16 Jun

Summer Cruising: Richmond Ferry Fest Offers Family-Friendly Fun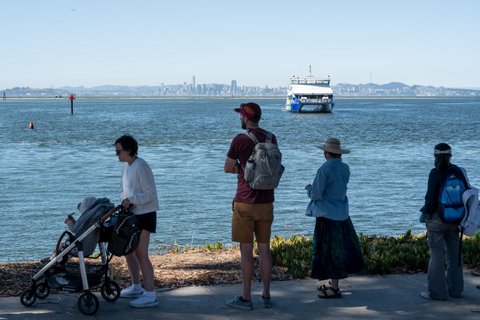 A ferry returns to dock as Ferry Fest attendees wait in line for a ride.
Story and photos by Jonathan Hale
On a clear, sunny Saturday at the Richmond Ferry Terminal, hundreds of people stood in line waiting to take a 25-minute tour of the San Francisco Bay. Nearby, in the parking lot, upbeat music played from speakers as people meandered between rows of activity booths, games and food trucks.
The occasion was the inaugural Richmond Ferry Fest and Richmond Promise 5k run. Ferry services were provided by the Water Emergency Transportation Authority. The 5k run was hosted by Richmond Promise, a local organization dedicated to helping low-income and first-generation students attend college. Organizations including Columbia Sportswear, Assemble Marketplace, Urban Remedy and the Craneway Pavilion also helped sponsor the events.
As the blue-and-white ferries circled the bay, festival attendees played Jenga with giant blocks, super-sized Connect 4 and cornhole. They ate tacos, sandwiches and pastries from local eateries. Artists, activists and businesses from throughout Richmond staffed booths and tables, offering pamphlets, snacks and stickers to passers-by. Runners finishing the Richmond Promise 5k, which began and ended at the Craneway Pavilion, trickled in throughout the morning. A persistent breeze blowing off the cool bay offered festival-goers some respite from the hot sun.
Later in the day, Bike East Bay, an organization that advocates for safe and accessible bicycling, hosted a "bike rodeo" safety class for children. Rich City Rides was also in attendance to promote two-wheel culture.
The Ferry Fest occurred as ferry ridership has started to recover from a significant loss due to COVID. Before the pandemic, the San Francisco Bay Ferry was the fastest-growing transit system in the Bay Area, according to spokesperson Thomas Hall. But as with most public transportation, ferry services took a hit as many commuters began to work from home. Ridership, which decreased 90% following COVID-induced lockdowns, has now reached over 70% of pre-pandemic levels.
During Ferry Fest, a long line of festival-goers waited patiently for the chance to see sweeping views of the San Francisco skyline from the water. More than 1,500 people attended the festival, with more than 1,200 boarding the ferries.
The San Francisco Bay Ferry serves Richmond year-round, seven days a week. Visit sanfranciscobayferry.com for more information on routes, schedules and fares.