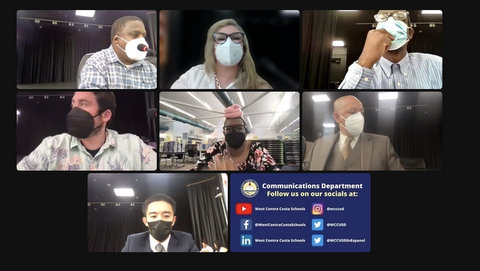 17 Jun

Parents and Teachers Stand Up for Ellerhorst Principal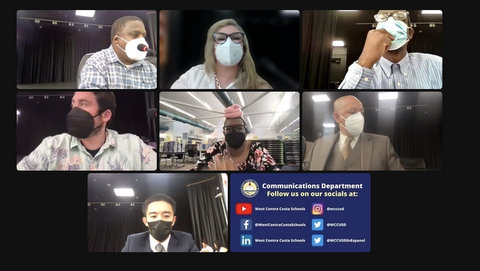 By Julia Métraux
At the first school board meeting in a month, several parents and teachers spoke Wednesday in defense of Greg Whaling, the principal of Ellerhorst Elementary School.
On June 8, Superintendent Kenneth "Chris" Hurst sent an email to the West Contra Costa Unified School district saying an allegation was made against a staff member at Ellerhorst, and they are "conducting a thorough investigation" and law enforcement is involved.
Several parents and teachers said that the allegation was started by the parent of a student who had gotten in trouble for their behavior at a school dance and was retaliating against Whaling.
"There was a group of kids there that continually disregarded the rules, [and] went to the bathrooms in groups which appeared to not be something that was going to be good," said Lindsay Portero, a parent of a student at Ellerhorst Elementary who chaperoned the sixth-grade dance. "Mr. Whaling did his job as a principal to ensure that nothing happened."
Karen Hernandez, a first grade teacher at Ellerhorst, also spoke in support of Whaling. She criticized the timing of when the superintendent's message was sent out.
"It just ruined the last day of school for everyone," she said. "Everyone was either angry or upset because we all know Greg."
On Monday, Hurst sent a follow-up email to the community saying, "the intent was never to embarrass any individuals or the school community, and I apologize for any harm the message has caused." Hurst did not disclose Whaling's identity in either email.
No parents or teachers at the meeting spoke in support of Whaling being put on administrative leave.
Adult School Teachers' Firing
 Two teachers in the adult education program, who were directly working to get a union contract for teachers in the program, got their jobs back after being laid off.
"We were recognized in 2017 and are still bargaining our first contract," said Kristin Pursley, an ESL teacher and vice president of the Adult School Teachers' Union.  "This year, negotiations have been brought to a halt."
Pursley, who got her job back, said her firing showed how adult school teachers are viewed.
"My recent firing by email as a temporary employee after 25 years is actually part of a pattern I've experienced throughout my career at the adult school," Pursley said.
At the school board meeting, Hurst said this was an error.
"The district has also taken action to investigate the matter," Hurst said. "Just want to clarify that, indeed, there was no conspiracy."
After Hurst's statement, United Teachers of Richmond Vice President Francisco Ortiz asked the district to recognize the adult education teachers' union.
"To me, that doesn't seem like a clerical error at all but a continuation of a pattern of disrespect, intimidation," Ortiz said. "Bargain in good faith."
Recognizing LGBTQ+ Pride Month and Juneteenth
 The West Contra Costa Board of Education unanimously approved resolutions recognizing June as LGBTQ+ Pride Month and June 15 as Juneteenth Day.
Trustee Jamela Smith-Folds also said that LGBTQ+ pride and visibility should be recognized every month, noting that the school year ends early in June.
"We want to make sure that those lessons, activities, [and] recognition happens throughout the entire school year and beyond," Smith-Folds said.
>>>Read: They Are All Right: Teens Weigh in on Gender Pronoun Debate
Juneteenth celebrates the abolishment of the legalized slavery of Black people across the United States. The resolution also recognized that the impacts of slavery can be seen after the 13th Amendment was adopted, which include "sharecropping, Jim Crow, redlining, Black Codes, mass incarceration, exclusionary policies, police violence and segregation, the exploitation of the Black community."
 The next school board meeting is scheduled for June 29.