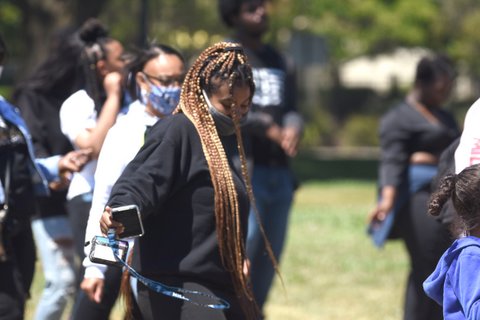 24 Jun

Richmond Revolution Celebrates 'Black Joy' for Juneteenth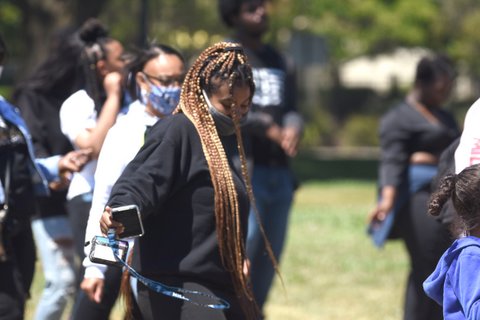 A young woman dances the Cupid Shuffle during the Juneteenth celebration organized by the Richmond Revolution at Marina Bay Park in Richmond on June 20. (Denis Perez-Bravo)
By Denis Perez-Bravo
A Juneteenth celebration at Richmond's Marina Bay Park on June 20 showcased African American history and featured Black businesses and performers.
"Black joy is a protest," organizer Lavonia Bobo said.
Bobo — a member of the recently formed Richmond Revolution organizing group that put together the Juneteenth event — said Black people have endured mass incarceration, segregation and so much systemic abuse that their happiness is a reflection of their struggle.
Juneteenth commemorates June 19, 1865, when enslaved Africans in the state of Texas were finally freed, two years after the Emancipation Proclamation was signed into law. Originally a Texas holiday celebrating African American heritage and culture, it's now observed across the country.
The significance of the holiday, also known as Juneteenth Independence Day or Freedom Day, has grown this year in the wake of the Black Lives Matter protests around the police killings of George Floyd, Breonna Taylor and others.
"Our freedoms are different, but we are still struggling," Bobo said.
She said it is important to remember when all Black people were really freed from slavery because there is a correlation to how Black people are treated today.
Attendees were quizzed on Black history with trivia questions such as "Who coined the term 'Black Power'?"
"Kwame Ture," someone called out, referring to the activist also known as Stokely Carmichael, who came up with the phrase as a member of the Black Panthers. The correct answer earned them a Richmond Revolution poster.
The event also brought out poets, singers, dancers and other Black artists to perform, while Black-owned businesses were given space to sell their products. Organizers hoped to push the community to learn about and buy from Black-led businesses, Bobo said.
Among the vendors was Eleanor Neal, owner of Paparazzi Jewelry, a homemade jewelry pop-up shop. Because of the shelter-in-place order, there had been no events for her to set up at.
"This was my first event in a while," Neal said.
Neal said she saw togetherness as she sat at her booth and watched people dancing, laughing, and eating the free food.
"My vision is that young, middle-aged and older people will come together. All of us are one," she said.
Neal's vision was shared by others, including Richmond resident Diamond King, 25. "You need to create safe spaces to release stress, feel love, and support," she said.
King said as the movement against police brutality and systemic racism rages on, Juneteenth was a moment to celebrate coming together as a community. And Richmond Revolution was able to successfully create unity.
Richmond Revolution is a youth-led group, founded earlier this month, that has organized people to confront police terrorism and systemic abuse against Black people in Richmond.
In its first month, the group has organized marches, created a Black Lives Matter art piece in front of city hall, helped abolish police contracts in the West Contra Costa Unified School District, and more.
With only a week to organize the event, Richmond Revolution was able to get a stage, vendors, donations and 30 volunteers.
Bobo said they chose Marina Park because it's surrounded by green areas and a shore, but also because the people that live around it are predominantly white or people of other non-Black races.
And since there was an already established annual Juneteenth celebration at Nicholl Park, the members of Richmond Revolution aimed to start something new as they continue to grow their organization.
"This event affirmed that the community is on our side," Bobo said.