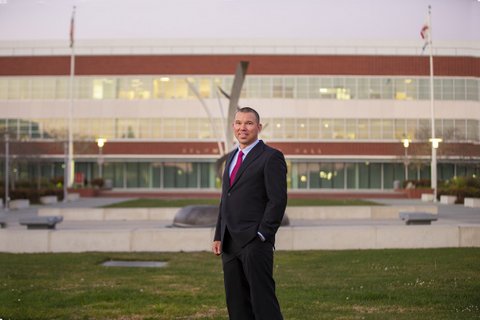 04 Jul

Why Independent Shawn Dunning Wants to Be Richmond's Next Mayor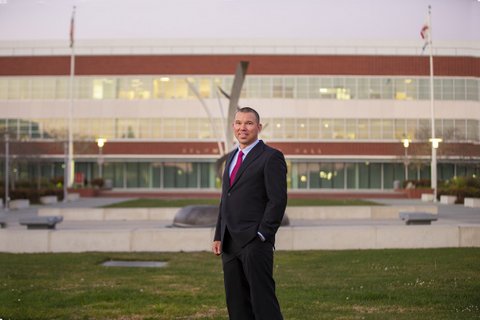 Shawn Dunning, standing in front of Richmond City Hall, is running for mayor. (Photo via Dunning's campaign website)
Editor's note: Read our profiles of other key mayoral candidates Vice Mayor Eduardo Martinez and West Contra Costa school board member Mister Phillips.
By Jonathan Hale
Shawn Dunning is new to Richmond politics. But the conflict resolution specialist is undeterred by his lack of political experience.
Dunning is throwing his name in the hat to succeed longtime Richmond Mayor Tom Butt, who is approaching his term limit. Dunning will face key competition from current Vice Mayor Eduardo Martinez and West Contra Costa school board member Mister Phillips.
"I'm not restrained by doing things the way they've always been done," he said.
The 46-year-old was born in San Francisco and grew up in Colfax, a small town in the Sierra Foothills, as the middle child of five siblings.
Dunning enrolled in Cal Poly San Luis Obispo, intending to study mechanical engineering before switching to speech communication with a minor in psychology. He furthered his education with an M.S. in conflict analysis and resolution from George Mason University, graduating in 2004.
After university, came a career as a communication specialist, conflict mediator and consultant. Dunning has worked in the private sector and for non-governmental organizations and is currently self-employed.
His career has included work with organizations such as Search for Common Ground, a nonprofit dedicated to ending violent conflict. He has coached and mediated discussions between Israelis and Palestinians, which he described as an example of conflict resolution in action.
With his background, Dunning said he is well equipped to help solve the city's problems.
The facilitator said conflict resolution requires people to set aside their differences to focus on a common goal. He wants to bring this approach to Richmond government.
Before moving to Richmond in 2016, Dunning said he never spent more than three years in one place after graduating from college. Now, "Richmond is the most home I've had in my adult life." He has lived in the North and East neighborhoods.
"I could not think of a better place to raise my kids," said the father of two daughters aged 6 and 9.
Part of what he loves about Richmond is its diversity.
"It's like, I spent my life traveling the world, and now I see the world in Richmond," said Dunning, whose work has taken him to 49 states and more than 50 countries.
Richmond's grit and tough spirit also appeal to Dunning, who expressed admiration for the city's rich history. However, he says that the city is guided by leaders who are out of touch with the people they represent. Even when he agrees with the positions of city leaders, he suspects them of being motivated by personal gain and ideology over what is best for their constituents.
Dunning sees party politics as divisive and unproductive and says that he has been registered as an independent voter for every election since he was able to cast a ballot.
"It's like this this pendulum of party politics just swings back and forth, and it's turning into a wrecking ball," Dunning said. "And it really concerns me."
As mayor, he wants to increase public participation in democracy to ensure that all of Richmond's people would be represented in government. He says he wants to convene a meeting of all of the city's neighborhood leaders and power brokers to discuss what could be done to make the city a better place.
To help put Richmond on track for sustainable growth, Dunning wants to encourage businesses to come to the city. He also wants to invest in making the city more attractive by maintaining public infrastructure and tamping down crime. Dunning said it is possible and necessary to improve Richmond aesthetically and economically without pushing out longtime residents.
But Dunning said he hopes whatever he does as mayor would be done with community collaboration.
Dunning hosts workshops and community forums to inform his campaign. He has not announced his policy positions and said his views could change based on input from his potential constituents. Dunning said he would reveal his stances on the issues before the election.
He said this is because he hopes to sketch out the details of his policy positions by drawing from the perspectives of the city's residents. If his ideas don't win support from Richmond residents of all stripes and political ideologies, he says he will withdraw from the mayoral election and support a different candidate.
While Dunning is a relative newcomer to Richmond city politics — in addition to the city itself — he describes himself as motivated to make a change.
"I've never felt so motivated to just apply all that I am and all that I know to something that matters."
For the record: A previous version of this story said that Shawn Dunning was a double major in speech communication and psychology in college. He majored only in speech communication and minored in psychology.