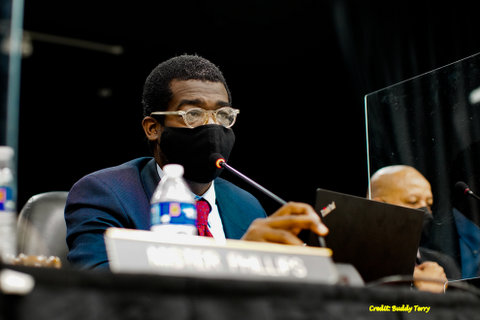 13 Jul

School Board Member Mister Phillips Seeks City's Top Office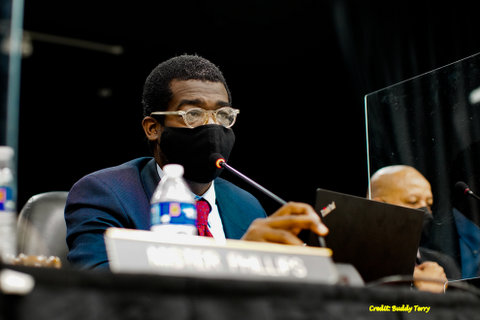 West Contra Costa school board member Mister Phillips is running for mayor of Richmond. (Buddy Terry via Mister Phillips' campaign website)
Editor's note: Read our profiles of other key mayoral candidates Shawn Dunning and Vice Mayor Eduardo Martinez.
By Jonathan Hale
To mayoral candidate Mister Phillips, Richmond means home.
Phillips was born in Oakland at Kaiser hospital but grew up in Richmond and attended Richmond High School. He attended nearby Solano Community College and transferred to San Francisco State University, where he earned bachelor's degrees in English literature and political science in 2000. He continued his education at UC Hastings, acquiring his law degree in 2003.
Upon graduating from UC Hastings, Phillips joined the Navy Reserve, serving as an intelligence officer and lieutenant from 2004 until his honorable discharge in 2013. In 2005, he established his own law office specializing in general litigation, small business law and estate planning.
The 44-year-old fourth-generation Richmond resident says that his parents, who were both police officers, instilled in him a sense of service.
Phillips told the Pulse that his father gave him the first name "Mister" because he wanted people to treat his son with respect. The mayoral hopeful said he believes it works and that he was thankful for the name.
"It has taken me a long way," he said. "That is why I named my first son Mister Phillips II."
His first foray into local politics occurred in 2014 as a labor relations representative with the California School Employees Association. In the same year, he ran unsuccessfully for the West Contra Costa County Board of Education.
In 2016, Phillips ran again for school board. This time, no incumbents ran, meaning that two seats were guaranteed for new candidates.
Despite reporting just over $30,000 in campaign contributions — more than $100,000 less than runner-up Tom Panas — Phillips was able to secure the endorsement of a cohort of local political groups. These organizations included the Richmond Progressive Alliance, Democratic Party of Contra Costa County, and United Teachers of Richmond. Phillips also gained support from City Council members such as Nat Bates and Jovanka Beckles.
Phillips was elected to the school board in 2016 with 22.63% of the vote. He currently serves as a member of the West Contra Costa Unified School District Governing Board and Democratic Party County Central Committee.
As a member of the school board during the COVID-19 pandemic, Phillips worked to fully reopen schools. At the April 28 meeting, he spoke about schools being a community resource, something people rely on for more than just education.
He also helped pass a controversial COVID-19 vaccine mandate, though it has been repeatedly delayed.
Indeed, doing what he believes is best for the district sometimes requires Phillips to make tough decisions.
At the March 9 meeting, Phillips voted in favor of two motions that could have led to 200 teachers and support staff members being laid off in an effort to address the district's ongoing budget deficit. Speaking to the Pulse, he said he voted the way he did, in part, to "make sure that our organization was fiscally healthy." Ultimately, though, that motion fell, 3-2.
Now, he has his sights set on the city's top office.
"I believe the city is headed in the wrong direction," Phillips said. "We can still turn things around."
Phillips says that the quality of life in Richmond has declined for a large portion of the city's residents. According to Phillips, opportunities for average people to succeed and thrive in Richmond have grown scarce.
"When we talk about opportunities, we have to talk about jobs," Phillips said.
He says that Richmond residents often have to work multiple jobs to afford the region's high rents and cost of living. To address this, Phillips wants to foster a business-friendly climate so that people living in Richmond are able to find work locally.
Phillips also wants to build more housing for all income levels. He says that a change in zoning laws may be necessary to achieve this.
Richmond, as Phillips envisions it, ought to be far more than a bedroom community where residents have to commute elsewhere for work and leisure. Instead, he pictures a vibrant, walkable downtown that serves as a communal gathering space and draws visitors from outside the city.
He says that in addition to having the opportunity to live and work close to home, Richmond residents should be able to enjoy themselves.
Solano Avenue in Albany, according to Phillips, serves as a model for what Richmond's downtown could look like. He also pointed to what he described as a renaissance in Oakland and Emeryville as an example that Richmond should follow.
Similar to the downtown areas of Albany, Oakland and Emeryville, Phillips proposes a Richmond city center filled not only with professional office space but with boutique shops, restaurants and venues for local artists and musicians.
However, Phillips maintains that progress in Richmond should help uplift longtime community members, rather than only serving newcomers. For the city to flourish, Richmond must embrace change and develop an identity that combines its past and present.
"It's important that current residents are part of any revitalization," said Phillips. "Because when they're not, it's not revitalization; it's just gentrification."
Phillips described Richmond residents as an earnest and hardworking group of people let down by a government out of touch with their needs. For Phillips, running for mayor is a matter of fulfilling an obligation to the people of the city he calls home.
"The city of Richmond is full of people who deserve a city government that meets their needs," he said. "And that's not what's happening right now."