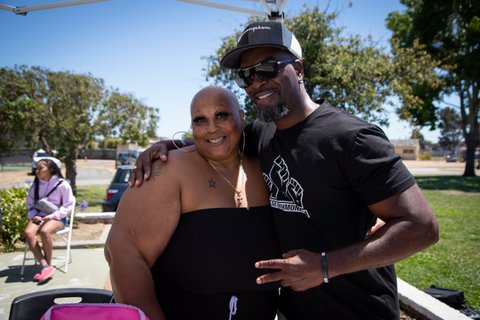 21 Jul

Community Event Continues to Plea, 'Put the Guns Down'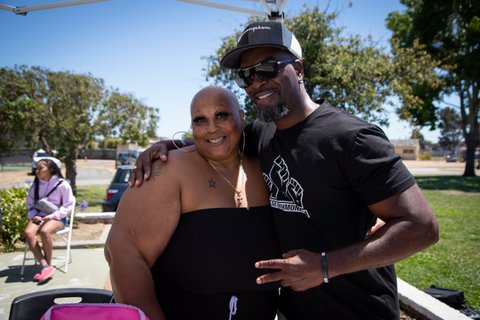 Put the Guns Down founder Elana Bolds and fellow community organizer Dee Wash of Reset Richmond at the anti-gun-violence event July 16 at Nicholl Park.
Photo Essay, Amaya Edwards
As the epidemic of mass shootings continues to grow across the country, a Richmond tradition dedicated to stopping the violence continued in its 14th year.
Over 200 community members came out to Nicholl Park on July 16 for the Put the Guns Down event hosted by local activist Elana Bolds, who leads the Visions of Hope Project.
The free event is all about raising awareness around gun violence in Richmond and the ways it affects the youth, in particular. It's also an event focused on fostering community.
The party featured dance and music performances. Among the festivities, bikes were raffled off.
"How do you feel about gun violence?" Bolds asked a winning parent. "Are you going to train your babies not to touch guns? No guns."
Other items given away included books, food and clothing. Several barbers were on hand to provide haircuts and other barbering services. Haircuts were free for boys 12 and under.
Payton Silket, a community organizer with Faith In Action East Bay, was one of the attendees getting his hair cut.
"The impact isn't [just] about the people you knew personally. When anybody dies in the community, it has a ripple effect, right?" Silket said. "It's up to us to come together and try to uphold one another in those times of mourning. But we also got to do preventative stuff like this, spreading the love and the knowledge."
For Bolds, "Put the Guns Down" is not a political statement but a desperate plea born out of tragedy.
Bolds is well-known in Richmond for being a funeral singer but has also been a community organizer for the past 26 years, making the children in her Crescent Park apartment complex her main priority.
Over the years, Bolds has gotten to know many kids and families deeply, building relationships with them. Down the line, Bolds would get asked to sing at the funerals of these same kids who died as a result of gun violence.
At one time, more than 90% of the funerals Bolds attended were for young Black men who were shot to death, the Pulse reported in 2017 for the 10th anniversary of Put the Guns Down.
"I've sung for so many babies, like, you can see all these obituaries, and if you look at 'em, it says 'Lana.' 'Who sung? Lana. Who sung for you? Lana. Who sung for you? Lana,' " Bolds said.
Bolds has stacks of obituaries for kids she used to know.
"I want their wedding pictures. I want their graduation pictures. I don't just want their obituary pictures," Bolds said. "So that's why it's important because I don't want all my Black and Brown babies to feel like dying in the streets is normal. Or that they have to have a gun to be a grown man and feel big."
Bolds says she has dedicated her life to children and teaching them that the detriments of gun violence don't just affect their lives but also the people around them. She said the trauma and pain are a residue left behind in the community forever.