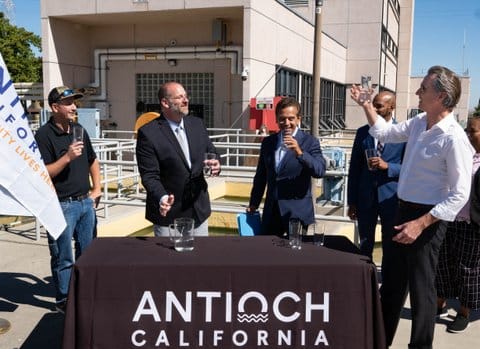 12 Aug

Gov. Newsom Unveils New State Water Strategy at Antioch Treatment Plan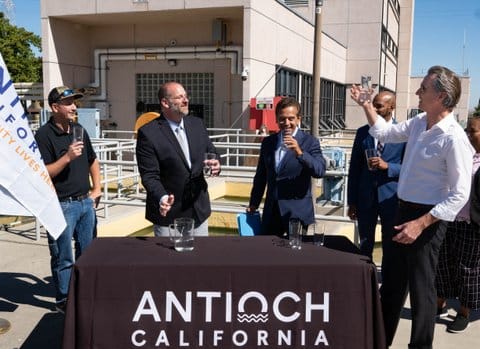 Antioch Public Works Director, John Samuelson, second from left, watches Gov. Gavin Newsom, right, visually check water treated at the Antioch Water Treatment Plant on Thursday. (Ray Saint Germain/Bay City News)
By Tony Hicks
Bay City News Foundation
California Gov. Gavin Newsom was at the Antioch Water Treatment Plant on Thursday to announce new measures to store and save water in his parched state. But first he stopped at a table set up for him to taste the water treated at the plant.
He held up his glass and asked a worker what signs indicated the treated Delta water was safe for executive consumption. "Clarity? Odor?"
A worker said yes, then Newsom asked, "How's the odor to you?"
He drank before hearing the answer, indicating with an official nod: The Antioch plant is obviously doing its job.
Framed by construction of the new $110 million Antioch Brackish Water Desalination Project, Newsom and other officials announced a new strategy to fight climate change's effect on California's dwindling water supply during the state's worst drought in 1,200 years.
"We're here to highlight with a renewed sense of urgency, truly the moment we're in," Newsom said. "The last few years … the hydrology of the state has begun to change pretty significantly. The science and the data leads us to now understand we will lose 10% of our water supply by 2040."
"As a result of that deeper understanding, we have a new sense of urgency to address this issue head on."
The actions are outlined in a 19-page document called "California's Water Supply Strategy – Adapting to a Hotter, Drier Future" that calls for investing in new sources of water supply, accelerating projects and modernizing state water management through new technology.
The strategy prioritizes capturing, recycling, desalinating, and conserving more water. It aims to create more storage space for up to 4 million acre-feet of water to capitalize on the big storms that now provide so much of the state's water.
It also aims to double the state's recycled and reused water to at least 800,000 acre-feet of water per year by 2030, freeing up 500,000 acre-feet of water through more efficient use and conservation. It would also make new water available by capturing stormwater and desalinating ocean water and salty water in groundwater basins, making the most of high flows during storms.
Newsom said a key aspect of the plan is streamlining the environmental permitting process through executive orders and legislation to keep up with climate change. The plan aims to fast-track at least seven water storage projects.
"The time to get these damn projects is ridiculous. It's absurd. It's reasonably comedic," Newsom said. "In so many ways the world we invented from an environmental perspective is now getting in the way of moving these projects forward."
Newsom pointed out the state already has 37 desalination plants up and running — 14 treating sea water and 23 treating brackish water from other sources like the one in Antioch, which will provide up to 30% of the city's water. Expect more desalination in the future, he said.
"The reality is we need to be more creative, and we need to be more aggressive," Newsom said."
He called recent statewide conservation numbers are encouraging and statewide water mandates unlikely. That, and other measures he didn't name, are being reserved in a "break the glass" emergency scenarios.
The governor's new water strategy can be seen at https://bit.ly/3vXr60B.
Copyright © 2022 Bay City News, Inc. All rights reserved. Republication, rebroadcast or redistribution without the express written consent of Bay City News, Inc. is prohibited. Bay City News is a 24/7 news service covering the greater Bay Area.