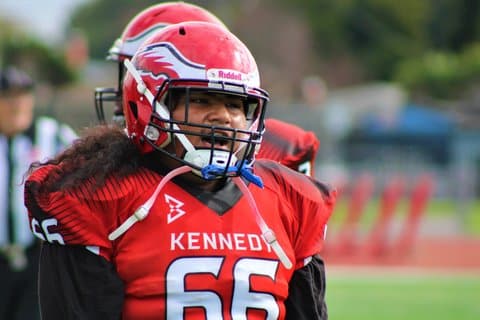 21 Oct

Second Consecutive Blowout Loss Has Kennedy High Football Down But Not Out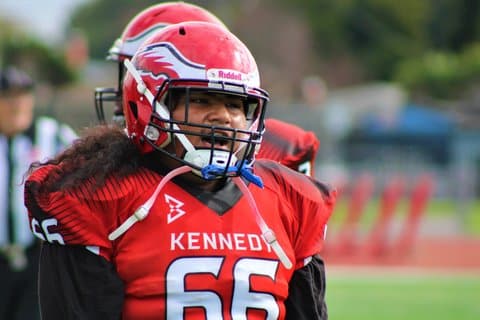 Kennedy junior offensive and defensive lineman Joe Taito walks off the field in frustration on Oct. 15 in Richmond.
Story and photos by Joseph Porrello
The undefeated St. Patrick-St. Vincent High Bruins of Vallejo rolled into Richmond on Saturday and delivered the Kennedy High Eagles a 50-8 thumping, their second straight loss after starting the season 5-0.
After allowing 37 points in their previous game, the Eagles surrendered 50 points to St. Patrick-St. Vincent, the most Kennedy has yielded this season thus far. 
"I just don't know what it is, whether we didn't come to play or if it's a lack of focus," said Eagles head coach Greg Marshall. "Our attention to detail has been off these last two weeks."
The Bruins offense has been a hard puzzle to solve for other defenses as well, having now scored at least 50 points in five of their seven games. So far this season, St. Patrick-St. Vincent's squad has more than double the points scored as the Eagles. 
"They were the first no huddle offense we've seen this year," said Marshall. "It's hard to slow that type of offense down."
Junior Eagles safety Jerry Graham, left, was trying to limit the damage with some tackling authority on Oct. 15 in Richmond.
Starting the game with assertion, the Bruins methodically worked down the field for an opening drive touchdown. Forcing the Eagles to punt on their first offensive possession, St. Patrick- St. Vincent then jumped out to an early 14-0 point lead after reaching the end zone for the second straight time.
Similarly to their last game, early miscues put the Eagles into a tough spot.
A Kennedy High player was unable to corral the ball on the kickoff following the Bruins' second score and turned the ball right back over to St. Patrick- St. Vincent.
"We just have to get right back to the basics," said Marshall. 
About midway through the first half, the Kennedy defense snagged an interception, but on the return, a Bruins player was flagged for a late hit on an Eagles defender who was injured on the play. 
As Kennedy High staff tended to the injured player, things got a bit raucous. A relative of one of the Eagles' players standing on the sidelines stormed across the field toward the St. Patrick-St. Vincent team, but was held back by Eagles' staff and thrown out of the game by the referees before things escalated. 
When play resumed, Eagles' senior middle linebacker Alvanti Gallon made a difficult athletic grab on a deep ball, jumping over the outstretched Bruins defender. Shortly thereafter on the same drive, Gallon hauled in a touchdown pass, and it looked like the late hit on their teammate may have sparked a fire under the Eagles.
Alvanti Gallon left, provided most of what little offense the Eagles could muster on Oct. 15 in Richmond.
Gallon's six-pointer would turn out to be the only time Kennedy scored a touchdown Saturday afternoon.
St. Patrick-St. Vincent immediately took back momentum in a big way by completing a 60-yard pass it would turn into six more points.
"The whole team has to start putting in more effort, including me," said the Eagles' Daniel Acosta, a senior cornerback and wide receiver.
Failing to produce a first down on their following offensive drive, the Eagles lined up to punt, but Gallon could not handle the high snap from center. The botched snap soared over Gallon's head and resulted in a Bruins' first down inside the 10-yard-line; which they punched into the end zone with only one running play.
After capitalizing on another Kennedy High mistake, St. Patrick-St. Vincent's defense once again held strong, forcing an Eagles' three-and-out with the help of two tackles behind the line of scrimmage courtesy of Bruins' senior offensive lineman and defensive tackle Jonathan Smith.
"[Smith] is a gamechanger. There's no doubt about it," said Marshall. "He did the same thing against us last year."
With four tackles for losses in the first half alone, Smith made his presence known again to the Kennedy High team.
Before halftime, the Bruins were able to put the ball over the goal line one more time and convert on a two-point conversion attempt before intercepting a pass from Eagles quarterback Deondre Prim, making it 36-8 at the break.
Prim took snaps for Kennedy High in place of starter Emiliano Rodriguez, who did not attend the game. The team wanted to be cautious with Rodriguez after he endured a head injury in the Eagles' previous game Oct. 8 and was removed from the contest.
"It's hard when the leader of your offense isn't there," said Marshall. "[Prim] gave it his best shot."
Prim played quarterback for the junior varsity team last season and had been the varsity team's leading receiver this year before taking over duties behind center.
In the second half, the Eagles surrendered another turnover, this time a fumble recovered by the Bruins and returned for a touchdown. When all was said and done, Kennedy walked away with a 42-point loss. 
"We work with what we have," said Marshall. "If the product we put on the field isn't ready to go, that falls on me."
Coming into Saturday's game, St. Patrick- St. Vincent was ranked No. 2 in the Tri-County-Stone League standings and now sits at No. 3 in the North Coast Section Division Seven rankings.
Bruins senior quarterback Wyatt Smith amassed 273 yards from scrimmage and two touchdowns, while junior running back Aderion Prater led the Bruins on the ground by averaging five yards per carry and tallying two scores of his own.
Bruins junior wide receiver Josiah Jones hauled in four catches for 56 yards to go with a touchdown; sophomore wide receiver Bo Smith had three grabs for 79 yards.
Following a tough defeat against their second undefeated opponent in back-to-back games, the Eagles schedule will now become less daunting.
"We're going to put it together," said Marshall. "We still have a good shot at making the playoffs."
Kennedy has two losses on the season with two games left to play. The Eagles' remaining opponents are the 3-3-1 Vallejo High Red Hawks and the 1-5 Richmond High Oilers. What was supposed to be Kennedy's last regular season game is being forfeited by Piedmont High because it does not have enough players.
The Eagles will host the Red Hawks this Saturday at 2 p.m. for what will be their homecoming game. Oddly, the Eagles will play again the following week on the same field as an away team against the Oilers.
Due to the Kennedy High football field being under construction, the Eagles have been playing their scheduled home games on the Richmond High School field. 
The Kennedy High staff doesn't know if Rodriguez will be able to suit up and lead the offense for the next game. 
"Right now, we're taking it one day at a time," said Marshall. "If he's not able to go, Prim is more than capable of getting the job done."
Quarterback Deondre Prim, who played in place of injured starter Emiliano Rodriguez, was searching high and low for running room on Oct.15 in Richmond.
The Eagles will be looking to earn their first win in the Tri-County-Stone League this season.
"I have the utmost faith in this team," Marshall said. "We just have to get ready for next week."